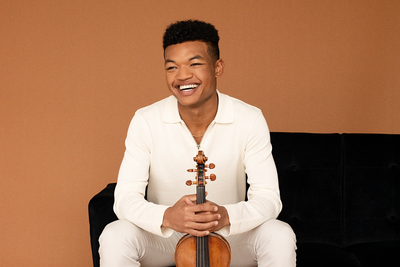 A drumroll, please, for the 24-year-old violinist
Randall Goosby,
whose debut album
Roots
(Decca) drops on June 25. We opened our May 30 show with three tracks:
Xavier Dubois Foley, "Shelter Island"
Florence Price, Fantaisie No. 2 in F# Major
William Grant Still, Suite for Violin and Piano, I. African Dancer
The son of a Black father and a Korean mother raised in Japan (neither classically inclined), Goosby stands on the cusps of what promises to be a major career. Itzhak Perlman's name is the one that jumps out at you on the list of his mentors at The Juilliard School; the violin he plays is a prime Guarneri del Gesù on loan from the Stradivari Society in Chicago, which chooses its associates with the care their priceless collection deserves.
Some colleagues glory in the rough edges of their craft: the rasp of bow on string, the thwack of the attacca, the electric quiver of phalange on fingerboard. Goosby's elements are fire and air; his temperament is Apollonian, attuned not to struggle but to lift and flow. He phrases with a singer's instinct for the cut and thrust of a well-turned lyric as well as for the full arc of extended song. His partner on the piano is Zhu Wang, an artist of like sensibility; they are joined in the jazzy "Shelter Island" by the composer on bass.
Roots concentrates on Black American composers, male and female, but not to the exclusion of George Gershwin, represented by concert arrangements of songs from Porgy and Bess, or Antonín Dvořák, who hammered home to Eurocentric white American composers the need to open their ears to the music of Indians and enslaved Africans.
*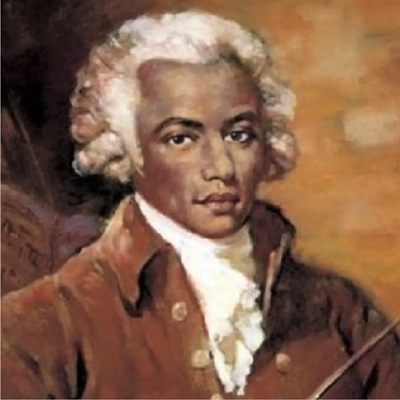 Forgotten no more: Joseph Bologne, Le Chevalier de Saint-George, music master to Marie Antoinette, colonel in Europe's first all-Black regiment, fighting on the side of the Republic.
In other news, Goosby makes his Los Angeles Philharmonic debut on August 12 with Gustavo Dudamel at the Hollywood Bowl. His vehicle on that occasion will be
the Violin Concerto No. 9 in G, op. 8 by Joseph Bologne, Le Chevalier de Saint-Georges
. Long remembered, if at all, as "the Black Mozart," Bologne was born in Guadeloupe to a French plantation owner and the African slave who waited on his wife. His career in Europe was the stuff of a multiseason "Masterpiece Theatre" series yet to be produced, with Marie Antoinette and Mozart in the supporting cast.
As a sort of teaser for Goosby's big night under the stars, we opened the June 6 edition of "Catch of the Day" with the opening Allegro from the Bologne concerto will be playing in Los Angeles in a bristling back-catalogue performance by Jean-Jacques Kantorow with the Orchestra de Chambre Bernard Thomas (Arion 1974). This assignment should give our new friend plenty of sky.
*
But if Decca and the LA Philharmonic, less insistently, are promoting their new headliner as a champion of diversity, there are other strings to his bow. Wondering about other musical interest of his, I asked if he'd be willing to name favorites, and he was—subject to the proviso that his answers might be different tomorrow. Here's how it went from there.
Q – Okay, what's your favorite violin solo?

A – Today, the Bach Chaconne in D minor [from the Partita for Violin No. 2, BWV 1004].

I'll bet that's your favorite lots of days. Your favorite violin sonata?

Today, the Richard Strauss [Op. 18, in E-flat Major].

Your favorite chamber piece?

Let's go with Beethoven Op. 131 [the String Quartet No. 14, in C# Minor].

Your favorite violin concerto?

Can I have two? The Brahms [op. 77, in D Major] or the Korngold [op. 35, in D Major]

Your favorite composer?

Mozart.

Excluding artists active today, who's your favorite violinist?

Too many to name in the next 30 minutes! My favorites as a kid were David Oistrakh, Yehudi Menuhin, Jascha Heifetz, Mischa Elman, Nathan Milstein. I would give anything to go back and hear them live.
*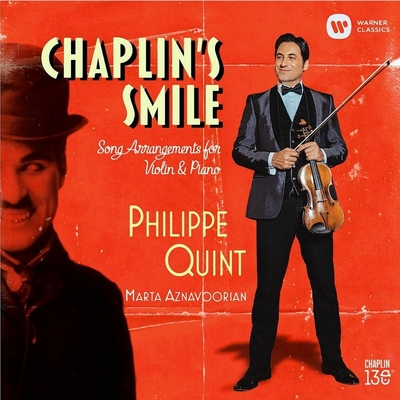 As a final pendant to the Goosby tracks, the "Catch" playlists for the last two shows also featured tracks Chaplin's Smile: Song Arrangements for Violin and Piano (Warner Classics 2019). The violinist here is Philippe Quint, a teacher of Goosby's at a pivotal juncture in the boy's education. With Marta Aznavoorian at the piano, and Joshua Bell along for the ride, Quint's renditions of "Now That It's Ended" and "Smile (Theme from Modern Times)" were the stuff of which heartache is made.