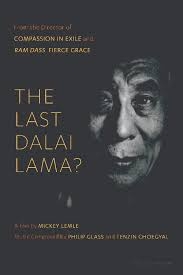 After dipping into the soundtrack for Mickey Lemle's film
The Last Dalai Lama?
, I was curious to find out how Philip Glass and Tenzin Choegyal, who was born to Tibetan nomads, collaborated on the score. In an email, Richard Guérin, who has been running Glass's record labels as long as I can remember, had this to report.
"The Last Dalai Lama was one of those good ol'-fashioned true collaborations. I remember going over to Philip's house in October 2015, and Tenzin and he were already deep into the process. Philip wrote something and Tenzin added to them. Tenzin wrote some things, which Philip arranged his five musicians around. And there are a couple pieces like 'Snow Lion' and 'Heartstrings,' which are well-known traditional Tibetan songs. Here's a link to Tenzin's video of 'Heart Strings,' replete with the hundreds of kids he had singing along on the recording.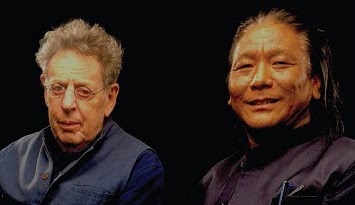 West meets East: Philip Glass (left) and Tenzin Choegyal.
"My meta-level view on these things is that for the better part of his adult lifetime, Philip has been searching for things that he doesn't understand. As you know, the collaborations over the years have gone from Paul Simon, David Bowie, et al. to Foday Suso, indigenous Mexicans, Australian didgeridoo players, Nova Scotian fiddlers etc. etc. I think it all goes Philip's discovery of Ravi Shankar and the depth and richness of Indian rhythmic forms—
amazing stuff
that would open the eyes of any truly curious musician. Discoveries like that eventually melded with Philip's study of Bach with Nadia Boulanger.
If you can tune together, you can play together.
"That's an over-simplification, but I think it's also true. Philip had a strong musical identity into which after Einstein on the Beach he could pour all sorts of ideas. On a practical level, when he gets together with these players from all over the world, he has said that the biggest challenge is tuning together to find out what can be done. 'If you can tune together, you can play together.' Collaboration fuels his music, whether in theater or in the 'world music' things. Collaboration forces him to solve musical problems that he would never encounter on his own.
"I'm reminded of an interview I did with Philip in 2017. Here's the relevant passage: 'Either I'm a born experimenter or I'm just a dilettante,' Philip said. 'I just feel like doing something different sometimes. That's probably the dilettante–when I say that I mean that I'm taking a huge body of music and boiling it down to a few ideas. Not only my own music but the music I've been hearing all my life. I'm taking all that music and putting it together and making a language out of it which is what I do. The essence of the music, getting back to that word, that it reflects my compulsive need to digest music, to absorb it, then to see what happens to it.'"