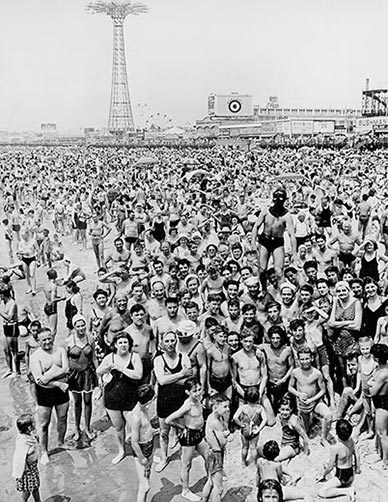 Weegee danced and screamed to get the beach crowd's attention. The masked man called himself the Spider. Weegee (Arthur Fellig) / International Centre of Photography / Getty Images
At 70 years old and counting, the Parachute Jump still stands, a ghost of its former self. Built for the world's fair in 1939, the ride known affectionately as Brooklyn's Eiffel Tower has graduated to the status of official landmark. In Weegee's photograph
Coney Island at noon Saturday, July 5, 1942
—shot for the visually punchy, commercial-free, left-wing tabloid
PM
—the overgrown structure looms on the horizon in its glory: a memory within a memory.
Visit the spot today and you will find, raked by the Jump's skeletal shadow, a hotly contested landscape of urban blight. Peering into a crystal ball, New York City Mayor Michael Bloomberg's administration sees a 12-acre amusement district surrounded by new housing, shops and parks. A civic group is lobbying for an amusement park twice as big as the mayor's, anchored by some landmark attraction as uniquely irresistible as the 443-foot-high London Eye, which hangs over the South Bank of the Thames like the slowly spinning wheel of a Titan's bicycle. A prominent developer envisions time-share hotels and big stores. Reconciling such fantasies could take a while, and in times as tough as these, they all could fall apart. Meanwhile, Weegee's image of teeming humanity invites us to ponder the pursuit of happiness in these United States since the heyday of the Greatest Generation and perhaps to consider the fate of our lonely Spaceship Earth.
Usher (later Arthur) Fellig, a.k.a. Weegee, was born in a part of Austria that now belongs to Ukraine, and landed in New York in 1910. Certainly he never thought of this or any of his pictures in metaphorical terms. His stock in trade was reality, mostly of the after-hours variety, mostly in his adopted Manhattan, and the grittier the view, the better. Metaphor had nothing to do with it. After his freelancing prime in the 1930s and '40s, he coasted on his celebrity in Hollywood and Europe before ending up back in New York, where he died of a brain tumor in 1968 at age 69.
According to Miles Barth, co-author of the book Weegee's World, Coney Island was a bit off our lensman's beat. "When it came to warm weather, Weegee was the last person you could imagine in shorts and sneakers and a T-shirt," Barth told me. "It was against everything he understood. He was doing fires, floods, car wrecks, murders. What interested him was crime." His sensibility chimed perfectly with contemporary film noir like The Maltese Falcon, The Glass Key or The Big Sleep, though compared with his hard-edged reportage, stills from the movies can look glamorous to a fault.
When PM began publishing, in the summer of 1940, the mercury was soaring, and the editors wanted to know how Joe Average was coping. Weegee went out and shot individuals sleeping on fire escapes, kids cooling off in the spray of fire hydrants and thousands upon thousands broiling at the beach. Thus the precedent was set for the hot summer of 1942, when Weegee headed back out to Coney Island.
"Whatever it took to get the shot, Weegee did it," Barth says. "That was part of his genius." Barth has it from Louie Liotta, Weegee's longtime assistant, that the boss climbed up on a lifeguard station and screamed and danced until everybody started to look. "And when they did," says Barth, "he took the photograph. It was that simple."
Not that the images Weegee came up with were always simple. What pops in this one, against steep odds, is one man balanced on the adjacent shoulders of two bare-chested sailors in gob caps. "The masked man said he was a laundry man," Weegee wrote, "but would only be photographed incognito. The mask is a gag of his; he calls himself the Spider, and likes to frighten people." That mask looks like the hood of a hangman. Even in broad daylight, he gives you the willies.
Weegee's captions—he wrote his own—read like entries from the police blotter. Crowd at Coney Island, one begins. Temperature 89 degrees.... They came early, and stayed late. What's so hot about 89 degrees?, we wonder today, desensitized by global warming and spoiled by air conditioning. Back then the city must have felt like a furnace. Arriving one day at 4 A.M., Weegee found the sand covered with young couples on beach blankets. "I took pictures of them," he reported, deadpan: "When I asked them their names, they all said, 'It's just me and the wife,' as they pointed to the girl on the sand."
Coney Island, Barth says, was "originally meant to be a classy place. Over the years, it became middle class and then lower middle class and then working class." Every society needs its glittering playground, where, as the old song says, "the underworld can meet the elite." Like the 42nd Street of legend and like Las Vegas today, Coney Island straddled the chasm, or tried to.
And then it broke down. Weegee gives us Coney Island in its decline, yet kicking with messy life. In our time, plutocrats and civic leaders aspire to a grander future, even as doomsday prophets warn of melting polar ice caps and rising seas. Either way, a return to Weegee's Coney Island may eventually feel like a day at the beach.