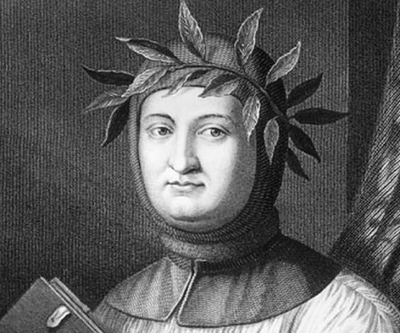 Francesco Petrarca (1304-74), whose hundreds of sonnets to a Laura never definitively identified gave rise to a tradition that has endured for centuries.
*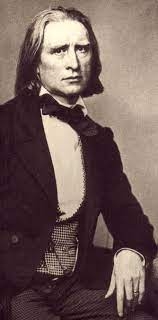 Franz Liszt (1811-86), composer, virtuoso, rock star avant la lettre.
Rhapsodizing at the ivories came to Franz Liszt more naturally than the monastic tedium of setting notes down on paper. By the lights of a mistress, he was no better than a
fainéant
, or a slacker, a scandalous underachiever. Nonetheless, he churned out no end of original music, often in the most labor-intensive choral and symphonic forms.
His catalogue also includes six dozen excellent songs, most of which languish in the canonical shadow of Schubert, Schumann, Brahms, and Wolf. To a degree, the Tre Sonetti dal Petrarca (Three Sonnets by Petrarch) have fared better, possibly because Liszt recycled them as piano solos. Repurposing vocal music for the keyboard was something of a specialty of his. Splashy, infectiously melodious transcriptions of Schubert songs and fantasias on operatic themes by the likes of Mozart, Bellini, Wagner, and Verdi rank among his favorite party pieces. As heard in the second volume of the monumental musical travelogue Années de Pèlerinage (Years of Pilgrimage), the Petrarchan items strike a deeper, more reflective chord.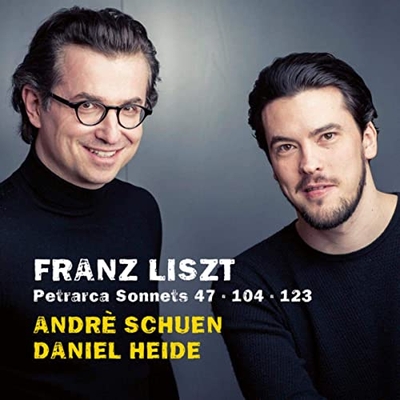 For A/B comparisons, we turned to the Liszt: Petrarca Sonnets 47, 104, 123, from the young Tyrolean baritone Andrè Schuen and his German recital partner Daniel Heide (Avi 2019), and Liszt, the latest release from Benjamin Grosvenor, a twenty-something British pianist very much in the ascendant (Decca 2021).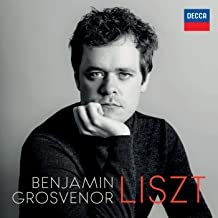 Both accounts are superb. The operatic splendor of Schuen's instrument makes a thrilling impression, all the more for his sensitivity to thought and language and the natural musicality of his phrasing, deeply in sync with Heide's attentive yet by no means subservient pianism. Grosvenor operates in a more introspective, perhaps more analytical key. In particular, he draws subtle distinctions between lines mapped on the verse of the poet and the intervening flow of melodic elaboration. In this sense, his fingers both play and "speak."
Listeners looking to explore the material further should know that the Schuen/Heide disc also includes the piano transcriptions from Années de Pèlerinage as well as an alternate edition of the songs, revised and in different order.
*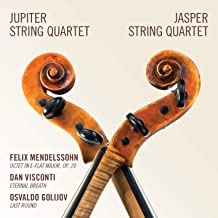 Between helpings of Liszt, we investigated a new album by a pair of string quartets, the Jupiter and the Jasper Quartet (Marquis Classics, 2021). When string players join forces in this configuration, chamber-music aficionados expect to hear Mendelssohn's Octet, op. 20, one of the glories of the repertoire. And so they may on this album, but we gave our air time to the J&J's more unpredictable, contemporary American fare. The single-movement "Eternal Breath," by Dan Visconti, evokes sounds and philosophies of India, expanding in a sustained cosmic arc towards a nirvana lost in the white noise of pebbles rolling in the break of a shallow wave. "Last Round," by Osvaldo Golijov, takes its title from the first of two moments, a whirling, sinister danse macabre that segues seamlessly into the hovering lament the composer calls "Muertes del Angel." Intriguing fare.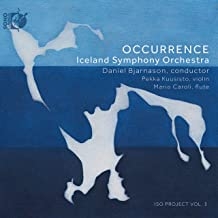 Finally, we sampled Occurrence, new from the Iceland Symphony Orchestra, conducted by Daniel Bjarnason (Sono Luminus 2021). From five new works by as many composers, we chose "In Seventh Heaven," by Haukkur Tomasson, a pileup of dark, Satanic blasts touched here and there by faint sprays of fool's fire. "Not my idea of Seventh Heaven," said Paul Janes-Brown, my senior partner in the studio, and I won't disagree, but the music grabs your attention all the same. Notes for further listening: check out Bjarnason's own Violin Concerto, first performed in 2017 at the Hollywood Bowl, where it received a warm welcome. The solo fiddle on that occasion as on this disc was Pekka Kuusisto, the Finnish whiz for whom it was written.