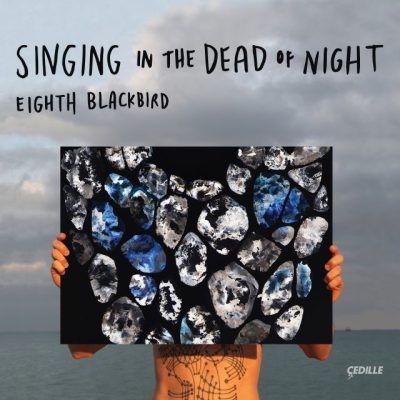 Between educated guesses and dumb luck, we usually manage to bring a good catch: prime material from artists we've come to trust, discoveries conducive to further exploration, and more. This time, I thought we could have done with some extra eureka moments. Can't win 'em all, and besides, there's always the wild card of personal taste. To listen in on any or all tracks,
click through to the Apple Music playlist
.
---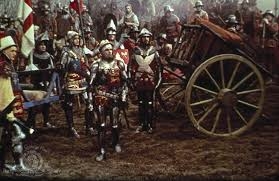 Ed Hughes: Time, Space & Change (Métier 2020)
New Music Players & Nicholas Smith
Does the name Agincourt instantly conjure up for you the great battle in Laurence Olivier's film of Shakespeare's Henry V, underscored by William Walton's stinging strings and drums and trumpets? If indeed Ed Hughes has that same St. Crispan's Day clash of 1415 in mind, his splashy palette, perplexing polyrhythms, and thuds of fate when one least expects them paint quite a different picture. I was missing the epic dimension, somehow, but I need (and want) to hear more.
*
Singing In the Dead of Night (Cédille 2020)
Eighth Blackbird
The Light of the Dark (Michael Gordon)
Imagine one giant bumblebee trapped in a little brown jug, get lost in the buzz, and wait around for whatever else catches drops in to claim your ear on a summer afternoon. David Gordon has no end of surprises up his sleeve in this grand-scale sort-of-Slavic, sort-of Appalachian mosaic: block chords, whistles, train whistles, a whir of dragonflies, the songs of birds, punctuated by spells of dead silence that strike like thunder... Amazing, the sonorities Eighth Blackbird's six multi-talented virtuosi unfurl before us. Eureka!
*
Voices (Deutsche Grammophon 2020)
Max Richter, Ian Burdge
Origins, Pt. 1
Origins, Pt. 2
Origins (Voiceless mix), Pt. 2
Lulling. At the piano, the composer Max Richter rocks the cradle, while the cello sustains long, long lines. In the fully loaded take, human voices, including at least one of a child, murmur at the threshold of inaudibility in languages hard to make out. The voiceless mix is not all that different.
*
Beethoven: Songs & Folksongs (Warner 2020)
Ian Bostridge, Antonio Pappano
An die ferne Geliebte, Op. 98
I. "Auf dem Hügel sitz ich spähend"
V. "Es kehret der Maien"
VI. "Nimm sie hin denn, diese Lieder"
Certain notes in Ian Bostridge's seasoned tenor retain the sunniness of youth, but no one who has resisted his hothouse manner in the past is likely to succumb at this late date. His partner at the keyboard, Antonio Pappano, offers pellucid support.
*
Elgar: Sea Pictures & Falstaff (Decca 2020)
Elīna Garanča, Daniel Barenboim & Staatskapelle Berlin
Sea Pictures, Op. 37
I. Sea Slumber Song
IV. Where Corals Lie
V. The Swimmer
Garanča's transparent, honeyed tone and poised phrasing are bewitching in the pensive stanzas of "Where Corals Lie." Elsewhere, Barenboim's phlegmatic tempi work to the soloist's disadvantage. The rhapsodic finale "The Swimmer" builds to a climax, yes, but the song is long, and I can't help wishing Garanča had been granted a grander wave on which to ride it home.
*
Haydn + Hummel (Centaur 2020)
Antonio Pompa-Baldi, Solomiya Ivakhiv, Slovak National Symphony Orchestra & Theodor Kuchar
Hummel: Concerto for Violin, Piano and Orchestra in G Major, Op.. 17: II. Thema con variazioni
Hummel crossed paths with Haydn, Mozart, Beethoven, Schubert, and Chopin, to name some giants in whose company his contemporaries thought he belonged. Rare encounters with his music sometimes justify a high opinion, though not as high as that. This neatly crafted 10-minute sample falls short on invention, through no fault of the players.
*
Russian Piano Music, Vol. 14: Sergei Prokofiev (Divine Art 2020)
Stefania Argentieri
6 Pieces from Cinderella, Op. 102
No. 4, Waltz. Cinderella Goes to the Ball
No. 3, The Quarrel
No. 1, Waltz. Cinderella and the Prince
Before recordings of evening-length orchestral scores were common, transcriptions and chamber arrangements of favorite moments for the home market enjoyed phenomenal popularity. Today, they often seem gratuitous, as in this case. Prokofiev weaves a somber but lavish instrumental tapestry, shot through with threads of silver, pearls, and gold. In the hands of a pianist who doesn't happen to be Vladimir Horowitz, the excerpts we sampled come off as gray on gray, devoid, in the great waltz for the lovers, of that swooning Gothic undertow.