Once a year, my old friend Franz Xaver Ohnesorg surprises me with a 2-CD sampler of live recordings from the Ruhr Piano Festival, by acclamation the most important event of its kind. Each season offers some 70 concerts in over 30 halls across the map of North Rhine-Westphalia, a polyurban sprawl that is home to a population of 5 million. Between marquee names and stars of tomorrow, Xaver's rosters never fail to stagger the imagination. His latest package, Edition Klavier-Festival Ruhr, Vol. 39: 250 Jahre Ludwig van Beethoven, showcases four young women from the former Eastern bloc playing miscellanea too peripheral for exposure in mainstream recital programs.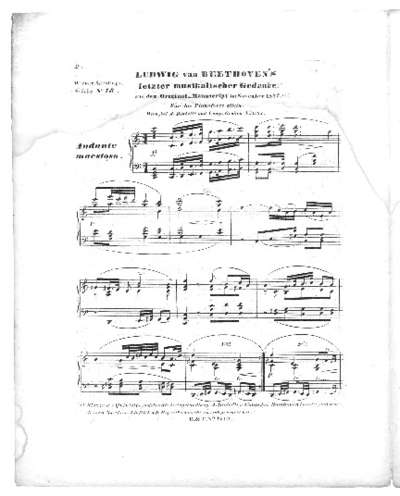 On the threshold of a great light. Anton Diabelli's variation--as unchanged as possible--on a very late sketch by Beethoven.
Speaking as a listener who over the course of two months or so once soldiered through recordings of the complete Beethoven at the average rate of one CD a day (and would start over any time at the drop of a hat), I'm of the persuasion that there's no dead wood there. Our show featured the characteristically unpredictable
Six Variations on the "Turkish March" from The Ruins of Athens, op. 76
, played by the Georgian pianist
Lika Bibileishvili,
whose crisp touch coaxes from a modern concert grand the frisky brilliance of a fine period instrument.
Anika Vavić
, of Serbia, took on the more treacherous assignment of the
Klavierstück in C-Dur, "Letzter musikalischer Gedanke" WoO 62
, a four-minute curio that is neither authentic nor a fake. Arranged and published by Anton Diabelli (yes,
that
Diabelli, composer of the waltz Beethoven immortalized in his 33 monumental variations), the Master's purported "Final Musical Thought" derives from sketches for a string quintet he had scarcely embarked upon when death stayed his hand. Resisting any temptation to
transcend
, Vavić finds eloquence down a path of artless simplicity.
Intimations of immortality. Eye witnesses estimated the crowds lining the Vienna streets for Beethoven's funeral procession in March 1827 at 10,000 to 30,000. One of the pallbearers was Franz Schubert, a quarter century his junior, who would follow him to an adjacent grave in November of the following year. As Fate would have it, Schubert, too, set to work on a string quintet shortly before his death—and happily lived to complete it, his final piece of chamber. Unlike Beethoven, who added a second viola to the classically configured string quartet, Schubert opted for a second cello. But can it be coincidental that Beethoven's fragment and Schubert's masterwork share the key signature of C major, traditionally associated with transcendental innocence?
*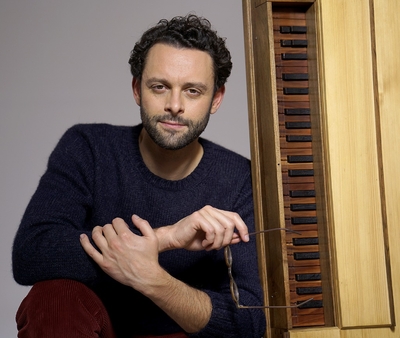 Benjamin Alard, a most versatile Baroque keyboardist. Photo: Robin H. Davies.
Another friend who favors me with shipments of fine new material is
Susan Orlando,
musicologist and producer of the landmark Vivaldi Edition on the naïve label. Her latest C.A.R.E. package included
Johann Sebastian Bach: The Complete Works for Keyboard, Vol 4. "Alla Veneziana
," performed by
Benjamin Alard
(Harmonia Mundi)
.
Choice period specimens of the keyboard family sounded on this three-CD set include a harpsichord, a pedal harpsichord, and the André Silberman organ of 1710 at the Abbaye Saint-Étienne in the Alsatian commune of Marmoutier, restored by Quentin Blumenroeder of nearby Hagenau in 2010. As heard in the scintillating three-movement
Toccata in C Major BWV
564 (that key again!), the instrument at Saint-Étienne speaks in tones of lean and pointed majesty, made to order for Alard's strict yet buoyant, never mechanical attack.
*
Nordica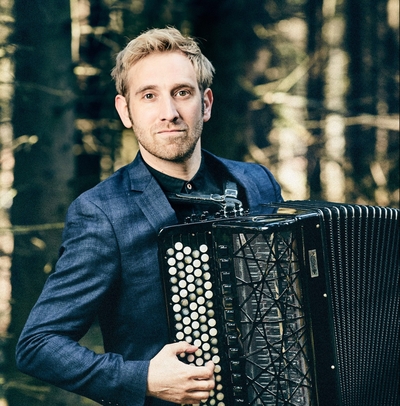 Bjarke Mogensen, in whose hands an accordion morphs from squeezebox to its own wind band.
The prolific Danish composer
Poul Ruders
turns up on our radar with some frequency, and so he did again, with
Dream Catcher
(Bridge). How often have you encountered an accordionist frontman on a symphonic album? Never? Well, let the record show that the Ruders catalogue includes what he calls an entire "Accordion Trilogy," of which
Sound and Simplicity (Seven Pillars of Music for Accordion and Symphony Orchestra)
is the culminating panel.
Bjarke Mogensen
takes the solo part, backed up by the Odense Symfoniorkester conducted by Sebastian Lang-Lessing.
We started out with Mogensen's five-minute Dream Catcher, arranged by himself after the original for accordion and string quartet. From there, we jumped to "Wolf Moon," the Seventh Pillar of S&S (Jane Austen meets Lawrence!). On his own, Mogensen brought out refinements of texture and line of which you might have thought any squeezebox incapable, and that was interesting. Facing off against the full symphonic onslaught, he handled his instrument as a de facto wind orchestra in its own right, and that was thrilling.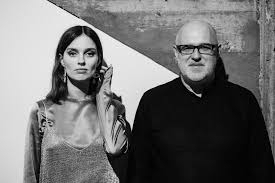 Full-service recording artists Bára Gísladóttir & Skúli Sverrisson: composers, performers, producers, technowizards.
From Copenhagen to Reykjavík, for
Caeli
, some 20 tracks on two CDs composed, performed, and produced by the technowizards
Bára Gísladóttir & Skúli Sverrisson
(Sono Luminus). Most of the titles, in languages ancient and modern, point to the canopy overhead—sky, heaven, or heavens, take your pick. Because we in Hawaii live on islands, we opened with "
Anche il mare è un cielo"
(The sea, too, is a sky), which clanks and rolls and thunders like an industrial disaster on an oil rig, underscored by groaning whale song. And because we live on a planet from which, in our turn, all must part, we closed with
"Afterlife
," which wafts by like stellar debris in a snow globe the size of the cosmos, dotted with radio waves hovering at the edge of some black hole.
*
Going Latin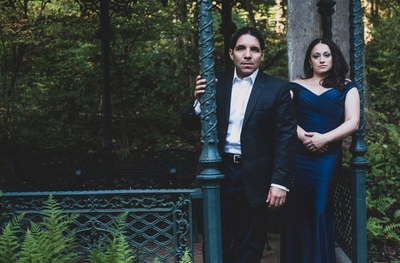 Making beautiful music together: the husband-and-wife team of Isaí Jess Muñoz, tenor, and Oksana Glouchko, piano.
Visca L'Amor: Catalan Art Songs of the XX and XXI Centuries
presents
Isaí Jess Muñoz,
tenor, in recital with
Oksana Glouchko
, piano (Bridge). Rather than hopscotch among the program's six groups of songs by as many composers, we focused on the
Combat dei Somni
(Struggle in the Dream) of
Frederic Mompou Dencausse
, three miniatures of fragrant delicacy, lovingly executed by artists to whom sensuality comes with apparent ease.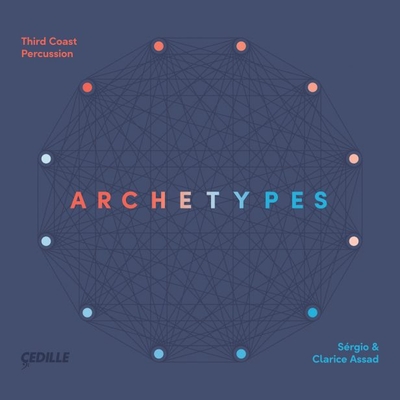 On Archetypes, Sérgio & Clarice Assad—guitarist father and pianist/vocalist daughter—teamed up with four-man Third Coast Percussion, offering musical sketches of a dozen character types (Cedille). Sérgio takes composing credits for four tracks, Clarice for another four, and the percussionists for one a piece. Sérgio's "Magician" (No. 5) conjures up a laid-back surfer dude, perhaps, who walks on air. "Jester" (No. 7), from Clarice, invites the whole gang to channel their inner R2-D2 in sounds of (I'm guessing) Jew's harps, kazoos, and Whirly Tubes. Crazy!
*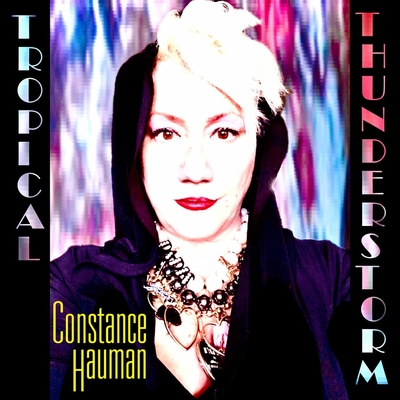 "It isn't always true that love is blind." Constance Hauman, transcending genre.
And finally:
I first encountered
Constance Hauman
as a soprano whose high-wire acts included the heroines of
Lucia di Lammermoor
and
Lulu
. Before the pandemic, she added to her conquests the Queen Elizabeth of Olga Neuwirth's
Orlando
, after the Virginia Woolf novel, Constance's Vienna State Opera debut in the work's world premiere (costumes by Comme des Garçons, so there!). After hours between red-velvet gigs, Constance moonlights as an award-winning New Jazz singer/songwriter/pianist. We spun the title track from "Tropical Thunderstorm," a torrid fantasy that pulsates in molten sheets of layered sheet lightning, and cooled down with the mellow instrumental "Boy, I Haven't Done That In Awhile." No reason not to do it again!