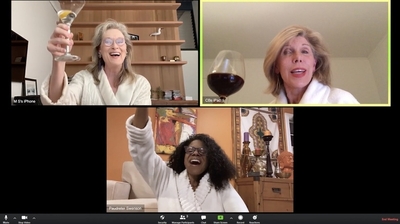 Another reason not to move, another vodka stinger!Clockwise from top left: Meryl Street, Christine, Audra McDonald carve up "Ladies Who Lunch."
Another new decade, another milestone gala for Stephen the Incomparable. Any year but this,
Take Me To the World: A Sondheim 90th Birthday Celebration
would have lit up Carnegie Hall, Radio City, or one of the grandest Broadway palaces. But no, in our work-at-home, touch-me-not Age of the Coronavirus, the show unfolded in cyberspace on April 26. There it will remain in perpetuity, available to stream free on demand. The party's not over.
Clocking in at a trim two-and-a-half hours, Take Me to the World showcases three-dozen Sondheim aficionados in a grab bag of signature favorites and bombshell bonbons. Sutton Foster leads the charge, bursting with anticipation in "There Won't Be Trumpets." Next up is Neil Patrick Harris, letter-perfect in "The Witch's Rap"—a serpentine spoken-word tongue-twister chosen, Harris deadpans, to show off his vocal range. Then comes the seraphic Kelli O'Hara, enraptured by Big City electricity in "What More Do I Need." The penultimate solo falls to Patti LuPone, who chose "Anyone Can Whistle," she says simply, "because it moves me deeply." Then Bernadette Peters wraps up with "No One Is Alone," a quartet she used to listen to from the wings when she was starring as the Witch in the original Into the Woods. "I thought this might just be the perfect song right now," she explains. Shared a cappella, without adornment, it proves both brave and fragile.
For some, the songs of disillusionment on the cusp of tentative new hope—a Sondheim specialty—may dampen the festive note. That said, not a number falls flat, and there's wide variety in the performers' communicative styles. Raúl Esparza and Aaron Tveit sing conversationally, even confessionally, straight into the hearts of each one of us, eyes locked on the camera. Lin-Manuel Miranda, Michael Cerveris, and Donna Murphy turn inward, acknowledging the listener's presence not at all. Some play the lens like stylists at a cabaret, half in character, half themselves, some pitch their stuff straight to the gallery, and one—the online comic Randy Rainbow—delivers snappy desktop vaudeville. Elaine Stritch being unavailable, scenery-chewers Christine Baranski, Meryl Streep, and Audra McDonald do the Julius Caesar thing and carve up "The Ladies Who Lunch" into three well-sozzled parts.
Oh, and by all means, stick around for the exit music, the survival anthem "I'm Still Here," from Follies, as interpreted by the 11-year-old Iain Armitage, fresh as paint, and some 50 multigenerational Broadway babies representing the gamut of current musicals shuttered by the pandemic. Surely Stritchie, who stopped Sondheim's 80th Birthday Concert at the New York Philharmonic with that number, is arching an eyebrow somewhere. Whenever those Joanie Come Latelys in their 30s or 40s gave it a whirl, she scoffed. "Where," she would rasp, "have they been?