Frosted pines at the Royal Hawaiian, each branch heavy with ornaments. Surfer Santas gliding in on beaches from Hanalei to Kamakahonu. Rudolph in suspended animation, prancing year-round with Dasher and Dancer and Vixen on a Kalaupapa rooftop. In or out of season, the Yuletide spirit rhymes just fine with aloha here in Hawaii nei. But holiday cheer of a musical nature is for the most part a December exclusive.
And on the Valley Isle there's plenty of all kinds to choose from. The Advent festivities commence this afternoon at 3 p.m. at the Maui Arts & Cultural Center's Castle Theater with the Maui Choral Arts Association in "December Joy: A Choral Concert of Joy and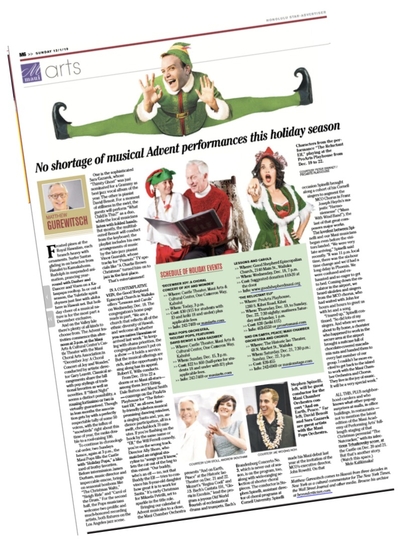 Wonder," conducted by artistic director Gary Leavitt. Classical arrangements share the bill with pop stylings of traditional favorites as well as novelties. If "Silent Night" seems a distinct possibility, a rousing fortissimo or two is virtually guaranteed. Though in lean months the association gets by with a perfectly respectable tally of some 50 voices, with the influx of "snowbirds" right about this time of year, the ranks double to a roof-raising 100.
To continue in chronological order, two Sundays hence, again at 3 p.m., the Maui Pops fills the Castle with "Holiday Pops," a blizzard of frothy favorites.
Before intermission James Durham, music director and impeccable emcee, brings on seasonal bonbons like "The Christmas Waltz," "Sleigh Ride" and "Carol of the Drum." For the second half, the Pops musicians welcome two prolific and much-honored recording artists, both fixtures on the Los Angeles jazz scene.
One is the sophisticated Sara Gazarek, whose "Thirsty Ghost" was just nominated for a Grammy as best jazz vocal album of the year. The other is pianist David Benoit. For a moment of stillness in the swirl, the guests will perform "What Child Is This?" as a duo, while the local musicians listen with folded hands.
But mostly, the multitalented Benoit will conduct from the keyboard; the playlist includes his own arrangements of music by the late jazz pianist Vince Guaraldi, whose tracks for "Peanuts" TV specials like "A Charlie Brown Christmas" turned him on to jazz in the first place.
That's entertainment!
IN A CONTEMPLATIVE VEIN, the Good Shepherd Episcopal Church in Wailuku offers "Lessons and Carols" on Wednesday, Dec. 18. The congregation's home pagereads in part, "We are a church that reflects all of the ethnic diversity
of Hawaii, and welcome all whether you are native Hawaiian or arrived last week." In keeping with ohana priorities, the congregation doesn't put on a show — it holds a service. But the musical offerings are rich, and the opportunity to sing along has its appeal. Robert E. Wills conducts.
From Dec. 19 to 22 a dozen or so Maui all-stars— among them Jerry Eiting, Dale Button and Marsi Smith — converge on the ProArts Playhouse for "The Reluctant Elf," an all-new, family- friendly jukebox musical promising dancing reindeer, a singing Santa and, yes, audience participation, all in a swift, chockablock 70 minutes. If you're flashing on the book by the same name or "Elf," the Will Ferrell comedy, you're on the wrong track.
Director Ally Shore, who matched an original storyline to "songs you'll know," lets the cat out of the bag to this extent: "Our buddy, who's an elf — no, not that Buddy the Elf — tries to convince his 8-year-old daughterhow great it is to work for Santa." It's early Christmas for Mikaela Petrilli, set to sparkle in the title role.
Bringing our calendar of Advent musicales to a close, the Maui Chamber Orchestra presents "And on Earth, Peace" at the Historic Iao Theater on Dec. 21 and 22. Mozart's "Regina Coeli" and J.S. Bach's Cantata 191, "Gloria in Excelsis," lend the program a joyous Old World flourish of ecclesiastical drums and trumpets. Bach's Brandenburg Concerto No. 3, which is never out of season, is on the program, too, along with wide-ranging selection of shorter choral pieces. The conductor is Stephen Spinelli, assistant director of choral programs at Cornell University. Spinelli made his Maui debut last year at the invitation of the MCO's executive director, John Rowehl. On that occasion Spinelli brought along a cohort of his Cornell singers to augment the MCO Chorus in Franz Joseph Haydn's majestic "Harmoniemesse" ("Mass With Wind Band"), the last of that great composers major works.
The lovefest between Spinelli and our Maui musicians began even before the visitors landed. "We were very late arriving," Spinelli said recently. "It was 11 p.m. local time, there was the six-hour time change and we'd had a long delay in Phoenix. We were confused and exhausted and so eager to get to bed. Coming down the escalator in the airport, we heard ukuleles and singers from the MCO chorus, who had waited with John for hours and hours to greet us with lei and a song.
"I teared up," Spinelli continued. "So did lots of my singers. And when we were about to fly home, a chorister who happened to work in the secure area at the airport brought a suitcase full of chocolate-covered macadamia nuts and handed them to every last member of our group. I couldn't be more excited to get back to the island to work with the Maui Chamber Orchestra and Chorus. They live in the joy of music. It will be a very special week."
ALL THIS, PLUS neighborhood carolers and who knows what other pop-up surprises at malls, in office buildings, in restaurants — not to mention the latest edition of the Maui Academy of Performing Arts' full-length staging of that Christmas perennial "The Nutcracker," with its infectious Tchaikovsky score, at the Castle on Dec. 20 and 21. But that's another story. (Watch this space.)
Mele Kalikimaka!