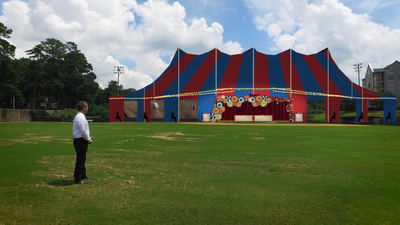 Rain or shine: under the direction of Tomer Zvulun, the Atlanta Opera begins its fall season outdoors, with circus-themed performances of Pagliacci and The Kaiser of Atlantis.
Who cares about an opera company's business model? Tomer Zvulun, the visionary general and artistic director of the Atlanta Opera, for one. "Don't hire this guy," Gallup warned the board of directors in 2013. "He's not prepared." Well, look at him now. In place of the conservative-leaning season originally announced, Zvulun has cooked up a whole new one, tailored to the pandemic. His "Big Tent" series, beginning next week, offers six experimental, open-air boutique operas for boutique audiences. Expect videos of the shows in short order.
Artistically, economically, logistically, and in just about any other way you could name, it's a whole new ball game. The season's first installment, October 22 through November 14, presents two circus-themed shows in rotation: Ruggero Leoncavallo's red-blooded verismo warhorse Pagliacci and the surreal Brechtian vaudeville The Kaiser of Atlantis, a long-lost memento from the concentration camp of Terezín, where the Nazis, for propaganda purposes of their own, encouraged prisoners to cultivate the arts.
"The circus represents a certain grit, a certain perseverance," Zvulun said recently on Zoom. "Atlanta needs art. Atlanta needs live performance. This community and the artists we have are nimble enough, creative enough, gritty enough to find a way." Yes, and the novel approaches Zvulun and his cohorts find—along with the new bridges they build into a wider community—may even establish a paradigm that lives on when Aida returns in Pharaonic glory.
Back when this Cinderella story began, Atlanta needed a turnaround artist the way Chrysler once needed Iacocca. Though opera companies routinely separate the (often conflicting) creative and fiscal responsibilities, Atlanta didn't have the budget for that. A stage director by training and with growing international experience, Zvulun won over the search committee with his ideas and infectious enthusiasm. But what about the chops to run a company, to raise money, to corral new audiences? With zero experience in these areas, Zvulun had his hesitations. "Who does meetings?" he asked, not altogether rhetorically. "I do rehearsals." Yet when the board offered him the two-pronged top spot, he took it.
And two years later, after stakeholders in the company leaned on him to join private-sector C.E.O.'s and C.O.O.'s in the Harvard Business School's Program for Leadership Development, he piled on those long extra hours of study and commuting. As a direct result, the Harvard Business School case study "Tomer Zvulun and the Atlanta Opera: At Crossroads" has been taught as part of the advanced executive curriculum, raising weighty institutional questions. As Zvulun's stock rises, will Atlanta be able to hold on to him? And how soon can Atlanta stage Wagner's four-evening "Ring" cycle, thereby claiming parity with top national companies in San Francisco, Chicago, Los Angeles, and Seattle?
In point of fact, the current season was to have culminated in the Atlanta premiere of (ta-da!) Das Rheingold, the cycle's opening installment. Along with the rest of the repertory, that milestone has been postponed to 2021–22, displaced by chamber opera under the Big Tent.
The paradox in the metaphor may be tongue-in-cheek, but at the same time there actually is a physical tent. Custom-built for traveling, it accommodates 240 spectators seated at four-top cocktail tables set up in the open air like checkers on a checkerboard. Operas written for full orchestra will be heard in reductions for a handful of solo instrumentalists. Choruses will practice social distancing and be seen on Zoom. Casts will be drawn from a high-powered 12-member ensemble contracted for nine months—an arrangement that artists of the caliber of Jamie Barton, Ryan McKinny, Alek Shrader, Daniela Mack, among others, could hardly have considered pre-pandemic.
The four remaining shows for the season will likewise be presented in pairs, with a common theme, dates, and multiple locations for each to be announced. "Every day is like a week," Zvulun says. "So much is changing, and so fast, with different protocols for what's allowed, what's not allowed. I can tell you that, for the winter, our theme is an alehouse, a dingy tavern on the fringe of society, so something like The Threepenny Opera would be relevant. We want to end with hope, so in the spring the themes will be more escapist and magical, an Orpheus opera perhaps. But we can't make announcements yet. We make plans, and the gods laugh."