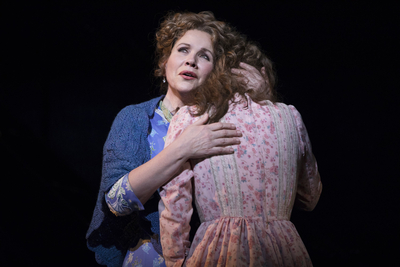 In Carousel, Renée Fleming lends Nettie Fowler the poised glamour of the Marschallin, stopping the show with her anthem 'You'll Never Walk Alone.' Classic musicals are enjoying Broadway revivals. (All Carousel photos by Julieta Cervantes)
Everyone loves
Carousel
, right? And doesn't everyone love
My Fair Lady
? In the canon of the American musical, these two stand at the very pinnacle. Late in the season just ended, both returned to Broadway in brand-name revivals that should keep the box office humming for quite some time. If you suppose, however, that this is a moment for sheer jubilation, think again. The headline of a wary preview in the New York Times said it all: "The Problem with Broadway Revivals: They Revive Gender Stereotypes, Too." Oh, Lord.
A war of wills between Eliza (Lauren Ambrose) and Henry Higgins (Harry Hadden-Paton) its underway at Lincoln Center. Allan Corduner (right) is Pickering. (All My Fair Lady photos by Joan Marcus.)
At the Vivian Beaumont Theatre at Lincoln Center,
My Fair Lady
(1956) neatly transcends such debate. Working on the same great thrust stage where they mounted landmark productions of Rodgers & Hammerstein's
South Pacific
and
The King and I
, the director Bartlett Sher and his production team of perfectionists once again brought fresh life to a classic in a style that on the face of it looked very traditional. Michael Yeargan's architecturally ingenious sliding and rotating sets and Catherine Zuber's meticulous yet never pedantic period costumes, shown to maximum advantage under Donald Holder's pristine lighting, magnify the live action yet never dwarf it.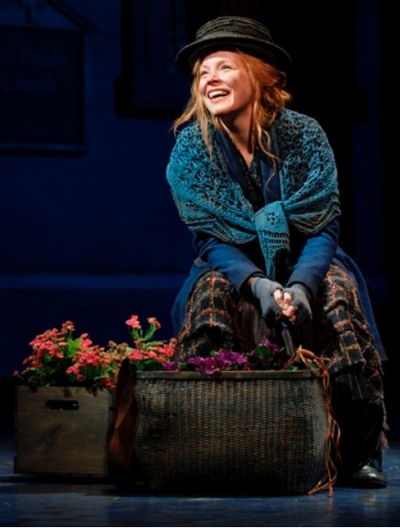 All she wants is a room somewhere? Not bloody likely. Lauren Ambrose as Eliza.
For the most part, past generations chose to read
My Fair Lady
as a comedy of manners, wherein the imperious phonetician Henry Higgins molded the ignorant flower girl Eliza into a "consort" deserving of his regard. Audiences in rose-tinted glasses may still like to see it that way. But in truth, both Shaw's play
Pygmalion
and Alan Jay Lerner and Frederick Loewe's inspired musical adaptation, always had less in common with the levity of
Charley's Aunt
, say, than the asymmetric war of wills of Ibsen's
Doll's House
, and that core is what Sher and his Eliza, Lauren Ambrose, have chosen to address.
The actress's finesse begins to emerge in her first number, "Wouldn't It Be Loverly?," with hints of yearning not just for creature comforts but for a life worth living. In "The Rain In Spain," her originality and determination come into full view, as she slowly wrenches each stubborn Cockney vowel to the form of the King's English.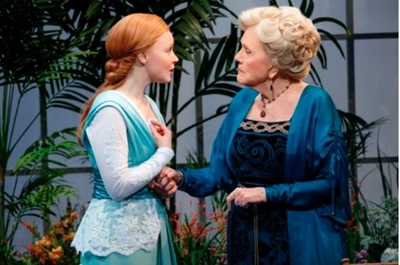 Ambrose shares the stage with Diana Rigg, in her salad days the toast of London in the renowned 1974 revival of Shaw's play Pygmalion.
From this moment at the very latest, her smiles, her frowns, her ups, her downs dominate the show, eclipsing the sorry comedy of the professor's self-centered, stunted bachelorhood. Indeed, the Higgins of Harry Hadden-Paton registers most sharply in total silence, moments before the final blackout, pale with frozen terror at what Eliza would do next. After Ambrose, Norbert Leo Butz delivers by far the most striking portrait, seraphic and blissfully light of foot as that louche Cockney Diogenes, Eliza's father Alfred P. Doolittle. As the besotted featherbrain Freddy Eynsford-Hill, Jordan Donica pours his melodious all into "On the Street Where You Live." In stature quite the dowager, the Mrs. Higgins of Diana Rigg (four decades ago the Eliza of a renowned London revival of Shaw's play) leavens dialogue that might be starchy with understated grace. No space here, alas, to sing the praises of an ensemble rich in deftly sketched personalities, Christopher Gattelli's polished processions and dances, the stylish conducting of Ted Sperling, or the lush, all-acoustic orchestra, some 30 players strong, and nary a synthesizer in sight.
*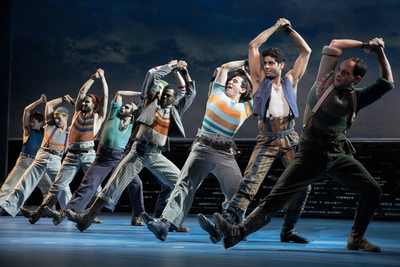 A star is born: Amar Ramasar (second from right, couldn't you tell?) blows off the roof in "Blow High, Blow Low."
On to
Carousel
(1945), arguably the greatest of the Rodgers & Hammerstein's collaborations, by decree of
Time
magazine in 1999 the best musical of the 20
th
century. Few would dispute the glory of the score—from the slow-building orchestral vortex of the opening waltz to the aching romance of "If I Loved You," from the folksy exuberance of "This Was a Real Nice Clambake" to the soul-searching "Soliloquy" of Billy Bigelow, father-to-be and cashiered hunk whose animal magnetism once made the carousel go around.
But the domestic violence and sexual politics baked into the material are a problem, now more than ever. Audiences have always recoiled when Billy hits his wife Julie, and she refuses to complain. Worse, when Billy's unquiet soul descends from the outskirts of heaven ("up there," says the script) for a glimpse of his now-teenage daughter Louise, he slaps her face. Worst, Louise tells her mother the slap felt like a kiss. Or so she always used to do. In the Jack O'Brien production at the Imperial Theatre, the line goes unspoken. As old taboos fall, a new one arises. But who, even now, will break a spear for Billy the boy toy, caught in the clutches of the jealous widow who owns the carousel?
O'Brien's musical credits on Broadway range from revivals of Porgy and Bessto the original productions of Into the Woods, The Full Monty, and Hairspray, each occupying its distinct microcosm. Yet the Yankee stronghold of Maine in 1873, where Carousel begins, has given him some trouble.
To this day the state remains, as of old, one of very whitest of America's fifty. In our age of competing demands for color-blind casting on the one hand and "representation" (by race, gender, gender preference) on the other, can it matter that Joshua Henry, who plays Billy, is African-American?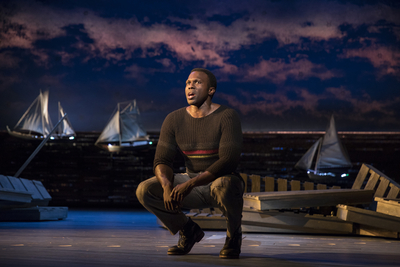 Unsettled, complicated, magnificent: Joshua Hentry's Billy Bigelow is as alien and apart as Othello in Shakespeare's Venice.
As it happens it does, very much. A black Billy being inconceivable in
Carousel
's time and place, we have no choice but to read Henry as "white." Henry's unsettled, complicated, sometimes muted, ultimately magnificent portrayal strikes to the heart of his role. In "Soliloquy," Billy's love for his unborn daughter spills forth with spell-binding eloquence. In the cosmic protest "The Highest Judge of All," he infuses classical line with Gospel soul. Yet in his tentative bravado and subliminal anxieties, Henry touches on legacies of racial injustice
Carousel
never intended to address. In the presence of this actor in this role, they cry out for some kind of acknowledgement. The production takes no notice, leaving Henry as alien and apart as Othello in Shakespeare's Venice.
And so the world around him rather pales. Jessie Mueller's sweet but slight soprano cannot pierce the mask of Julie's passive acquiescence. Lindsay Mendez flattens the bouncier part of Julie's friend Carrie Pipperidge with her one-note gusto. As Carrie's beau and then husband Enoch Snow, Alexander Gemignani cuts a likeable but forgettable figure. Seething with wild resentment, Brittany Pollack's Louise dances up a storm. Renée Fleming—yes, that Renée Fleming—lends the earth mother Nettie Fowler the poised glamour of the Marschallin, predictably stopping the show with the anthem "You'll Never Walk Alone."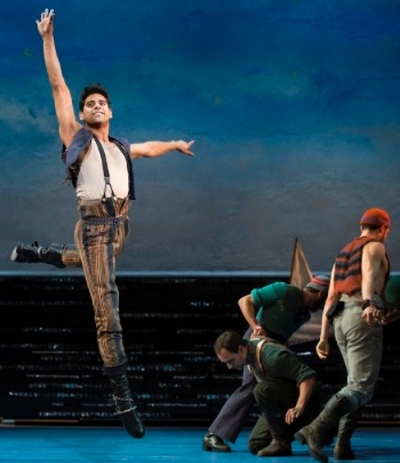 On furlough from the New York City Ballet, where he ranks as a principal, Amor Ramasar is Jigger Craig, repugnant yet charismatic. The dances in Carousel are by Justin Peck, resident choreographer with the same company.
Among these historically appropriate all-white townsfolk, a second person of color catches the eye. That would be Amar Ramasar, of mixed Indian, Trinidadian, and Puerto Rican descent, on furlough from New York City Ballet, where he ranks as a principal. In his Broadway debut, Ramasar plays Jigger Craigin, the ne'er-do-well whaler who draws Billy into a crime from Billy sees no escape but suicide. A repugnant character, Jigger is this time also a charismatic one, rocketing through the macho number "Blow High, Blow Low" like the captain of the pirates of the Caribbean. No one else can
As you might expect, the production values are high. What the chandelier is to Phantom of the Opera, Santo Loquasto's carousel is to Carousel, the canopy unfurling as it descends like the spokes of a giant umbrella. Caught in the lighting designer Brian MacDevitt's horizontal glow of sunset, toy ships on a canvas ocean tug the heartstrings with longing for faraway places. Preparing the otherworldly sequence outside the Pearly Gates, where a crusty "Starkeeper" (the classical actor John Douglas Thomas, an award-winning Othello) tries his best to set Billy straight about what matters, Loquasto gives the stage a discreet dusting of stars that start twinkling even before the rise of the curtain. Ann Roth's period costumes aim rather to individualize than to prettify, so they clash at times, and what's wrong with that? The conductor Andy Einhorn has fewer strings at his disposal than his colleague at My Fair Lady, but again, the band is free of electronics, lavish by Broadway standards, and briskly up to the mark.