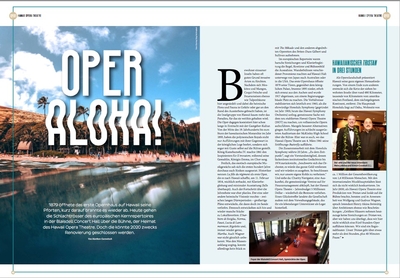 Those who dwell on remote islands have good cause to fear invasive species. Now that the mosquito, the mongoose, the coqui frog, the little fire ant, and the African tulip tree have made themselves at home, endangering native flora and fauna or even driving them to extinction, the Hawaiian island chain is no longer quite the paradise it is still widely thought to be.
Opera, on the other hand, has long coexisted in harmony with the host culture. From the mid-19th century to the overthrow of the Hawaiian monarchy in 1893, the Polynesian royals not only graced performances by their presence in the royal box but also participated with gusto. In 1861, King Kamehameha IV served as stage manager for Il Trovatore, while his consort, Queen Emma, sang in the chorus.
Even so, the exotic European bloom endured a very precarious first hundred years. Historians say that the first opera to arrive in Hawaii was La Fille du Régiment on February 11, 1854, cut to shreds, with piano accompaniment and minimal if any décor. Progress over the decades was haphazard. Occasionally, between long dry spells, a local visionary would hatch grandiose plans that went nowhere. Nevertheless, international favorites cropped up now and then: The Barber of Seville, Norma, Faust, Lucia di Lammermoor, Rigoletto, and the perpetual Martha. Nor was Wagner entirely unknown. But for mass appeal, nothing matched The Mikado and other loony operettas of the Britishers Gilbert and Sullivan.
In the continental repertory, piano accompaniment and heavy cuts were the rule, full costumes the exception. Touring companies of various provenance passed through en route to Australia or to America from Japan. A first opera house opened its doors in 1879 opposite the royal palace and burned down in 1895, rose from the ashes, and was torn down in 1917 in favor of a government building.
Conditions stabilized at last in 1960, when the venerable Honolulu Symphony (founded in 1900, today the Hawaii Symphony Orchestra) joined forces with the newly established Hawaii Opera Theatre to produce fully staged opera. Lacking any more suitable space, performances went forward in the ill-equipped auditorium of McKinley High School. There, HOT presented its inaugural Madama Butterfly on March 4, 1961.
The arrangement with the symphony lasted twenty years. "At that point," says a board member whose total institutional recall goes back to 1974, "the orchestra complained that they were making all the money and we were losing it all. So, we decided to go it alone and lose our own money." In truth, the rating service Charity Navigator, which evaluates nonprofits on the criterion of fiscal management, has repeatedly awarded HOT—annual budget $5 million—its top rating. By a stroke of good fortune, the company owns its own office building, the bequest of a lifelong supporter.
As a landscape for opera, Hawaii presents challenges. End to end, the chain of the seven inhabited islands measures some 300 miles, thousands of miles from America, the closest continent. The capital Honolulu sits on Oahu, which accounts for approximately a million of the islands' total population of 1.4 million. Competing with international music capitals on their own terms is not really possible. In 2000, when HOT mounted Tristan und Isolde in consultation with and in the presence of Wolfgang and Gudrun Wagner, the general director Henry Akina spoke candidly of the company's ambitions and limitations.
"Cutting Tristan is not usually done these days in bigger houses," Akina said, "but we didn't really think we could perform a 5-hour opera here: we are a regional theater. Our Tristan is about 3-plus hours of music, plus 40 minutes intermission."
HOT as it exists today is unthinkable without Akina's guiding hand for two decades beginning in 1996. Hawaiian-born, he attended his first opera—Carmen, at HOT­—at the tender age of six. After college on the East Coast, he moved to Berlin, where he gained his practical experience in theater as an assistant director. In 1981, he cofounded the Berlin Chamber Opera, dedicated to fringe repertoire in experimental stagings.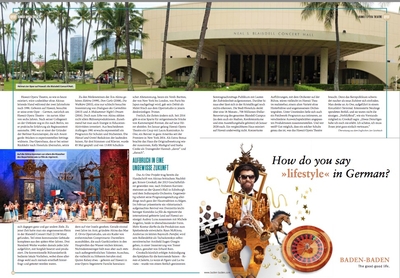 The company he inherited on returning to Honolulu pursued very different objectives. By now, it had found a suitable home at the Blaisdell Concert Hall, capacity 2,158, part of a civic complex built in the late 1960's. Three standard titles were presented each year, cast and produced with care. Onstage, catering to local preferences perhaps never seriously put to the test, a frankly conventional aesthetic prevailed.
Milestones of the Akina era include Elektra (1999), Don Carlo (2008), Die Walküre (2010), a poorly attended Dialogues des Carmélites (2013), and A Midsummer Night's Dream (2016). But the legacy of the Akina era is not limited to shows on the mainstage. Increasing energies were expended on education. From modest local beginnings in 1981, the program for schools and libraries has burgeoned exponentially. This season's reduced Hansel and Gretel, for three singers and pianist, played 85 shows, reaching 13,000 schoolchildren on four islands. Only two years into his tenure, Akina established the Mae Z. Orvis Opera Studio, designed to build a cadre of home-grown comprimari who can hold their own opposite guest artists in the principal parts. That said, the staff is ever on the outlook for the exceptional talent destined for greater things. Quinn Kelsey, born in Hawaii into an opera-mad family of Hawaiian descent, now a Verdi baritone in demand from New York, London, and Paris to Japan, gave his solo debut fresh from the studio as Melot in that historic Tristan.
Of course, time does not stand still. And since 2014, a fourth slot has opened up for contemporary chamber-scale pieces targeting new audiences. In January, HOT scored a coup with Laura Kaminsky's As One, a runaway hit across America since its premiere in New York in 2014. For extra points, the company reunited the original cast of two, Kelly Markgraf and Sasha Cooke, as the transgender woman Hannah "before" and "after."
The As One project bore the stamp of Akina's British successor Simon Crookall, who signed on as executive director in 2013, following stints with the Queen's Hall in Edinburgh and the Indianapolis Orchestra. At present, his programming seems otherwise very consistent with the company's traditions. In February, a Victorian-style revival of Donizetti's gentle knockabout farce La Fille du Régiment, showcased the internationally acclaimed Audrey Luna (a Hawaii resident) and Michele Angelini in exuberant form. The closing show of the season should prove more distinctive. Directed by Tomer Zvulun and designed by Erhard Rom, the five-city coproduction of Eugene Onegin stars Ryan McKinny, the original Amfortas of Bayreuth's latest Parsifal, in his role debut as Tchaikovsky's self-defeating antihero.
Crookall's recent announcement from the stage of next season's repertory—Roméo et Juliette, Le Nozze di Figaro, and La Traviata—brought loud oohs of satisfaction from the festive Sunday-afternoon crowd. After that, the crystal ball grows dim. The city of Honolulu is contemplating an 18-month, $700-million upgrade of the entire Blaisdell campus (which also houses an arena, conference facilities, and an exhibition hall), beginning January 1, 2020. In all Hawaii, no comparable theater exists. Concert opera, with the orchestra onstage, may be possible at the Hawaii Theatre, an old vaudeville house lacking backstage space and an adequate pit. Or it may be a case of piecing together a season of intimate, site-specific productions in venues all over town.
And who is to say that may not be just the jolt HOT needs now? After all, the core audience is dwindling faster than new recruits are materializing. But take the case of As One, staged in a cruise terminal. Curious newcomers cheered, and they were not alone. "Amazing," a skeptical board member told Crookall. "I've never seen anything like it. I guess I'm going to have to trust you."