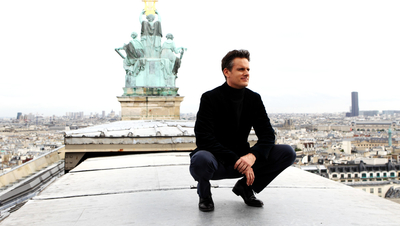 Master of all he surveys: Philippe Jordan atop the Palais Garnier, historic home of the Opéra National de Paris, scanning the horizon for the company's second home, the glass-steel-and-cement Opéra Bastille, some two and a half miles to the southeast.
As followers of my recent posts will have guessed, the work of the Swiss conductor Philippe Jordan strikes me as well worth thinking about. We first met in 2007 to explore the prospect of a profile for the American market. Thus began a conversation that has continued intermittently over the years.
He had caught my ear a few weeks before at the Metropolitan Opera—not his debut, but a return engagement, leading a revival of Le Nozze di Figaro, which took wing at the first bar. A few weeks later, he cast a spell with the New York Philharmonic in a program that included Beethoven's Third Piano Concerto, with the soloist Pierre-Laurent Aimard. In the New York Times, Anthony Tommasini likened Jordan's approach to that of "the magisterial Otto Klemperer," a 20th-century titan close to Gustav Mahler, "though with a cooler, more contemporary attitude." My most vivid impressions came from unusual Czech fare. In Vyšehrad (The High Castle), the rarely heard opening tone poem from Smetana's panoramic travelogue Má Vlast (My Homeland), it took no more than the first chords, struck by a pair of harps set up on opposite sides of the stage, to conjure up the age of bardic romance.
As it happened, nothing immediate came of the writing project. Those performances in New York were to be Jordan's last hurrah in America for quite some time. His appointment as music director of the Opéra National de Paris beginning in 2009 had already been announced. (Out of the blue, Opera News commissioned a cover story on him from me in 2010.) In 2014, Jordan added to his portfolio the music directorship of the Vienna Symphony (not to be confused with the self-governing Vienna Philharmonic). His next chapter begins in 2020, with a lateral move from Paris to the post of music director of the Vienna State Opera.
Audio and video from Jordan's home bases, as well as from musical hotspots like Salzburg, Bayreuth, and Baden-Baden, have provided valuable documentation of his progress over the last decade. But nothing can replace the live experience. Last month, in the space of a single week, I caught Jordan on the podium at the Opéra for Krzysztof Warlikowski's red-letter new production of Verdi's Don Carlos (dress rehearsal and premiere), the dance-maker Anne Teresa De Keersmaeker's one-of-a-kind through-choreographed take on Mozart's Così fan tutte (twice), and Robert Wilson's classic staging of Debussy's Pelléas et Mélisande, which is approaching historic-landmark status.
After the second Così, we sat down to compare notes on the performances and more general matters. An edited transcript of our conversation follows.
*
MG:
* As I think I've mentioned, your tempi almost always seem "natural" to me: neither rushed (even when they are fast) nor drawn out (even when they are slow). That's still the case, but in Così, I was hearing other qualities I haven't noticed before. I'm not sure this will mean anything to anyone else, but in my mind it seemed traced in silverpoint rather than glazed in enamel. For one thing, you seemed less interested in a smooth "Mozartian" surface than in bursts of new ideas and quantum leaps. And although I haven't gone back to the score to check this, I thought I was hearing lots and lots of alla breve—conducted in two beats to the bar, rather than four—which makes the pulse of the music feel faster.
Philippe Jordan:
- Così is such a crazy game. It's like a carousel. And yes, lots of the music is marked alla breve. I'm glad you could hear that. After the short opening Andante, the overture is in fact Presto alla breve. I've never played it this fast before, but it made total sense. In fact, it works much better. In the ensembles, I did things I never dared to do before. The whole rhythm goes more. Mozart knew why he wrote things the way he did. Così is a long piece. You don't want to make a requiem out of "Soave sia il vento." The mood is thoughtful, but it's just a mood. It passes. And strangely enough, it's easier to get the musicians to play together when you think about the score this way. When they're trying to get every note right, all you hear is the notes, not the phrases. When you beat in two instead of four, the music can breathe.
* Anne Teresa De Keersmaeker must have needed lots of extra rehearsal time for this show. I've seen plenty of operas directed by choreographers, but never in such a way that the singers had to dance all night alongside full-time dancers. I'm not sure how much insight a spectator gains into Così fan tutte, but the singers showed a degree of physical freedom that one hopes they can take with them into future work.
- The project was planned very carefully. It was clear that Anne Teresa would have to rehearse nine weeks with two casts of singers, rather than the more usual six weeks. And it was clear that with a time commitment like that we wouldn't be able to cast young Mozart star singers, like a young Anja Harteros. The casting director had a hard time , but in the end he made the impossible possible. You could ask for bigger voices, you could ask for bigger personalities. But we got good singers. I've never had such a homogenous ensemble. Physically the process was very hard. It was like working on Pelléas et Mélisande with Robert Wilson. Sometimes he gives a singer a focus on a movement that makes the singer sing better, rather than letting people do what they feel like that doesn't have a focus. Of course, it's not an approach that works for everyone. Could you imagine Cecilia Bartoli or Vessalina Kasarova? Never. They need to move.
* Speaking of Pelléas, it's an opera that even now audiences (myself included) expect to find opaque, mystifying. Since the beginning of his career, Wilson, too, has had a reputation for speaking to the intuitive right side of the brain rather than to the logically oriented left side. The movement is seldom "realistic" in any conventional way, and often it freezes in mid gesture. All this is still true in the Wilson Pelléas, yet for some reason, the story reads very easily now. The emotional arc is very clear,
- José van Dam said, "it's not about doing this movement or doing that movement. You do the movement to move the branches away."
* I take it Van Dam was speaking of the first scene, by the fountain in the woods, scenic features Wilson's stage designs don't actually show us.
- That's right. He understood right away that the movement wasn't abstract. Elena Tsallagova, our Mélisande, who is doing the show for the third time now, understands that, too. The most interesting thing Bob told her was, "Be aware of the space behind you, not just in front of you." And he said to me, "That's important for you as a conductor as well. Karajan was always aware of what was behind him. There was authority at his back." Another thing. When Elena sang the line "Je ne suis pas heureuse ici" [I'm not happy here], Bob shouted, "Now smile!" Her unhappiness is a weapon.
* Let's talk about the part of the little boy, Yniold. Debussy seems to have wanted to cast a boy soprano, but at the premiere, a woman sang the part. The Salzburg Festival, which gave the premiere of the Wilson production, cast a boy. You've consistently chosen grown-up sopranos.
- I wanted a soprano. The problem with a boy is that a child doesn't know what he's singing. In this kind of theater, opera is not real, it's "as if." A child is too innocent and direct. You need someone who knows what a child is. When Bernstein did Mahler's Fourth Symphony with a boy soprano, it didn't work.
* The song in the last movement, "Das himmlische Leben," is a description of heaven from a child's point of view...
- Yes. Bernstein tried to find a boy who could really project that. He couldn't find one. There was no one good available, but once he started doing it that way, he never changed it.
* A question about Don Carlos. You've gone back to the original score of 1867, even restoring some cuts that had to be made for length at the premiere, including material that was not rediscovered until well into the 20th century. Yet you cut the ballet, which was an integral part of French grand opera at the time. I realize that the show is very long. Still, this might have been an opportunity to clarify the nature of grand opera in its own time. That's something we've lost track of.
- My argument against the ballet is that it's not Verdi's best music. And if we wanted to do it, the director would have had to have an idea, the way Peter Konwitschny did in Vienna in 2004. He staged the ballet as Eboli's dream.
* I remember a pantomime for the principal singers, with a wish-fulfilment scenario showing Eboli married to Don Carlos. The king and queen, who are Eboli's parents-in-law, come over for pizza, and Posa, who is Carlos' best friend, is the delivery boy...
- It made sense in context. But I was not keen to include the ballet, and the director didn't push me. But you know, when I conducted Wagner's early opera Rienzi in concert at the Salzburg Festival, I did include the ballet. Not that there weren't other cuts.
* Generally speaking, what are your thoughts on theatrical values? As music director, how much do you personally have to like or buy into a production? How much of a choice do you have? Have there been productions you couldn't accept?
- I have to defend my musical work. That's the most important thing. So the set for a production has to be good acoustically. We see the aesthetic view of the piece in the first meeting, but we never know in advance what will be good. If a set or costume isn't to my personal taste, I never ask or demand that the designers change it. If a director asks me to change a tempo, we can discuss it. I do want a director to respect the music, the text, the story—to respect the singer and the conductor somehow. That's already a lot! It's hard enough to defend the music parameters so the singer isn't 30 meters away.
* As a music director builds his repertoire, must he consciously develop a Mozart style, a Verdi style, a Wagner style?
- You try to develop a style from the beginning, but at the beginning you have more questions than answers. With the years, it just happens. Mozart I felt I knew from the beginning, and yet it's changed a lot this time. I started the cycle of the Beethoven symphonies here in Paris to go further with the orchestra and for myself as well, to grow with the orchestra. Then, in Vienna, I programmed the symphonies in a more strategic way. The more you do this material, the clearer you are about what you want and don't want.
* There must be a difference between making a performance happen and letting it happen. Plenty of maestros deliberately cultivate an authoritarian or Dionysian persona: their aura is to varying degrees dictatorial, coercive, possessed. I remember from your video of Tannhäuser in Baden-Baden that on camera you looked calmly watchful and expectant.
- You have to know when to give an impulse, and when to let it happen. You can disturb as well. When something's not going as you want, you have to get the musicians back again. The hardest part for a conductor is to let it happen. You want to control the music, to shape it. But the important thing is to do it before, in rehearsal, to set the frame. Then when magic has to happen, it can happen.
* I notice that right now, after a performance, that you're not all bathed in sweat the way other maestros often are.
- I'm not much of a sweater. In the summer, I sweat.
* In rehearsal, I've often thought, the conductor is the surrogate of the composer, but that in performer, the conductor is the surrogate of the audience.
- That makes sense. Sergiu Celibidache said that in rehearsal, everything is no. Not too loud! Not too soft! Not too fast! Not before the bassoons! We say no a thousand times to get to a single yes.