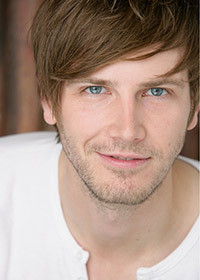 What a difference an apostrophe makes. The web page for the off-Broadway Signature Theatre Company's current Horton Foote marathon (nine plays condensed into three full-length helpings of drama requiring three separate admissions) gives the title alternately as The Orphan's Home Cycle and correctly as The Orphans' Home Cycle. The phrase originates with Marianne Moore's poem "In Distrust of Merits," which dates to 1944, as World War II was raging. "The world's an orphans' home," Moore writes in a moment of bleak epiphany, and there can be little doubt that despite his sense of humor and compassion, Foote, too, saw the orphaned state as a universal condition.
Still, there is one partly metaphorical orphan Foote cared about more than the others in his novelistic stage epic, and that is the impeccably dressed shopkeeper Horace Robedaux, patterned on his father. Horace's father dies young, a hopeless drunkard abandoned by a young wife who remarries with what some regard as unseemly haste. But although her new husband is smitten by Horace's petulant, self-deluding sister, there is no place in the new home for young Horace, who learns to fend for himself under sometimes Gothic circumstances.
Two child actors play Horace in childhood and his teens, when pathos is built in; then the unheralded Bill Heck takes over for seven of the nine plays, and his is the hard part.
Born 31 years ago in Phoenix, Heck moved to Libertyville (in the Chicago suburbs, where his parents grew up) when he was ten. A school production of Sweeney Todd—he played the deviant Justice Turpin—brought an end to what he has called the "dark years" of his adolescence and put him on his way as an actor. (While his family background was not theatrical, his younger brother and sister have settled into theatrical careers, too.) From undergraduate training in the theater department at the University of Evansville in southern Indiana, he went straight to the graduate acting program at New York University, arriving just in time for 9/11. Upon graduation in 2004, he started working in New York and regionally; in 2007, he moved to Los Angeles, where he worked in television, film, and theater. He became involved with The Orphans' Home Cycle through a new-plays conference connected with his Indiana alma mater.
The age at which a man or boy lost his daddy comes up frequently in the plays. Many another character in The Orphans' Home Cycle volunteers the information obsessively, at the drop of a hat. Asked by others, Horace gives it several times, too. (The answer in his case is twelve.)
Add to his first loss the abandonment by his mother, and the probability seems high that Horace would grow up to be a stunted, resentful, or recessive personality. Foote never glosses over that harsh reality. Accordingly, Horace can seem, on the page, underwritten—particularly in contrast to Lily Dale, his wildly colorful sister, and several other fast-talking, attention-grabbing types.
His three ambitions in life are to start a family of his own, to make his own way without favors from anyone, and to place a tombstone on his father's grave (whereabouts not entirely certain). In the teeth of disappointment, sickness, and heartache, he achieves those human-scale, unheroic goals, but there are those in the play who call him a plodder, an unkindness than may have a grain of truth to it.
Set in Texas, Horace's story spans over a quarter century, beginning in 1902 and ending in 1928. Telescoping the nine plays into three evenings was the playwright's own idea and mostly his project, but he did not live quite to complete it. It fell to the actress Hallie Foote, his daughter, and the director Michael Wilson, to finish up. Thanks to a purposeful bit of time shifting legerdemain, the adult Horace appears in the first scene of the cycle as well as the last.
Heck shares many scenes with Hallie, who plays a small gallery of roles as if bringing to life the spicy caricatures of an American Daumier. Her brittle, tartly blasé delivery and corresponding physical mannerisms have been widely admired and imitated, to the point of establishing themselves as the official Foote style, and many others in the current cast fall right in with her approach.
For consistency, Horace might have been drawn in the same spirit. Instead, without chafing against the production, Heck goes his own way. Nuance by patient nuance, he paints a living portrait all the more magnetic for its lack of a "signature."
For good measure, he also gives a wrenching cameo as Horace's dying father.
How deeply do the roles of father and son color each other?
Very. And not. Horace is followed by his father's memory throughout his life. Soon after Paul Horace (his father) dies, Horace's mother essentially abandons him, and at a very young age he's forced to begin learning the rocky lessons of self-reliance. For the rest of his life those around him resurrect the memory of his father, in ways both sympathetic and cautionary. Horace holds tightly to his own kinder recollections of his young days with his dad... even more so, I think, in light of his mother's desertion. He wants to believe that for a time he had at least one interested parent, brief as it may have been.
In light of this, when I first began tackling the role of Paul Horace, I started playing him as I believe Horace remembers him: caring and supportive, invested in his son despite some unfortunate poor habits. Of course, it's easy to idealize a man once he's gone, and so the director Michael Wilson wisely guided me to a more likely truth. Paul Horace did have real love for his son, but he was still a man who drank away his career, his wife, and his kids.
I'm not sure I can think of another character in drama who runs such high fevers. In two plays, he literally loses touch with reality. It occurs to me that he gets sick the way Shakespearean heroes spout monologues.
Ha! That's funny... Although really we only witness him get sick twice over 27 years. It's interesting to see those illnesses as vehicles that allow him to express himself more freely. I don't usually let myself think of them as anything other than a circumstance from which other things flow. An actor has to be careful not to tip the balance too far into a sub-motivational morass. But wondering about a potential unconscious cause outside of a simple flu virus certainly yields some worthwhile questions.
But yes, you're right. Very rarely does Horace let himself release the very volatile emotions that rumble within. He has seen the misery that others less self-contained than he can inflict on themselves and those around them, and he comes to deeply value the self-reliance he's developed. I think he's afraid that any vulnerability will only expose his weakness and allow others to bring him down...it certainly does so earlier in his life—temporarily perhaps, but tragically. I also think he's afraid of the size of his sensitivities, and the damage they might do if he let them loose.
So the challenge is to survive the fullness and fierceness of Horace's feeling while maintaining a practiced solidity. It's like a built-in tension, which is wildly useful and often quite exhausting. And it makes the moments in which that fortress cracks all the more interesting to explore.
Physically, Horace is described by others—but not, I think in the condensed version—as rather fragile and small. You're not. Was that ever an issue in casting? In the exploration of character? To what extent does body type cue you to character?
I couldn't tell you if the creative heads considered that while they were casting or not. The first time they saw me was on a computer screen (I had taped myself and emailed them a link), so who knows what they thought about my dimensions?...
In my experience, my size was never really discussed outright. I feel I am pretty aware of my body and fairly grounded in it (finally), but I find the more useful question when building a character and in performance is not what I am, but what I believe myself to be. I am simply the size that I am, and by extension so is Horace. But having been tall most of my life doesn't mean I've always felt tall. I remember my freshman year of high school when a little shit half my size was giving me a hard time in gym class. I arguably could have squashed him, but I was an awkward kid, socially on the outskirts, and I was sobbing to my mom that same night. I felt very small that day and for a good while afterward. And yet, years later, when my feet touched the ground after my skydive, I could have hurdled a mountain.
As Horace, the size I believe myself to be at any given moment because of a particular given circumstance tells me a lot, and affects me physically (sometimes consciously, sometimes not). Among other things I find Horace's spine gradually stiffens—but straightens—over the course of his life.
And he also gets his hair under control... I'm further struck by the fact that your Horace gets angrier as the plays go on—not more resigned, not more forgiving. I couldn't honestly say if I see that as a given of the script or not, and perhaps I'm projecting something onto your performance that you never meant to put there. Do you feel the trajectory of the role that way?
Huh. I don't think I've ever thought of it in those terms. In considering them, though, I'd say I read more rage than resignation in the plays. But these are very tricky ways to talk about a character (for an actor). It's far less interesting to see a character be angry than it is to see him fight for something (and if that happens to make him angry in part, so it goes). I certainly don't have all that figured out, but the figuring is the fun of it so I'm still working...and probably will be even after we close.
I certainly think that over the course of the plays, there's a lot of fight in Horace. Whether he lets himself go all out with that is another issue. But his is not an easy life. He fights hardship at most every turn, and I think without the saving grace of his wife he'd eventually be all fiery stone. He does harden though. He steels himself to battle the oppressions and abandonments he's come to expect from life and to protect his family. But there's still that open and hopeful little boy that just wants his mother to pay him some attention. And when those realities collide, it is not always an easy beast to tame. Horton wrote that his father, on whom Horace is based, carried heartbreak about his mother for the whole of his life.
Though interrelated, the nine plays in The Orphans' Home Cycle were originally written to stand alone. In your preparation, did you give much weight to the pages that wound up on the cutting-room floor?
That was a question I asked myself a lot at the start: read the originals or not? I finally decided that the plays we were given and working on were the world we were living in, and that it could do more harm than good to dip my toes into a different world and find myself confused. This adaptation, very much Horton's own, has its own unique vision, and I figured I wouldn't mess with that purity. I put my trust in Michael and Hallie, who are very familiar with the plays in their full-length form, to provide any wisdom that the full-length versions might impart to our version. Only recently, now that I feel firmly planted in the soil we've tilled, have I started to make my way gradually through the plays as they were first published. I'm glad to start looking and exploring the source material, and I'm also glad I waited.
One of the most striking aspects of the plays is the ambivalence in Horace's love for the mother who has failed him. It's worlds away from the genuine affection he feels for his cousin Minnie, who has stood by him. And it's worlds away—in a different direction—from his worship of Elizabeth, his very remarkable wife.
God, I could go on about this one forever. It's true, there is a lot of love in these plays, in many different shapes and shades. It can be brutal, it can be healing, it can be misguided, it can crush you, and it can be your salvation. Sometimes it's a bliss to watch, and at other times quite difficult.
But I like to think it would be even harder to look away.
One reviewer I read on Orphans' compared Foote to Samuel Beckett, quoting that famous ending of The Unnamable: "...you must go on, I can't go on, I'll go on." I find the sensibility a lot closer to that of James Joyce at the end of The Dead, when the falling snow seems to draw together all humanity—the living and the dead—into a kind of empathy and fellowship. Others have called Foote the American Chekhov. Maybe these are different ways of pointing to the same pluck and courage Foote's characters display in the face of the relentless discouragements of life...
Yes, yes, and yes.
Though really, that's simply an essential element for most good storytelling, I think: a person or people struggling to overcome the obstacles that exist in their lives. It's what we immediately connect to as human beings.
Foote's theatrical realism is merely one unique vehicle that delivers that story. And I believe it is one of the most heartbreaking, joyful, elegant, dirty, arresting, beautiful, and quietly bold vehicles out there.
Let's not give away the very last words of the cycle, but does it ever strike you as unfair to Horace that the ne'er-do-well Brother gets to speak them? And that in a way they are so apt...?
The last thing I say in the play, just before Brother's final words, is, "This is my home." An appropriate and conclusive ending, perhaps, for The Orphans' Home Cycle—emphasis on "Orphans'." But Horton was too interested in the truth of life, not in pretty little packages of theater. When Brother responds as he does, it's not only in keeping with the themes and tonal aesthetics of the nine preceding hours, it not only challenges us never to stop asking questions of ourselves and our experience of the world, it's not only a subtle and somber sock to the gut... it's true.
To end it any other way...I believe that would be unfair.[1]
---
[1] August 2017. At this remove, the secrecy over Brother's last line seems pure hocus-pocus. For context, here is the entire final exchange. The Elizabeth in question is Brother's sister, and Horace Sr.'s wife.
Brother: I used to feel so sorry for you when you would come and call on Elizabeth. I'd hear Papa and Mama talking and they said you were practically an orphan and had no home. Now you have a home and I don't. I expect someday you'll even be living in my home while I'm wandering around the world.
Horace, Sr.: No, I won't. This is my home.
Brother: Don't be too sure. Don't be too sure about anything, big Horace. Not about anything in this world.
The Orphans' Home Cycle at the Signature Theatre Company on 42nd Street has been extended through May 8. The three full-length segments play in repertory, with the remaining all-day marathons scheduled for April 3 and May 8. For tickets and information, call +1 (212) 244-7529 or visit signaturetheatre.org.