I don't need a lot
Only what I got
Plus a tube of greasepaint
And a follow-spot!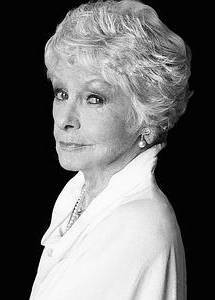 National treasure, living legend, take your pick. Broadway babies beyond number have sung Stephen Sondheim's anthem of a stage-struck innocent, none with more grit and authority than the crusty Elaine Stritch. Naturally, not every line in the song still matches her personal circumstances. At! My tiny flat! There's just my cat! A bed and a chair! No, not really. At 85 (or is it 84? sources differ), the lady hangs her hat at the Carlyle, that landmark of timeless cosmopolitan privilege on upper Madison Avenue.
The hotel is home also to a boîte that is the crown jewel of New York cabaret, a genre Stritch has made her own as surely as every other she has touched. Theatrical greats from Noel Coward to Edward Albee have been spellbound by her interpretations of their material. In film, which was only a sideline, she won kudos from John Gielgud, not the easiest of colleagues to please. Elaine Stritch – At Liberty, her autobiography in song and story, won the Tony as Best Special Theatrical Event of 2002. But we haven't got all day, and cherry-picking highlights of her illustrious career fails to do her justice.
On Tuesday, April 20, Stritch returns to Café Carlyle for a reprise of her new show Elaine Stritch: Singin' Sondheim… One Song at a Time, a sellout at its premiere engagement in January.
As you will have noticed, Stephen Sondheim is having a banner year. He turned 80 on March 22, and for months, his muses have been out in force. Angela Lansbury, her name above the title, is on Broadway as the aged courtesan Madame Armfeldt in a revival of A Little Night Music. Barbara Cook is lending her undimmed radiance to the documentary cum jukebox musical Sondheim on Sondheim at Studio 54. As dusted off by Encores! , the early flop Anyone Can Whistle still self-destructed in the book scenes, but Donna Murphy, Sutton Foster, and Raúl Esparza set the score ablaze for an evening of deranged bliss. Not to mention a month of tributes at the New York Philharmonic, Roundabout Theatre, and who knows where else.
With that flurry of birthday parties at an end, a return engagement of Singin' Sondheim at the Carlyle (April 20-29) seems the perfect chaser. Stritch ranks with the very greatest Sondheim interpreters. Peers she has, but nobody sings him better. (For information visit http://www.thecarlyle.com/entertainment.cfm, or call 212-744-1600.)
Late last week, the star fielded questions about the joys and challenges of the Sondheim repertoire. The scene: The ground-floor Gallery at the Carlyle, designed by Renzo Mongiardino to recall the sultan's dining room at the Topkapi. The hour: Tea time, when lights are low, a scent of banana hangs heavy in the air, and waiter hover over a pampered clientele seated on low red-velvet banquettes. She made her entrance in écru from the button on her buskers cap to the toe of her pointed shoe. Tinted glasses shaded the flashing eyes, hot pants showed off the killer legs.
About your current show...
On opening night, in January, Stephen sent me a wire that said, "Good luck. I will not be there, so feel free to make up your own lyrics." That was so wonderful, I had it framed. Now I'm back, "by popular demand," it says here in small print. I've always wanted to be able to say that about myself.
How different is singing a song in cabaret from singing the same song as a character in a show?
I always try to interpret the lyrics as best as I can, and that's very close to singing the song in character. The big difference is that in a show you're involved with other people. Here, it's just me and the customers. We're on our own out there.
I hear that in the new act you recite the lyrics of one song without music. Are there others that might lend themselves to the same treatment?
I wouldn't want to make a habit of it. This is just an experiment. I got the idea from Lester Young, the wonderful tenor sax in Count Basie's orchestra. He said that the lyrics of the songs he played were just as important as the melody coming out of his instrument. So he learned all the lyrics of every song. If the music and lyrics are good enough, each can come close to standing on its own—not that it should have to.
Which song is it?
I won't tell you. Wait until Tuesday.
Are the songs in your current show your all-time favorites or the tip of an iceberg?
They're just the ones I chose in this rehearsal period, for this show.
Does singing Sondheim come naturally to you?
No Sondheim song comes easy to me. You depend on Rodgers and Hart for that. Those songs have easy brilliance. Stephen Sondheim gives you complicated brilliance. But once you get him, you got him. He makes you think a little bit. But those hours in a rehearsal room learning a song—those hours are rough. After that, it's a joy. It's like having a baby, it's like with anything that's worthwhile.
Does knowing Stephen help you interpret his material?
Yes, but it brings me problems too, I desperately want to please the writer of these songs. We don't have much to disagree about, but when we do disagree, we talk it through. And he's taken an idea or two from me sometimes, which is very complimentary, very encouraging.
Do you socialize?
I don't think we're meant to have dinner together, not that I'd say no. We were meant to work together. Anytime you want to talk about A-flat, I'm available.
Stephen has said that when he wrote Company, he had never been married or in a marriage-like relationship. So he spent an evening debriefing Mary Rodgers, who had been married twice.
Don't you think that explanation is completely phony? Innately, instinctively, I'm sure Stephen knew more than he wanted to admit. I prefer to think that in "Sorry -Grateful" I'm listening to what Stephen Sondheim thinks about marriage, rather than what Mary Rodgers thinks, as clever as she is.
You've said that a song like "Ladies Who Lunch" is a play in three acts. But in a play, you have scene partners, a director, all the production elements.
All those elements are there in the song. There's a lot to be considered, to deal with. It's total make-believe, but it's total! Lights, cameras, scenery, action—but I shouldn't say it that way. It's not a movie.
If you had to choose three Sondheim songs for a time capsule, could you do it?
Let me see. "Leave You," "Send In the Clowns," and "Company," the title song of Company.
Do you think that if we played this game tomorrow, the choices would be the same?
Probably not, because Sondheim is ever changing and so am I.
Present company excluded, who are the great Sondheim interpreters? Do you learn from each other, or all the greats essentially on their own?
At the Sondheim celebration at the New York Philharmonic, Donna Murphy sang "Leave You" with deep, deep humor. It was the best I've ever heard that song. There are great Sondheim interpreters out there. And yes, we do learn from each other. I'll learn to do a song dramatically and feel good about it from someone who vocally I couldn't hold a candle to. I have to hit the mark another way.
But you never hear something you like and say to yourself, "I could borrow that"?
Oh, no! I don't have any tendencies to join. I have tendencies to start a new club.