On December 3, 2009, the 28-year-old French pianist David Fray made his New York Philharmonic debut with a crystalline, poetic account of Ravel's Piano Concerto in G under the elegant baton of Esa-Pekka Salonen. Given his track record, the young firebrand with the slender frame, the tumbling locks, and the decisive stride was inevitably the object of more-than-routine curiosity. In 2008, BBC Music Magazine voted him Young Musician of the Year. Already, he has attracted the attention of filmmaker Bruno Monsaingeon, auteur of award-winning documentaries on pianists including Sviatoslav Richter, Glenn Gould, Piotr Anderszweski, and Francesco Libetta; the Fray portrait, Swing, Sing and Think, is available on DVD from Virgin. His recent recordings, on Virgin, number highly individual yet never wayward CDs of Schubert and of Bach keyboard concertos, led by the pianist from the keyboard. On another provocative disc, he coupled Bach with the brainy Boulez. One reads of Mr. Fray's "antics" at the piano, which, combined with his interest in Bach, have put commentators in mind of Gould, but of eccentricity or mannerism, there was really no trace in his Ravel with the Philharmonic, and in every way, his was one of the sunniest debuts of recent New York concert seasons.
The following day, we visited in the library of the Hudson, Philippe Starck's terminally cool oasis of urban chic, where style trumps service to the point that tables on occasion must be cleared by the guests. Mr. Fray had just come in from shopping with his wife, the Italian actress Chiara Muti (daughter of Riccardo Muti, the conductor).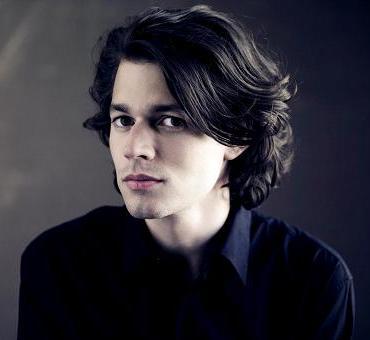 It was a free-wheeling conversation, sometimes serious, sometimes breezy. Mr. Fray entertained questions willingly, but also posed several of his own, showing a particular curiosity about the permanent collections of New York's great art institutions. He wanted to know about the Kandinsky retrospective at the Guggenheim Museum, and made telling reference to Kandinsky's landmark book Concerning the Spiritual In Art. He hoped to explore the Metropolitan Museum of Art, and wanted specifics about works from the Italian Renaissance, the Golden Age in the Netherlands, and Egyptian sculpture. He fantasized about a little backstage happening at his next New York Philharmonic concert, to delight Mr. Salonen (read on). Though unrecorded, except in memory, the conversation has been reconstructed in an intercontinental e-mail exchange.
A few months ago, taxis in New York were cruising around with a sign on the roof advertising a new album from Fray. That wasn't for your Bach/Boulez CD, was it?
I doubt that a Bach/Boulez CD will be advertised that way in New York any time soon, and maybe that's all to the good. We live in a constant paradox, wanting to make our art "accessible," which is to say popular, while at the same time wanting not to deny its nature or devalue it by turning it into a product like any other. Unfortunately the question for us today is less "What kind of promotion for what type of repertoire or artist?" than "To promote or not to promote?" So it's really up to us, as artists, to help change—if such a thing is possible—the ways in which our work is presented.
Your first CDs for Virgin were devoted to Schubert and to an unusual coupling of Bach and Boulez. Is there a connection?
My very first CD was for the Canadian label, ATMA Classique. That one included the "Wanderer" Fantasy of Schubert, Liszt transcriptions of two Schubert lieder, and the great Liszt sonata. The Schubert Fantasy is often dismissed as a marginal, overblown piece, but I wanted to show how powerful an inspiration it was for Liszt and the 19th-century conception of the piano as an entire orchestra in itself. These are the kinds of connections I like to make.
In your interpretation of the Ravel Piano Concerto in G, what struck me most of all was the long solo at the beginning of the second movement. In the accompaniment figures in the left hand, you created "poetry," an atmosphere of great calm and delicacy. And in the right hand, the "melody," you almost made the piano speak rather than sing. So often, this music is played for unabashed romance. You seem to see it quite differently.
In this concerto, as in all of Ravel's music, there isn't one note too many. But the variety of pianistic techniques he draws on is incredible. From music that's quite "unbuttoned," you go straight to the solo in the second movement—two minutes that are incredibly delicate, almost shy, lightly balanced… within a rhapsody, there's a flash of the tragic, which calls into question the very nature of the humor of the final movement. It may be blacker than it seems! As I sometimes say, what fascinates me in art is ambiguity and equivocation. The way I see it, the core of a masterpiece can never be reduced to a single idea, to a couple of ideas, or to a handful of ideas… or at least not only to those. There's always "something else."
Have you had any time off just to enjoy New York?
Yes! I bought a little remote-controlled helicopter at F.A.O. Schwarz, but it turned out to be junk. It fell apart before I could realize my plan to fly it at Lincoln Center.
Any museum-hopping?
We were curious about the Kandinsky retrospective at the Guggenheim, but what totally knocked me out was the Frick Collection. Two paintings, in particular, stopped me in my tracks. One was Vermeer's Mistress and Maid, which suspends time in its perfection and is deeply mysterious, despite is dazzling clarity. The other was the Chardin Still Life. How is it possible to have the impression that you're looking into your own soul in front of such a picture? Should I consult a doctor? And at the Metropolitan, the Vermeer Portrait of a Young Girl filled me with strange impressions. The further away you stand, the more she seems to be smiling at you.
The European media tend to paint you as a "personality," or eccentric. Onstage with the New York Philharmonic, you made the impression simply of a serious, dedicated artist with a fully formed conception of the music. No affectations at all. Obviously you have your playful side. But do you think the music world is trying to "package" you? Would you like to stop that?
How grey the landscape must be that the press would single out my tiny touches of individuality as eccentricities! I think it's useless to fight against the labels people are so quick to slap on you, particularly when they're not needed at all, don't you think? The truth prevails in the end, sooner or later. Labels are for people who don't know what they think.
When will you be back?
Next season, I'll be making my Carnegie Hall debut with a program of familiar German music, Bach and Schubert. Both composers have been focal points for my work over the past few years. They inhabit separate worlds, but separated by an intermission, they cohabit very well, I think. Their music leads to silence and is fed by silence.