The Bridge Project, a three-way theatrical venture of the Brooklyn Academy of Music, the Old Vic, in London, and Neal Street Productions, based in the UK, is now in its second season. Once again, actors from the United States and the United Kingdom will be touring internationally with two plays, both directed by Sam Mendes. The repertory this time is all-Shakespeare: As You Like It (January 12-March 13) and The Tempest (February 14-March 13).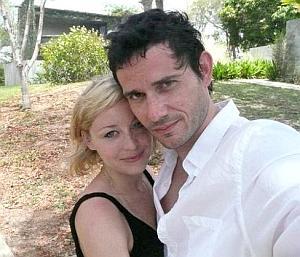 Two new faces in the current cry of players are causing a special buzz: the American Christian Camargo, 38, and the British Juliet Rylance, 30. In As You Like It as the lovers Orlando and Rosalind, and in The Tempest as the indentured spirit Ariel and as the wide-eyed Miranda, reared on a desert island, and now on the threshold of a brave, new world. Their assignments have changed since the season was originally announced, most notably in that they in As You Like It, they will be playing lovers. Is art imitating life or the other way around? Or is it better not to ask? Once inside that maze of mirrors, there's really no exit.
Mr. Camargo, a Juilliard graduate who broke out as Hamlet last spring with Theater for a New Audience, calls acting the family business, going back three generations. His pre-Hamlet résumé includes the title role of Shakespeare's Coriolanus in a previous TFANA season, supporting roles on Broadway (David Hare's Skylight, Arthur Miller's All My Sons) as well as in TV and film. In the inaugural season of Showtime's hit series Dexter, he enacted the serial-killer hero's long-lost brother, a serial killer in his own right. He has also done Shakespeare and other classic drama at the Globe Theater in London, an open-air replica of the Globe Theater as the Elizabethans knew it.
Ms. Rylance, who made her American debut as Desdemona in the TFANA production of Othello a few weeks ahead of the Hamlet, may have activated latent theatrical genes by osmosis. From studies at the Royal Academy of Dramatic Arts in London, she has followed in the footsteps of her stepfather, the actor, director, and producer Mark Rylance, cofounding Theatre of Memory in London in January 2007. The company's production of Bash: Latterday Tales, a Neil LaBute triptych of Greek myths transposed to Mormon settings, played to acclaim in London's West End. They have also mounted Romeo and Juliet at Middle Temple Hall in the Inns of Court, the scene of the original production of Shakespeare's Twelfth Night. Ms. Rylance's performances in both shows were greatly admired.
Coming up on the holiday break, the newlyweds spent a lunch break at BAM fielding questions about their life and work.
How and how long ago did you first meet? How long have you been a couple, and when were you married?
Camargo: We first met in London in 1997. It was the inaugural season of the Globe Theater. I was working there on Mark Rylance's production of Henry V. Mark was running the place, and Juliet was there all the time, the boss's untouchable daughter. We got to know each other as friends. Then in 2008, Mark starred on Broadway in Boeing Boeing, right at the time when I was appearing in All My Sons. Juliet was in New York on an extended visit, living with Mark, and the two of us wound up in a Shakespeare workshop at Theater for a New Audience. Projects started winding down, but saying goodbye was really not an option. We needed to stay together. So we went to City Hall. The date was November 10.
Have you worked together before?
Camargo and Rylance (as one): No!
Rylance: The closest was at TFANA, where we got to peek into each other's rehearsal rooms.
Who or what have been some of the great inspirations to you as actors, past and present?
Rylance: Vanessa Redgrave has been a huge inspiration, partly in that she was an actress who followed a famous father.
Camargo: My first inspiration was my maternal grandfather, Ralph—born Rafael—Camargo, who worked as an actor all his life. As a Mexican-American, he often had a tough time, but he never stopped working. His mother was in vaudeville, and somehow they made their way from Mexico to Southern California. As I remember the story, they brought him onstage as a kid to sing, "You better stop kicking my dog around." My mother was in theater and then moved to soaps for years and years. So acting was the family business. But my grandfather was the real inspiration for me to try for a career as an actor. Having a male role model who made his living as an actor was very important for me as a young boy.
Juliet, as Mark Rylance's stepdaughter, you were probably a theater brat from an early age yourself?
Rylance: The arrangement between my parents was very unusual. When I was seven and my sister Nataasha was three and a half, my mother and father divorced, and my mother married Mark. Nataasha and I would spend a week at our mother's house and then a week at our father's house. Every Sunday, we would drive to a meeting point, where Nataasha and I would be picked up. But we insisted that everyone have Sunday dinner or at least coffee together, so our parents all realized pretty quickly that they had to get along. My biological father, Chris van Kampen, is an architect, and one of the kindest men I've ever met. He and Mark, whom I call Dad, are great friends. They're talking about buying a boat and sailing around the world together.
So it wasn't Mark who named you Juliet?
Rylance: No. And I was named for Tchaikovsky's fantasy-overture Romeo and Juliet, not for the Shakespeare play, though the music is based on that. My mother, Claire van Kampen, is a composer.
What are the highest-profile jobs you've had?
Camargo: Dexter. People still come up to me years later and say, "Are you that… Ice Truck Killer?" But I think my friend John Lithgow has finally upstaged him, playing the Trinity Killer in the most recent season. So maybe I can finally lay the Ice Truck Killer to rest.
Rylance: Of all my jobs, I think the one right now is the highest-profile. I've done work at the Globe in London, as well as Bash and Romeo and Juliet. They all got more or less the same sort of attention. I've done some bits of film, but nothing that's been seen in America. That's all to come.
Are fame and fortune in the mass media a goal for you? Or would the great thing be to mix commercial work and work that is, as it were, its own reward?
Camargo: Personally, I think you use different muscles in different media. In television and film, those who know just how to be themselves are having bigger and bigger careers. In the theater, your personality and the unique character traits that make you distinguishable on screen are less important than your ability to transform yourself into another person. What the media all have in common is: no bullshit. You have to know what you're saying. You have to mean something. The basics of acting will always be the same…
Rylance: Knowing the relationships, knowing what you want, knowing where you're coming from, where you want to go. But when you're watching a person on the screen, the scale is microscopic. You see so much on the face.
Camargo (to Rylance): You're willing to do a few films yourself?
Rylance: I wouldn't say no.
The Bridge Project seems to be an initiative for actors who are extremely serious about theater as a calling and a way of life. From the outside, it seems almost monastic. Or is that an idealistic fantasy?
Camargo: It was a big decision to commit 10 months to the Bridge Project, which is what it comes to, beginning to end. But when we realized what an opportunity this was to travel and to work with the most amazing actors in the most amazing theaters around world, there was no question that this was the right thing. There's an oversaturated market of celebrity hunters and a dearth of people who are craftsmen. The whole group Sam has assembled is committed to the craft of story-telling. Juliet and I are in this profession for the long haul, and in the long haul, this experience will only serve us.
Rylance: Wisdom in this profession is knowing when the real gifts land in your lap and having the courage to seize the real opportunities.
Does acting together give you new insights into your relationship?
Camargo: If you really want to know your partner, go to dancing school!
Juliet: It's true. We dance a little in As You Like It, so there have been lessons for that. And after a while, the teacher pulled me by the sleeve and said, "You know, you really have to stop trying to lead."
Camargo: And I thought we had been through all that!
For calendar and tickets, visit bam.org or call 718.636.4100