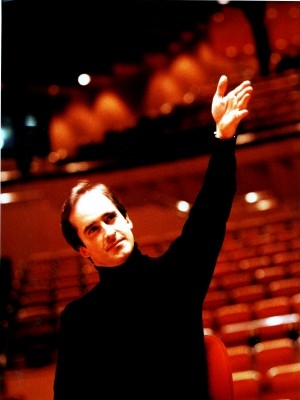 James Conlon. How Delphic that the parents of the future Principal Conductor of the Paris Opera should have given their boy from Queens just the initials they did.
Les initiales? Plaît-il?
Mais oui...
Ever since the rehearsals of the comédiens français for the premiere of Beaumarchais's La folle journée ou Le mariage de Figaro, French theater folk have been calling stage right côté jardin ("garden side") and stage left côte cour ("courtyard side"). In 1784, they were referencing an actual garden and an actual courtyard. Now the descriptors are antique terms of art, best committed to memory by imagining a proscenium arch inscribed with a J on the left side of the auditorium and a C on the right: JC. No way to get that scrambled... As French schoolmasters have told generations of budding degree candidates, Just think Jésus Christ.
All the world's a stage, as Shakespeare has taught us. Messianic suggestions aside, it pleases me to think that in some Platonic realm of metaphor, J and C bracket the space Shakespeare taught us to view as all the world. Which makes JC a great pair of handles for a musician, thinker, and citizen who sees the big picture.
My good fortune has dealt me many close encounters with James. The first took place in 1994, at the White Nights Festival in St. Petersburg, when the two of us and Jennifer Ringo, along with Valery Gergiev, Lexo Toradze, and three or four taurine Russian gentlemen who did not mix, were billeted in the same seven-room safe house on an out-of-the-way canal in the shade of towering trees that shed cotton fluff like drifts of snow from War and Peace. (Whom exactly the military security personnel with their Kalashnikovs were guarding was never revealed.)
I was in town as a reporter and a critic. James had flown in at Valery's invitation to lead the Mariinsky Orchestra on their historic home stage in Mahler's labyrinthine Symphony No. 6, the Tragic. On the night, James took the stage under the watchful eye of Valery, who hosted friends and associates in the czar's box. From the opening bars, James's exacting work in rehearsal had the players on their mettle. It was a performance for the ages: abounding in personality, imagination, and engagement yet bearing no insistent stamp of the maestro, no trace of ego. Is there higher praise than this?
Of course the Mahler wasn't my first taste of James on the podium, but that concert brought his art and his ethos into focus for me as never before. As I've come to know him in the meantime, he not only knows the scores he plays but also their broad cultural context, their genesis, their evolution in the minds of performers and the public, the parameters of international affairs and the place of the arts in our time. His passions and erudition shine forth in writings and talks that never cater to audiences' demand to be catered to and entertained but speak instead to their hunger to discover, explore, and know. To the titans among composers, he is the most faithful of servants; to the unjustly unsung—notably voices silenced in the Holocaust—he is the most dedicated of champions: two sides of the same coin. At the same time, James is a regular guy, great company after a performance, mingling easily with fellow artists, fellow music lovers, and patrons of the arts at times when even authority figures gifted with the common touch prefer to hone their mystique and maintain their distance. And he tells great jokes with wicked flair in at least four languages I can I think of.
Favorite moments with James? As peak musical experiences, I would single out his Lohengrin, Don Carlo, and Don Giovanni in Paris; Khovanschina, Lady Macbeth of Mtsensk, and Die Seejungfrau in New York; Il Trittico, Die Vögel, and The Ring, complete with pre-performance insights, in Los Angeles; and let's not forget his recordings of Oberon, Der Zwerg, The Nightingale. On a private note, let me add a conversation shortly after 9/11, if memory serves at his office overlooking the Eiffel Tower and the Place de la Bastille, when he told me after decades abroad, based in Rotterdam, Cologne, and Paris, it was time to come home. (Not that he had ever neglected his American roots, as his three-plus decades heading the Cincinnati May Festival attest.) And one more thing: a family evening at the Conlon aerie overlooking Central Park, including his Jennifer, Luisa, and Emma, my Susan, and a bagful of greasepaint, clown wigs, and Groucho glasses. Une folle soirée, for sure, luckily predating cellphone selfies, undocumented on Facebook.
J to the left, C to the right, and a whole world in between. The big picture.