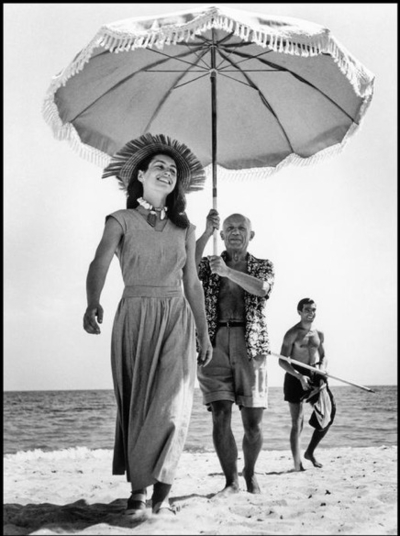 Le temps retrouvé. Pablo Picasso, Françoise Gilot, on the beach. In the background, Picasso's nephew Javier Vilaro. Classic snap by Robert Capa.

Travel writing as such was never my genre, but when an editor at one of the top travel books asked me to scout the haunts of Picasso and other modern masters on the Riviera, I couldn't say no. I remember the trip as equal parts boondoggle and serious grind. The expense account was lavish. Still, between pilgrimage sites, deluxe hideaways, and hot restaurants, the conscientious reporter seldom had five minutes to kick back. There was no doubt that the editors liked what I came home with, for they paid me on the spot. Days later, a new editor-in-chief took over and killed the entire inventory, sight unseen. Naturally. Way of the world. Heigh ho. (Merde.)
That was in 1993. Lately, the manuscript washed up on my desk like an ancient letter in a bottle. Much, as you would expect, is out of date. Prices have skyrocketed, faxes have fallen into oblivion, and the old phone numbers have no doubt evolved. And the port of Menton, home back then to a tiny Jean Cocteau "bastion" nestled in the seawall, now boasts a 21st-century Musée Jean Cocteau overhanging the beach like a palisade of ogre's teeth.
Still, it was agreeable to travel back in time to an era more leisurely and perhaps more innocent than our own. Sharing the story with you now, I've religiously resisted the temptation to tweak. Sure, I've blue-penciled perhaps a half dozen words and phrases. The writer's reflex! And after going back and forth, I've decided to post, in addition to the main narrative, all the "extras" that were part and parcel of the unaccustomed gig: service information of all kinds, so-called insider tips, an "author's questionnaire," etc. Some readers may enjoy sifting for the nuggets buried there.
One more thing. Need I say it? Check current sources before making any travel plans.
*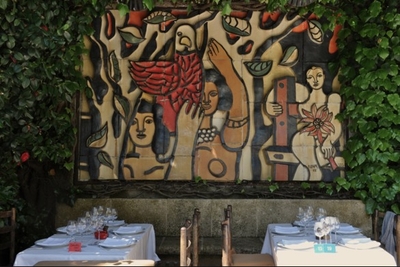 The garden of the Colombe d'Or, in Saint-Paul-de-Vence. Fernand Léger ate (and worked) free here, as did many another hungry modern master.

With June still ten days off, summer is in the air. Not twenty miles east of the Nice-Côte d'Azur airport this weekend, Grand Prix delirium reigns at Monte Carlo. Not twenty miles west, the Film Festival holds all Cannes in thrall. Spare me.
Between these points, the French Riviera holds attractions more enduring. Since the days of the Impressionists, the light, the climate, and the relaxed way of life have drawn generations of artists, and their legacy is everywhere. At Antibes: a stocky seaside castle full of mythologically inspired Picassos. In Vallauris: Picasso's War and Peace. In the olive groves of Cagnes-sur-Mer: Renoir's hillside villa, "Les Collets," the atelier still redolent of fresh paint, with a canvas on the easel (and a sign by the parking lot serving notice that proper dress is required).
Of course, if you choose, you need never go indoors at all. Where the Alpes Maritimes plunge 1,500 feet and more into the azure Mediterranean, there can be no tiring of the scenery. Fortified cities from the Middle Ages and Renaissance hug the cliffs. On Caesar's ancient Via Julia, a Roman monument to the military conquests of Augustus gleams above the town of La Turbie like a beacon.
What visions! And halfway through eight days of unabashed indulgence of eye and palate, I am getting the hang of how to explore it. All roads lead to Nice (sometimes by very roundabout ways), but that is no reason to shuttle back and forth on the city's congested speedways, or to thread through the ill-signposted mazelike center again and again. The bright traveler will leave Nice strictly to the Niçois—except at the inevitable moment when plunging straight in to see its chief attractions. Top of the list: the Musée Matisse, finally reopened after a six-year, ten-million-dollar renovation.
For the rest, the best plan is to stay in the hill towns, dividing one's time evenly between areas west of Nice and areas east of Nice, fanning out on comfortable day trips that may easily involve a morning in one town, lunch in a second, and the afternoon in a third, with time to spare for unwinding before dinner. It is the rare day when one will need to go beyond a radius of ten miles.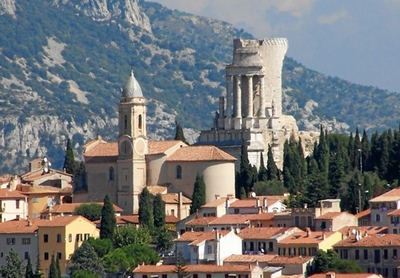 La Turbie. On Caesar's Via Julia, a monument to Augustus.
Film festivals and car races notwithstanding, what Renoir, Picasso, and Matisse treasured about the Riviera still exists, though much has changed. In perched villages that loom by the coast and nestle back in the valleys, large numbers of painters, sculptors, craftsfolk, and gallery owners have invaded the old nooks and crags and vaults. Certain spots have become fashionable, not least for their polished hideaways.
Take Saint-Paul de Vence, a quick twelve kilometers on easy roads from the Nice-Côte d'Azur airport, thus a logical first stop after a flight across the Atlantic. Neither the most nor the least commercialized of the walled Provence hill towns, it presents the type in something like textbook perfection. Cars and other vehicles are banned. Its twisting, cobbled alleys ("streets"), precipitous steps, and picturesque dead ends wear out the calf muscles (but in the pleasantest manner) and confuse the mind. The high, steep walls of its crowded stone houses keep the walks shady and cool.
Just outside Saint-Paul's main gate, across from the dusty patch where the men of the town gather for the never-ending game of boules, sits the Colombe d'Or, a hostelry as celebrated for the country charm of its rooms as the robust flavors of its kitchen. Art is scattered about the hotel with great nonchalance—here a Chagall, there a Miró, a Picasso over that way, and did you see the Tinguely? the Calder? the Braque?
Tradition has it that the artists exchanged these mementoes for food and lodging, a story one is not inclined to doubt; the collection tends to the cheerful and occasional. Moreover, it includes the amateur efforts of the late patron, who, one imagines, enjoyed the company of his brother artists and felt privately flattered if they took a bit of advantage. Today's well-heeled clientele, playing hooky from Cannes or Monte Carlo, arrives with cash or credit cards. If I were El Greco, though, I would set up by my bedroom window for a View of St. Paul, following, if on a lesser scale and in a more modest tone, the general outline of my majestic View of Toledo. That should still cover a few days' tab.
Excuse the grandiose fantasy. Something about Saint-Paul invites it. Faced with all the sorry Sunday landscapes and would-be Cubists of the local art galleries, you suppose you could do better, even if you never paint at all. The over-building one observes on the slope across the valley city's rocky battlements inspires fantasies, too. Oh, for a giant brush and a pot of Van Gogh's midnight cypress-green! It would be a cinch to correct what's wrong with this picture.
*
Modernist citadel and manifesto: the eye-catching Fondation Maeght, built by the Le Corbusier acolyte Josep Lluís Sert.
Back in the realm of reality, modern art works its powers in full force a out of town, at the Fondation Maeght, an international attraction since its opening three ago [in 1990]. Back home, I thought I would want to work my way up to it, but after casing Saint-Paul, I head right out the first morning, jet lag be damned. A gift to the public by the founders of the international gallery of the same name (still under family ownership and going strong in Paris and Barcelona), the institution rotates its rich permanent collection of modern masterworks and organizes periodic special exhibits.
Most of the members of the Colombe d'Or fellowship make an appearance here, too, not with bread-and-butter offerings this time but with major statements.
Chagall's La Vie ("Life," 1964), for instance, true to its title, seems the summation of all the artist knew. Paris is here, and so is the exodus from a shtetl. Moses holds the tablets of the law, and lovers, fully clothed, fumble on a couch. Incongruously, a bride and groom hold a baby. Acrobats tumble, birds swivel their heads backwards, and a tree for all seasons stands partly in leaf, partly in flame. Well-chosen examples of Giacometti's severe, sere sculpture commune in charged silence, surrounded by shaggy-lined drawings--unmistakably from the same hand, but rendering his vision with unsuspected humor. Canvases by Miró, on view indoors, show his art at its most hieroglyphic, like pictograms in an unknown code. His statuary, outdoors, translates his mysteries into unknown prehistoric life forms, some terrestrial, some marine, some freestanding, some fastened like giant starfish to the walls. The setting suits them.
The building, by Le Corbusier's disciple José Luis Sert, is a confident modernist manifesto in concrete and rose-colored brick, remarkable especially for the two concave sheets of concrete that dominate the roofline like twin scales of a balance. Such sights as these clear the retina for the Riviera's beauties of every kind, natural and man-made.
*
Another day, another vista. I have relocated to the Château du Domaine Saint-Martin, a few kilometers up a mountain pass from the medieval city of Vence, about five miles west of Saint-Paul. The compound integrates an atmospheric stand of ruins into a spread of sand-colored walls and a watchtower for an impression at once decidedly Mediterranean and vaguely Santa Fe. The towering entrance hall is hung with carpets from India, one geometric, the other depicting noblefolk and wildlife at harmony in an earthly paradise. In the lounge, a pair of polychrome wooden saints lights the mantlepiece with upheld torches, and the dining room commands a sweeping view of the coast.
Mark today for Picasso. After breakfast, it is an easy roll down the road to the Grimaldi Castle in Antibes (now better known as the Musée Picasso), where the artist spent six splendidly productive months in the mid forties.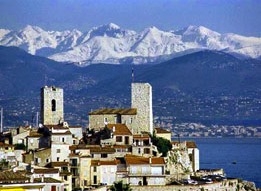 At the foot of the Alpes Maritimes: The Château Grimaldi (or Musée Picasso), in Antibes.
"Every time I come to Antibes," he would write later, "I am struck anew by a feeling of antiquity." The words only confirm what is plain to see in the work he left behind: a trove of paintings, as bold in hue as in gesture; etchings with lines as clean and dashing as the vase paintings of the Greeks; ceramics that marry utility to Aegean sensuality and wit. Picasso's subjects here are piping Pans and grave centaurs, an owl (sacred to Athena), seafaring Ulysses and the Siren, their beauty (or their terror) captured with the blessed naïveté of the ancients, who saw divinity in every wave and tree.
In the morning haze, the breeze stipples the metal-grey water, and serendipity frames haunted seascapes in the windows as schooners, sailboats, and seabirds pass. In the same way, the sculptures on the terrace (not by Picasso) make "pictures," too, none more theatrical than Anne and Patrick Poirier's scene of havoc Jupiter and Enceladus, composed of fragments of a colossal head, a miniature Greek temple, and a bronze thunderbolt hurled from the blue. Picasso was not the last on these shores to sense the immemorial vibrations.
Leaving the castle, I pass through the market, where the fixings for a Lucullan spread lie spread in abundance: goat cheese in honey-toned pyramids or black patties wrapped in moist grape leaves, grainy country pâtés, crusty breads and rolls and flaky pastries, strawberries from nearby Carros bursting with ripeness. Where to partake? Scoop up your provisions, and take your pick of the picnic tables along the side roads back up into the hills.
Suddenly the world turns Arthurian.
My first destination after lunch is Vallauris, Picasso's home for many years around the mid century. Here, his presence sparked a revival in the local arts of pottery. The sixteenth-century castle houses a motley collection of ceramics (the best are Picasso's own and the traditional examples from past centuries). Across the courtyard is Picasso's War and Peace, which covers the vault of the deconsecrated Romanesque chapel with a panel of dancing pastoral innocence set against another of grim, purposeful slaughter. Harnessed to a killer's chariot, the black horses of war trample books; the white, winged horse of peace, the ancient symbol of poetic inspiration, is in the hands of a child. The contrasts are powerful as they are easy to read.
Reaching the Château du Domaine Saint-Martin gates with hours of daylight to spare, and curious about what lies further up the so-called Col de Vence, I drive on.
Suddenly the world turns Arthurian, and the road twists through harsh, stony terrain, past a little space-time warp at the summit, occupied by two dude ranches, and on to the town of Courségoules, passed over by every guidebook. And here I see an unforgettable sight: an entrancing terra cotta façade of fantastic faces in high relief, carnival madness frozen at its peak. What is this place? It used to be a museum, says a neighbor who happens by. And who is the unknown genius who decorated it? Kindergartners from Vence.
As far as I can see, the building is vacant now. In fact, the "For Sale" signs are up allover the Côte d'Azur and hinterlands, for properties facing massifs and cataracts that Cézanne, I think, would have known better than to resist.
Another fantasy. Stay for keeps. Find a room in a remote village, near the ramparts. Fire off a postcard to a loved one who will understand: "Wish you were here. Send paint."
*
In the log of my eight days along the Côte d'Azur, high points planned in advance hold the balance with high points that materialized by luck or on a whim. To tell the truth, I visited certain institutions because I thought I ought to. The aged Matisse is said to have regarded the Chapelle du Rosaire (or Chapelle Matisse) in Vence as his masterpiece; reason enough to visit. Easier said than done: it is open, briefly, on Tuesdays and Thursdays, and other weekdays by appointment, but 48 hours' notice is required. As a last resort, and the best, you may attend mass at nine on Sunday morning.
Know thy hours! A glimpse of the Chapelle Matisse, best seen not during its brief visiting hours but at mass on a Sunday morning.
A first impression may disappoint. The space is so small, holding a congregation of perhaps one hundred. The walls are white; the paintings--a St. Dominic, a Mary and Jesus, the stations of the Cross--are stark, mere outlines, devoid of facial features. But in time, the room begins to sing, especially the windows. Nonfigurative though they are, through the course of the service, the lemon-colored hemisphere at the top of the two principal windows arranged itself in my vision as the sun, from which flow ultra-marine oceans and bottle-green continents while in countermotion the abstract frilly shapes, colored like the sun, begin to rise like a flock of souls or angels ascending to their native element. It is a sight worth dwelling on. Know thy hours!
The Musée Renoir, in the villa where the artist lived the last decade of his life, is a shrine of a different sort. Except for the little typed labels in the vitrines and the presence of strangers traipsing through, the master of the house could come back and settle in tomorrow. This is the most domestic of museums. Everything feels lived in. On the stagelike daybed in the atelier, a straw hat with beige ribbon and a pale pink rose suggests the presence of a model who will at any moment emerge.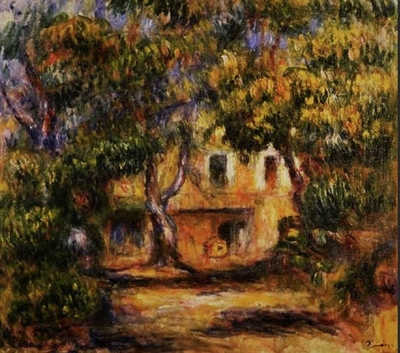 Chez Renoir: Les Collets, still redolent of the master's oils.
As a sample of Renoir's ripest, most liquescent style, the museum proudly displays the boneless bathing beauties of
Les Baigneuses
. Three terra-cotta high reliefs of pastoral musicians display Renoir's gauzy aesthetic from an unanticipated angle. The rugged, deeply molded bronze head of Paris, instigator of the Trojan War, is another surprise.
No great anticipation, I confess, propelled me to the Musée National Fernand Léger, outside Biot, which turned out to be something of a revelation. A fine photo gallery in the first rooms, with briefest captions, makes the artist's life story engrossing, and the splendid selection of paintings and drawings of construction workers, petit-bourgeois families at the beach, and friends out biking, finds an unpretentious classical dignity in subjects one might well suppose mundane. And the generous display of "public" works reveals a master's hand in adapting a signature style to the dissimilar requirements of such varied media as tapestry, stained glass, high relief, and mosaic. As an afterthought, I looked in at Le Jardin Bonsai, a few steps down the road, where, amid thousands of lovingly tended and handsomely displayed specimens, none seem more exotic than the miniature olive trees and cypresses, both native species, familiar from Van Gogh, from Renoir, or from any drive through the country.
*
Smitten with the outdoors, I made for Nice with all the enthusiasm of a three-year-old taking his medicine. The inauguration of the Musée Matisse was still a month away. To soak up atmosphere, I strolled down the Promenade des Anglais, whose palm trees all in a row and view of the sea have been burned into memory by the recent great Matisse retrospectives in Washington and New York.
Up in the hills at the edge of town, surrounded by extensive Roman ruins and shimmering olive trees, the Musée Matisse used to share a brick-red villa trimmed in Genoese-style trompe-l'oeil with the museum of archaeology. (The antiquities have their own building now, a few steps away.) With the renovation, the space for the permanent Matisse collection in the villa has doubled. In addition, the museum has acquired a second, subterranean annex (with a "rooftop" cafe at ground level), which is devoted to changing exhibits.
By special dispensation, I managed a glimpse at the new facility's bare walls and was given clues as to the latest thinking (at the time, still in flux) about what would hang where. Drawn from the gamut of the ceaselessly self-renewing artist's many periods, the holdings enjoy a singular distinction: they consist in the main of works he never parted with. Among them are some of his most ravishing cutouts (from the cool, single-shade Blue Nude IV to the riotously gaudy Creole Dancer) and virtually his entire output in sculpture.
"Wish you were here. Send paint."
Nice boasts a long list of other museums but few that most visitors will want to give time to. One signal exception is the clumsily named Musée National Message Biblique Marc Chagall, devoted to the artist's explorations of Biblical subjects. The exclusive focus may suggest monotony. In fact the resonance of the images en masse, along with the small group of rare Chagall sculptures, far transcends the power each has alone. The artist's great theme here, played out in interlinking imagery, is the omnipresence of human woe and its antidotes: compassion and comfort, both human and divine. If the old stories seem less personal than archetypal in Chagall's retelling, that accords with his intention. "In my thoughts," the artist writes, "these pictures are not the dreams of one people but of all humanity." (A gloomy sign of the times: the auditorium, with its famous stained glass, is closed until further notice in the wake of attacks by vandals.)
I was curious, too, to see the city's new Musée d'Art Moderne et d'Art Contemporain, which houses works of the French and American avant garde from the 1960s to the present. A Niçoise of my acquaintance made fun of me for having gone. "Oh! You like our new, empty museum?" she laughed, proceeding to regale me with tales of political squabbles and gifts withdrawn.
It had looked good to me. Among signature pieces by Rauschenberg and the Niçois eminence Yves Klein (he of the plaster casts dipped in the flat, radiant industrial ultramarine he patented as "International Klein Blue," known among artists as IKB), the dimly lit top-floor room of large, mostly unmounted canvases by a dozen-plus different artists makes a particularly appealing impression, like a misty memory across the centuries of a Renaissance lord's great hall hung with ceremonial banners. Consider the sizable Christo holdings (including a model for the wrapped Reichstag in Berlin) an added bonus. Besides, the remarkable structure--four square towers connected by glassed-in bridges straddling a major traffic artery--is reason enough to visit. The open-air terrace, with windows placed to set off choice views of the town, is a must, even in the rain.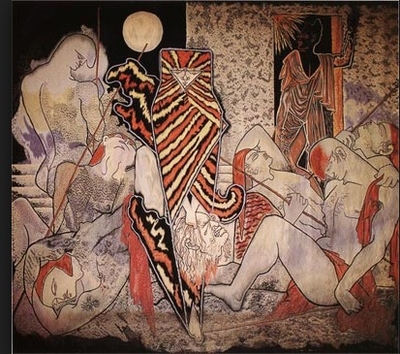 The heroine as abstraction? Cocteau's Judith and Holofernes.
Another enjoyable discovery awaited me by the quai of Villefranche, just across the Nice city line on the low road to Monaco: a chapel to St. Peter, patron of fishermen, decorated by Cocteau. Cocteau described himself as a poet who drew and painted--not unjustly, for his art is poised on a poet's sure, careful sense of line. His attachment to this part of France was deep, and in the chapel he peoples Biblical scenes of the saint's life with locals and friends: gypsies and fisherfolk in traditional costume.
In Menton, Cocteau Innamorati with the shrewd, avid eyes of the Homer Simpsons.
The chapel prompted me to whiz on to Menton, the lovely port on the Italian border, a few miles beyond Monte Carlo. There, Cocteau has a museum to himself in a miniature seaside bastion. The boldest piece is a tapestry of Judith and Holofernes, the Biblical heroine depicted as a stark, geometric abstraction. The funniest pieces are the Innamorati--a series of scenes (in colored pencil) in the courtship of a brawny Menton fisherman and his sassy lover, both with the shrewd, avid eyes of the Homer Simpsons. A haunting self-portrait in oil shows a ghostly stag leaping from the artist's flank, alluding to the myth of Acteon, the hunter devoured by his dogs. But perhaps the most treasurable pictures are Cocteau's sketches (more colored pencil) for the town hall's Marriage Room, or Salle des Mariages; their spontaneous charm far exceeds that of the labored final versions, painstakingly traced on the hall's walls and ceiling.
But Cocteau is hardly Menton's only attraction. The views from the sea wall of Quai Napoleon III and from the four-tiered hillside cemetery rank with the coast's finest. Sundaes, fast seafood, and white-tablecloth eateries in many national styles line the long crescent of beach. In the narrow alleys of the old quarter, where you might well forget that this is a sea town, such a sight as a diver's wet suit, hung out to dry three floors up like the skin of a merman, will remind you. And as luck would have it, I found the baroque columns of the church of St-Michel hung with its crimson silk covers from the eighteenth century, fragile heirlooms that emerge from storage only a few months every several years. It seems that they need the air. In tandem with the crystal chandeliers, which are permanent, they conjure up a ballroom to God's greater glory.
*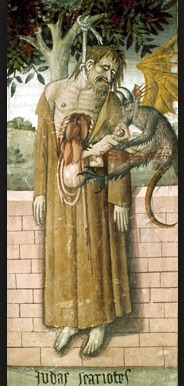 The wages of sin: Judas Iscariot at Notre Dame des Fontaines.
Mostly, though, I gave my time to the hill towns, plain or fancy, famous or obscure: Haut-de-Cagnes, like Antibes a Grimaldi stronghold, with the jauntiest of castles enclosing an incongruous baroque interior; spruce Tourrettes, home to the three-foot high, richly costumed animal marionettes (about $1,800 each) in the gallery of A.M. and J. François, not to mention the whole colony of well-tended shops of working artisans; Biot, famed in centuries past for its pottery and more recently for distinctive bubbled, colored glass, and memorable to the visitor for the small-scale grandeur of the Place des Arcades, with its arcades running the long sides of a narrow rectangle; austere Saorge, which clings like Lhasa to the cliffs of the gorge of the Roya, yet contains rambling gardens that surround tiny villas with their own miniature tracts of open country; Carros, where the street signs are in Provençal (or is it Portuguese?), like greetings from the troubadours.
I took a special liking to Roquebrune, site of a part bare, part barely furnished pile that is the oldest feudal castle in France. On the afternoon of the Grand Prix, perhaps a half-dozen visitors had the place to themselves. On the terrace, a French couple watched parachutists wafting down to the Monaco beach. Two Germans were surveying the ramparts. And outside, perhaps forty steps from the castle gate, a carver who goes by the name of art Julien des Bois worked olive wood, his hand strong and sure; he wears long years lightly.
His workshop (no more, really, than a cave with a door) and the street are fragrant with the scent of Julien's material. "It's hard, but it's tourmenté," he says, tracing out the gnarled, "tortured" grain. He carves saints and birds of prey, salad bowls and serving spoons. He has carved Christ crucified, a radiant piece that hangs by the door, His eyes closed, His smile archaic, His torso curved with the grace of a leaping dolphin. I remark on the peacefulness of the day. "It's always very quiet here," Julien answers, "even in the high season." The breakneck switchbacks zigzagging up from the highway might have something to do with that.
The deluxe version of the fortified village, yet no sham, is Èze, which overhangs the shoreline over Saint-Jean Cap-Ferrat. At the summit are the ruins of the ancient castle, approached through the steep labyrinth of an exotic garden bristling with thorny succulents. Many visitors are put in mind of an eagle's nest, and apparently some locals, too. The vest-pocket eatery by the entrance to the garden, advertising affordable menus of quail and rabbit, goes by the name "La Terrasse du Nid d'Aigle."
Lordlier fare, with lordly rooms and views to match (should you wish to stay the night), is to be had a few steps further down, at the Château Eza, which combines the architecture of a citadel with the amenities of a pleasure palace. One way to work off the chef's meals is by hiking down to the sea--a drop of 1,400 feet--on the mule path named for Friedrich Nietzsche, who is said to have collected his thoughts for part of Thus Spake Zarathustra there. On impulse, I went down, splashed salt water on my face at the beach, and headed straight back up, delighted with the solitude and the views though regretting my ignorance of birdsong, botany, and German romantic philosophy. (The posted time for the round trip is two hours; at a healthy clip, you can shave that by about a third.)
Signs by the fence on the terrace of Château Eza plead with parents to keep their children under strict watch, and one well sees why. One misstep would be fatal. Other mistakes in this landscape have more agreeable consequences. On Ascension Thursday, I struck out for the hinterlands with the vague intention of lunching at the esteemed Auberge de la Madone in the perched village of Peillon. One wrong turn, and I was on my way (one thing leading to another) over passes and through gorges ever wilder into valleys ever more Arcadian clear up to the tiny pilgrimage chapel of Notre Dame des Fontaines. Given the holiday—and despite the country road--I envisioned tour buses, crowds of the faithful. When I arrived, no one was there, not even an attendant. A second car by the side of the road would have exhausted the available parking space.T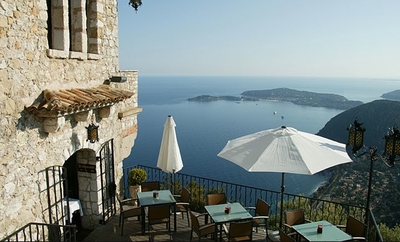 Sure footing a must: Château Eza, in Èze, eagle's nest extraordinaire.
The distance from Èze? As the crow flies, not quite thirty miles, but the crow is not flying, nor, despite squally weather, did I often resist the temptation to pull over to explore another village, contemplate another vista, or cross a stone bridge on foot to the other side of the middle of nowhere. Nor did I choose the shortest routes. An inveterate student of postcard stands, I would often pick my next destination by an image that struck my fancy at a stand nearby. Giovanni Canavesio's frescoes at Notre Dame des Fontaines, completed in 1492 (!), have a vivacity evident even in a poor-quality reproduction, and such reproductions, eventually, were what led me there. By lucky chance, I had missed the cards of the artist's most striking conception and experienced the force of the original unblunted: the suicide of Judas, showing Satan (like some hellish midwife) ripping the traitor's soul from his strung-up body in the form of a mother-naked homunculus.
When I passed through Peillon on the way back towards evening, I found out that I could not have lunched at the famous auberge anyway. The restaurant had taken the day off, though dinner would be served shortly. But after a day behind the wheel, the notion of a night drive in the mountains held scant allure. Besides, the sky was clearing, and a table was waiting for me by the water. So I snacked nearby on apple tart and grenadine, and motored into the long, slow sunset. When all is said and done, the sea is the Riviera's most hypnotic spectacle of all: now jewel-toned, transparent to its depths, sleek and glossy, now as hazy as breath on a mirror, spreading out towards an invisible horizon to merge with a pastel sky. If ever a painter has caught the infinite gradations, well ... I haven't seen the pictures.
*
INSIDE TRACK
Both Delta and TWA service Nice-cote d'Azur, but only Delta's flights are nonstop (daily from New York and Atlanta). Rental cars are available at the airport. The Riviera climate is mild year round, though at times with sudden cool spells. Jackets and sweaters come in handy all year. Casual and resort clothes go just about everywhere; except in the most formal settings, a man in a tie and sports coat may feel overdressed.
In eight days, I stayed at four hotels, which is probably the right number. It was a mistake, though, not to spend any of my nights east of Nice. As a result, I crisscrossed through the bottleneck of Nice more times that I'd like to remember.
An improved itinerary might begin with four nights west of Nice for exploration of Antibes, Biot, Cagnes sur-Mer, Saint-Paul-de-Vence, Vallauris, and Vence, all of which are within a driving radius of forty-five minutes.
Next: the obligatory night—just one—in Nice, where with the wisdom of hindsight I would arrange an early check-in on arrival and a late check-out at departure. (I spent two nights there, which was one too many.) For proximity to the Chagall and Matisse museums, I stayed in the residential hillside quarter called Cimiez. Another mistake. Cimiez is for the locals. I'm sure it's lovely to live there, but you wouldn't want to visit. Stay by the water, and walk as much as you can. The parks of the no-Ionger-extant Château (entailing a steep climb), the port, and the central market are highly enjoyable. For destinations on the outskirts (to wit, the Chagall and Matisse museums), take taxis, whose charges are very reasonable.
For the final stage of my trip, I would unhesitatingly chose Èze, which is convenient to Villefranche, Menton, La Turbie, Peillon, Saorge, Notre Dame des Fontaines, and the gorges and valleys of the hinterlands. Besides, it must be a wonderful place to come home to of an evening.
Some notes on driving. Though distances are small, time estimates on brochures ("seven minutes from the airport") reflect optimistic assumptions that are unlikely to apply to anyone, least of all a visitor: perfect knowledge of the roads, zero traffic, no red lights, driving speeds suitable to a divided highway. Take your time, especially in the mountains. Many of the passes carry heavy truck traffic from the nearby quarries. And trucks have exclusive use of certain river roads on certain weekdays, which can necessitate detours that are not as long as they are tricky to navigate.
Most perched villages ban cars, and when you see main "streets" consisting of narrow steps, you will know why. Even if you can drive in, however, it is usually a better idea (both for the views and for ease in maneuvering) to park in nearby lots and make the final approach on foot.
Hotels
For this once-in-a-lifetime spree, I booked hotels for the promise of perfect location, appointments, service, and cuisine, without serious concern for expense. You will surmise that the chosen establishments were not cheap. Not all lived up to expectations. Those that did are listed below, along with more reasonable alternatives I looked in on in passing. Unless otherwise noted, all have swimming pools, which in this climate is a priority.
LA COLOMBE D'OR
Saint-Paul
Tel. 011-33-93 32 80 02
Fax 011-33-93 32 77 78
Doubles $220
Just outside the sixteenth-century walls, in several buildings arrayed around a Roman garden and a scenic swimming pool. A charming modern-art collection; what other country hotel can you think with a Calder mobile in the stairwell? Attractive rooms, furnished with antiques.
LE SAINT-PAUL
86 rue Grande
St-Paul
Tel. 33/93 32 65 25
Fax 33/93 32 52 94
Doubles $220
In the center of town, behind the old façade are
immaculate rooms decorated with quiet, impeccable
contemporary flair. No pool.
LE CHATEAU DU DOMAINE ST-MARTIN
Avenue des Templiers [address according to their
letterhead, but there is no
such street sign, I believe]
3 kms outside Vence, on the route to Courségoules
Tel. 33/93 58 02 02
Fax 33/93 24 08 91
Doubles $420
Spacious public rooms, decorated with an assured, eclectic hand. Fresh flowers add a homey accent to bedrooms that are as unpretentious as they are luxurious. Housekeeping closes your shutters at bedtime, but you may want to open them for the symphonic night sounds of the mountains--and to see the glorious brightening of the sky at dawn. Particularly attractive: dramatically sited individual villas ("bastides") with sea views. A heart-shaped swimming pool.
HOSTELLERIE DE L'ABBAYE
Avenue Liberation
outside La Colle-sur-Loup, on the route to Grasse
Tel. 33/93 32 66 77
Fax 33/93 32 98 75
Doubles $140
Ready-made for Gothic romance, with an eventful history going back to Charlemagne and a twelfth-century chapel that has seen the weddings of artists and celebrities including Brigitte Bardot. In the bedrooms, red and purple velvet bedspreads impart Bohemian flair. An exceptional value.
LE CAGNARD
Rue Pont is-Long au Haut-de-Cagnes
Cagnes-sur-Mer
Tel. 33/93 20 73 21
Fax 33/93 22 06 39
Doubles $160
Comfortable rooms with sweeping views of the sea, barely two miles from the airport and especially convenient to the Musée Renoir, in ancient walls of impressive solidity. A family operation, and it shows.
NEGRESCO
37 Promenade des Anglais
Nice
Tel. 33/93 88 39 51
Fax 33/93 88 35 68
Doubles $400
Splurge in czarist splendor, Riviera style, amid period furniture and dazzling chandeliers. (It's just for one night. )
HOTEL MARC-HELY
535 Route de Cagnes (D 6)
outside La Colle-sur-Loup, on the route to Cagnes-sur-
Mer
Tel. 33/93 22 64 10
Fax 33/93 22 93 84
Doubles $80
As the rates might suggest, this self-proclaimed "Provençal farmhouse style hotel" is shorter on atmosphere than the competition, but it is clean, cheerful, conveniently located (no mountain driving), and exceptionally quiet. There's even an adequate pool.
CHÂTEAU EZA
Èze
Tel. 33/93 41 12 24
Fax 33/93 41 16 64
Doubles from $300
Timbered ceilings, stone walls, fine antiques, rugs, luxurious comfort, and an easy 180 degrees of the Mediterranean: castle living fit for a king. Alas, no pool.
CHATEAU DE LA CHEVRE D'OR
Rue Barri
Èze
Tel. 33/93 41 12 12
Fax 33/93 41 06 72
Doubles $400
Decor less sumptuous than at the Château Eza, but the views are equally impressive, and a cliff-edge pool offers compensation.
AUBERGE DE LA MADONE
Peillon
Tel. 33/93 79 91 17
Fax 33/93 79 99 36
Doubles $140
Modest but comfortable and well-kept, the hotel is beautifully situated amid exuberant greenery before the entrance to a town that seems the perfect miniature, riding its rocky spur like a thimble on a finger.
Restaurants
While chefs give their dishes accents of their own and presentation varies greatly, contemporary Riviera cuisine has a well-defined profile, relying on fresh local produce, served with light, highly concentrated sauces, generally prepared without cream. Local seafood is abundant. The Mediterranean sea bass (loup de mer) is a treat; accept no Atlantic substitutes (if in doubt, look the captain straight in the eye and ask). Red mullet (rouget) is intensely flavorful but bony; properly picked over, the filets make an exquisite appetizer. Desserts must often be ordered before the meal, which makes one wonder at the lull (often up to a half hour) after the main course or the cheese. Cheese trays, while we are on the subject, place special emphasis on the broad spectrum of delectable local chèvres. Prix fixe menus, plain and fancy, are offered virtually everywhere.
They say, and it is almost true, that you can't get a bad meal on the Riviera. The focus below, therefore, is on the exceptional culinary experience. Only the most determined foodies will want to make such meals their exclusive diet. For variety, picnic on local cheeses, charcuterie, bread, and fruit, available in dizzying profusion in all the major stops. In towns along the mountain passes, your best bet will often be a pizza, bursting with the flavor of vine-ripened tomatoes, fresh-cut herbs, and virgin olive oil.
Nonsmokers note: except in large establishments like the Chantecler (see below), requests for seating in a nonsmoking area will usually result in an undesirable table that is no closer to or further from smoking parties than any other.
LA COLOMBE D'OR
Saint-Paul
See above
Lunch for two $150
Dinner for two $180
Two dining rooms. The larger is wide open and noisy; the smaller (where you are likely to be seated if you ask for a nonsmoking table, though smoking is permitted there) is low-ceilinged, quiet, candle-lit, and faintly
Siberian. Lunch is served on the patio. Riviera cuisine in a robust variant. Crudités arrive unchopped, unsliced, and unpeeled in a market basket. (What to do with the artichoke?)
LE SAINT-PAUL
St-Paul
See above
Dinner for two $200
The table is set with Limoges and Christofle, but there is nothing starchy about the service. Weather permitting, dinner is served on a quietly romantic patio just two tables wide. Local vegetables are treated with delicacy and imagination (try "les petits farcis de Nice," stuffed baby tomatoes, zucchini, and onions). Superb fruit-based desserts.
LE CHATEAU DU DOMAINE SAINT-MARTIN
outside Vence
See above
Lunch for two $200
Dinner for two $300
By day or at night, the view of the distant shoreline is commanding, the service unassuming yet masterly, and the cooking outstanding. Especially remarkable: whole loup de mer for two en papillote.
HOSTELLERIE DE L'ABBAYE
outside La Colle-sur-Loup
See above
Dinner for two $120
Many windows looking out on dense foliage lend the abbey restaurant a notable indoor-outdoor charm. The chef likes to combine rich flavors, to highly satisfying effect.
LE CAGNARD
Cagnes-sur-Mer
See above
Lunch for two $180
Dinner for two $250
Half of the dining room (an oxblood red barrel vault) feels quintessentially baronial. The other (all straight lines and right angles, with exuberantly painted ceiling panels) is pure eighteenth century. And then there is the terrace, looking out on lush greenery. The kitchen prepares delightful surprises: the bone-in thigh quarter of roast chicken comes stuffed with earthy giblets, onions, and mushrooms. The presentation is artistic, indeed--in the case of some between-course amuse-bouche--amusingly Cubist.
CHATEAU EZA
Èze
See above
Lunch for two $150
Dinner for two $250
The dining room feels thoroughly lord-of-the-manner, but the cliffside terrace is even more dramatic. The coulis de petits pois (a light pea soup finished with soft-yolked quail eggs) sets the refined tone. Garnishes such as the gratin de blette (with chopped leaves of the white beet) are as memorable as the main dishes. (My menu choice was the poulet de Bresse, simplicity itself, but roasted to perfection.)
CHÂTEAU DE LA CHÈVRE D'OR
Èze
See above
Dinner for two $250
Views to match those of Château Eza, and a menu no less beguiling, with emphasis on local seafood.
RESTAURANT CHANTECLER
Hotel Negresco
37 Avenue des Anglais
Nice
Tel. 33/93 88 39 51
Dinner for two $250
The red velvet and cut-crystal chandeliers create a color scheme for Matisse, one thinks, coming in off the palm-lined Promenade des Anglais (which figures in so many of his Nice paintings). Intimidating, perhaps? Not once you walk in, and the subtle, simply but stylishly presented dishes are ample reward.
JEAN-FRANÇOIS ISSAUTIER
Route N 202
south of St-Martin-du-Var
Tel. 33/93 08 10 65
Dinner for two $200
The location on a multilane truck route is off-putting, as is the huge sign, which you cannot miss. But once in the door, you feel like you've come to a party. The decor is witty rather than grand (lamps in the shape of turn-of-the-century hot-air balloons), with happily splashy bouquets. The first-course stuffed zucchini flowers (courgette de 'Gattières' avec sa fleur farcie) are a signature dish well worth trying. No less successful are unconventional specialties du jour such as salmon roasted in chicken stock, embellished with individually stewed tomato slices.
LE DIAMANT ROSE
Route D7
outside La Colle-sur-Loup, on the route to St-Paul
Tel. 33/93 32 82 20
Dinner for two $200
Indoors, a cocktail pianist plays discreetly as diners on the terrace contemplate the unobstructed view of nearby Saint-Paul and enjoy such delicacies as lobster with fresh pasta. Hot tip: the restaurant is about to start taking overnight guests. Given the location, the cuisine, and the pleasant tone of the staff, this should definitely prove a hotel to keep in mind.
Museums, Churches, Galleries
Hours at most museums, churches, monuments, and other points of interest are shorter than you might expect, usually from 10 a.m. to 4 or 5 p.m., with a two-hour break for lunch. Most close at least one day a week, not always according to information in the current guidebooks. To avoid backtracking and disappointments, phone ahead.
*
ONCE-IN-A-LIFETIME QUESTIONNAIRE
1. What made this a once-in-a-lifetime trip?
The shameless self-indulgence.
2. Who would you most like to have taken with you on
the trip?
Three people. One, my wife. Two, (the late) Ford Madox Ford, author of Provence: From Minstrels to the Machine (1935, currently available in paperback in the Ecco Travels series), a mad, brilliant meditation on history from the Roman conquest through the Crusades to the modern age. Three, the singer Paul Hillier, whose Proensa (ECM Records) recreates the haunting verse and melodies of the troubadours, which match the tragic, lofty landscapes of the mountain valleys.
3. How tough was it to arrange?
Not at all. I just called my travel agent.
4. Was it worth the expense? Is there anything you wish you'd spent more on? Or less?
Yes to all three. I wish I had spent more on gasoline and less on leisurely lunches, thus gaining time for further exploration (and hiking) off in the mountains.
5. What was the biggest disappointment?
Two days of rain. And the perfectly situated, characterless resort called Le Mas d'Artigny.
6. Would you do it again--or is it really once-in-a lifetime?
I'd gladly do it again in another lifetime.
7. What's your next dream vacation?
India. The Caves of Lascaux. Spain (Andalucia and the northern coast). The Great Barrier Reef. St. Petersburg. Fiji.