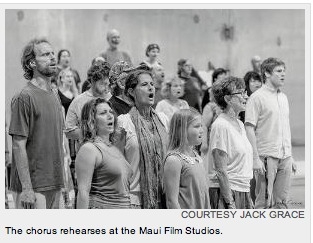 KAHULUI, MAUI>> The scene: the 22,000-square-foot, concrete cavern of the Maui Film Studios in Kahului. Minutes to go until the first uninterrupted run-through of the Maui Academy of Performing Arts production of "Les Miserables." But first, a few words from the commanders in chief.
"We're moving into performance mode now," says David C. Johnston, MAPA's executive and artistic director as well as the director of the show. "It's not about waiting for me to give directions any more. It has to become your world now."
Johnston's Man Friday, choreographer Andre Morissette, sings his bit from the same hymnal. "It's your show now. I want you to take it! I don't want it any more!"
Everyone laughs. Then the man in charge of the music, Robert E. Wills, lowers the boom. "The directors say it's your show now, but guess what?" he says, making a "V" sign with his right index and middle fingers and doing the pantomime that says, "I'll be watching you." Unlike the directors, the man with the stick can never step back and watch. He takes the journey with the actors every time.
Oahu has seen "Les Miz" staged live before, by the national touring company in 1996 and then by Diamond Head Theatre in 2008. Maui's first ever performance opens Friday at the Maui Arts & Cultural Center for six performances over two weekends.
It's an epic endeavor: 58 actors, an offstage chorus of 17, a Broadway-size orchestra of 26 musicians.
"Initially, I wanted to keep the ensemble pretty small, around 25 or 30 people," Johnston says. "I love that storytelling feeling when people play multiple characters and you see the transformations before your eyes. That's the way most professional productions cast this show. But in March, the community response at auditions was so big, and there were so many talented people who wanted to be part of it, that the production just kept growing." Rehearsals started in April.
There are hit musicals, and then there is "Les Miserables." Since the French concept album in 1980 and the original London production in 1985, which got panned but is still running strong, "Les Miz" has been seen by 65 million people in 42 countries, translated into 21 languages, and recorded about three dozen times. Whereas performing rights to your run-of-the-mill Broadway smash generally become available within five years, "Les Miz" has been jealously guarded for more than a quarter-century -- until now. And the window could snap shut again in March, when the newest Broadway edition opens.
MAPA didn't want to risk losing its shot, cost be damned. Carolyn Wright, MAPA's director of programs, says the royalties for the six Maui shows come to $23,000. "I don't think we've ever seen an invoice for as much as $5,000 for rights before," she adds.
But MAPA was not the only one in the islands waiting to pounce. Wills had applied for the rights, too, thinking "Les Miz" a perfect vehicle as a musical in concert with his spanking-new Maui Chamber Orchestra. "I wasn't holding my breath," he says. "Then I found out David was going to do it when I was going to do it, and it seemed kind of dumb not to get together."
Independently, Paliku Theatre at Windward Community College in Kaneohe has announced a staging by Ron Bright, Sept. 20 to Oct. 20. This one will be on the intimate scale Johnston first envisioned, with an orchestra of 16 players.
Many think of "Les Miz" as an iconic property that can be mounted only in the blockbuster mode of the original, or rather the closest facsimile one can manage and afford. "I don't necessarily agree," says Bright, godfather and mentor to generations of stage-struck Hawaii thespians. "It's about the human heart, about compassion and changing one's life. 'To love another person is to see the face of God' -- that line from the score pretty well sums it up for me."
Bright's cast will be studded with former students, among them Cliffton Hall as the young idealist Marius, a part he has played on Broadway and on national tour. "To have been able to perform in 'Les Miz' was a dream come true," Hall says. "And now, with Mr. Bright directing and some really close friends, it's going to be an experience I'll never forget."
Inspirational "Les Miz" may be. Feel-good fluff? No. The score, by Alain Boublil and Claude-Michel Schoenberg, opens in a grim, percussive mode and ends in a defiant battle hymn. Caustic music-hall numbers give comic relief but lyrical interludes are few.
The plot, distilled from the digressive, explicitly theological pages of Victor Hugo's sprawling novel, revolves around a pair of mysterious antagonists. In this corner, ladies and gentlemen, his saintly features gently aglow under his halo, stands Jean Valjean, survivor of years of hard labor for stealing a loaf of bread. And in this corner, smoke rising from his nostrils, Police Inspector Javert, the fanatical enforcer of draconian law. Despite countless acts of charity -- to the dying Fantine, forced into prostitution, to Fantine's daughter Cosette, in the clutches of monsters, and to many, many more -- Valjean can never shake his cross of imaginary existential disgrace. Strangely enough, Javert suffers a like agony. Barring a miracle, they are surely on track for mutually assured destruction.
As chance would have it, the Valjeans for the imminent Hawaii productions both come to "Les Miz" with extensive credentials as tenors in opera. But as Kip Wilborn, the Paliku Valjean, hastens to point out, this isn't opera. "In the operatic world, the music is first and the beauty of voice is foremost. Here the priority is story and drama."
In rehearsal on Maui last week, James Price floated the song "Bring Him Home" in the high, ethereal tones of a pop troubadour -- or the stars of "Jersey Boys." "Let me think where I might use that sound in opera," Price said afterward. "I don't think I would! But in musical theater, the falsetto brings out a sweetness, and you can use the microphone to your advantage. This song is so quiet. It's a prayer, and it needs a prayer-like quality."
Javert's music is written in the lower, growlier range of a baritone. At Paliku, Buz Tennent hopes to get under a listener's skin to the same degree as Valjean, if not by the same means. "Javert is sanctimonious, he's holier than thou, and he discovers his core of humanity too late," Tennent says. "A lot of his music comes at you like a machine gun. But other sections are almost like a Schubert art song. An audience should get to have some iota of sympathy for him."
The luckiest member of the Maui cast may be 13-year-old Wyatt DeShong, as the street urchin Gavroche, whose big heart and free spirit shine like a beacon in the storm.
"I just love doing this," he says. "I've been in 'Macbeth' and 'Aladdin' and 'Narnia.'
I was Bundles, the laundry man, in 'Annie.' Incorporating practice with school has been hard. But in the role, I can just play. Gavroche is really brave. He doesn't think, he just goes. He doesn't get down because he's poor. He wants to help people. He's just happy to be free. This is the best role I've ever had. And we've got all these other awesome people up there!"
Bring hankies.