As a designer and director for stage and screen, Franco Zeffirelli has had one of the truly remarkable careers of the 20th and early 21st centuries. At 87, he maintains a level of activity that might kill a man half his age; last summer, the Arena di Verona, which seats 25,000, devoted its entire summer opera festival to five of his epic productions. His name is synonymous now with such spectaculars, and they have their detractors, but their hold on general audiences has never slackened. His aesthetic may look conservative today. But what many forget at this late stage in the game is that Zeffirelli made his name as a firebrand, the darling of critics from Rome to London to New York, the colleague and inspiration of such artists as Leonard Bernstein, Maria Callas, and Judi Dench. The following appreciation — an attempt to trace the arc of his creative achievement — appears in Franco Zeffirelli: Complete Works, edited by Caterina Napoleone, a lavishly illustrated volume of coffee-table proportions just published by Abrams. We reproduce this text here with the publisher's kind permission.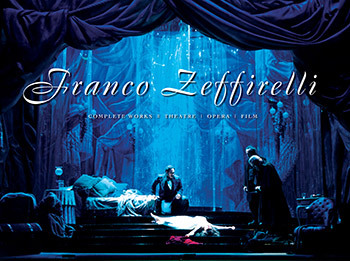 The gong has struck. No sooner has the Prince of Persia laid his head on the executioner's block than an unknown suitor steps up to claim the heartless daughter of the Son of Heaven. The court has gathered, scenting blood. The Ceremony of the Three Riddles begins, a vision in tints of mother-of-pearl and pale beaten gold. Arrayed on staircases and arching bridges, now swirling by like the waters of some magic fountain, now expectant and still as statues, sages, ladies-in-waiting, officials, clowns and acrobats look on at the war of wits, their faces painted or in masks. Lower down, held at bay by the army, the common folk are churning in an impatient mass. At the centre stands the princess, a tigress ready to strike, her nails aquiver with an excitement mingled of fury, cruelty and a curiosity she is resisting. Has she met her match? The sombre stranger is a killer, too. Filmy billows of faintest blue silk lend her the luminescence of Guan Yin, bodhisattva of compassion, yet the six spikes that rise from her shoulder blades bristle like the lances of some Taoist Guardian of the Law. And with the answer to each riddle, fleet-footed attendants fly to the spikes and unfurl, like broad bolts of lightning, pairs of long, silken pennants: green for Hope, red for Blood, bridal white for Turandot.
As a textbook example of the art of Franco Zeffirelli, this scene from the second act of Puccini's last opera as staged at the Metropolitan Opera in 1987, starring Eva Marton and Plácido Domingo, would be hard to improve upon. Twenty seasons and 123 performances later, the production remains one of the house's supreme crowd-pleasers, though it no longer is quite the marvel it was. Sopranos after Marton could not manage the armature, which she, a former athlete, had worn with ease. These days, the coup de théâtre with the pennants is achieved by less electrifying means. Happily, the original survives on video.
Well into his ninth decade and the seventh of an unparalleled career, Zeffirelli bestrides the history of theatre, opera and the cinema in the past half century like a colossus. The Shakespearean simile is prompted in part by the sheer immensity of the operatic blockbusters with which, above all, his name has become synonymous. Yet the mark his work in other media has left on fellow artists, critics, and the general public alike has been scarcely less profound. Had he not existed, who could have invented him?
(His name, be it said, is an invention. Born out of wedlock, acknowledged by the family of neither parent, he was supposedly given a name starting in Z in compliance with a day-by-day rotation through the alphabet prescribed by medieval, perhaps apocryphal, Florentine law. What is surely untrue is information he received after the death of his mother. A cousin claimed that the deceased had wanted to call the child Zeffiretti - little zephyrs, or breezes - after a line from a favourite aria in Mozart's Così fan tutte. A clerk is supposed to have made a slip of the pen. But the word zeffiretti occurs nowhere in Così fan tutte. When the gallants apostrophise the gentle airs in a serenade sung to their ladies, the phrase they use is aurette amiche, "friendly airs." A more convincing source would be Mozart's aria "Zeffiretti lusinghieri", or "Flattering breezes," from Idomeneo, obscure as it was at that time. In any case, Zeffirelli was to prove no zephyr, playing lightly through Arcadian landscapes to scant effect, and the choice was in flagrant contradiction of the ancient adage nomen est omen.)
Behind the shape of things
No one disputes Zeffirelli's place as the grand master of spectacle, a distinction he wears with pride. In the English version of his autobiography (published twenty years ahead of the Italian edition, in 1986), he summed up his style as "lavish in scale and unashamedly theatrical". The formula does not altogether do him justice. To focus on the Big Picture is to miss his passion for historicity, for the particular, for the minute details. "Opera is not a circus," Zeffirelli has said, yet there are those who insist he has made it one. He has not, any more than he has made a circus of plays or films, where the charge has been brought against him less often. Zeffirelli sees as if through the eye of a camera, yet photorealism has never been his métier.
"Sometimes you stop only at the shape of things," he has said. "But whenever you touch the story of one specific period or place in the world, you'd better know everything about that period and that place. You have to absorb deeply the aura of people you're going to revive in a play or opera. Know how they dressed, what they read, the kind of cooking they preferred, the games they played. You have to know well the planet in which you set your story. Absorb everything. That's the proper foundation. Then forget it all. Let your fantasy come to work." In short, his flights of poetic fancy take off from the plain prose of fact. As the composer Ned Rorem has written, "Zeffirelli simply makes a work more of what it already is." The objective is an epiphany. "We have reached a time", Zeffirelli wrote a quarter century ago, "when what is really revolutionary is doing things well." He will have found little cause in the meantime to change his mind.
Like Tosca, definitively portrayed under his direction by Maria Callas, La Divina, the greatest of his associates and his artistic alter ego, Zeffirelli has lived for art. Like Hamlet, whom Zeffirelli put on stage as a walking Oedipus complex (Giorgio Albertazzi) and on the screen as a latter-day Errol Flynn (Mel Gibson), Zeffirelli wants play-acting to hold the mirror up to nature. It is fair to say that Zeffirelli's later work, especially in opera, channels creativity more into decor than into the action. In fact, he has little choice but to work this way: the stages in most urgent need of his wizardry are the huge ones, and his productions run for years, with casts that come and go. Quality control of live night-by-night performance being out of the question, Zeffirelli animates his productions as much as possible through their mechanics and logistics rather than relying on whatever ensemble may show up on the night. As a result, those who stop at the shape of things may see in Zeffirelli only the architect, the arch conservative, piling up monuments meant to outlast time, like the pyramids. No one minded to look beyond should have any trouble locating the firebrand Zeffirelli was in youth, aflame for dramatic truth.
The visuals collected in the present volume argue a persuasive case, tracing the arc of Zeffirelli's career in abundant detail, though inevitably much is lost and gone forever. The arts of performance live and die in the moment. Even documentation on film, where it exists, offers at best sketchy resurrections - and the self-standing medium of cinema poses challenges of its own. We must conjure as we can. To those with the skill to read them, performance shots, from wide angle to close-up, are as revealing as pages ripped from a novel of Balzac or Stendhal. Still more suggestive, very often, are the costume sketches, set designs, and technical drawings, which reveal the artist's mind through the artist's hand.
From designer to director
On the occasion of The Art of Spectacle - a sweeping one-man retrospective mounted in Zeffirelli's honour at the Pushkin Museum of Fine Arts, Moscow, in 2004, the year after his phantasmagorical new production of La Traviata for the Bolshoi Theatre - Zeffirelli wrote of his "wonderful years" as a student at the Academy of Fine Arts and Architecture in his native Florence, but added: "I feel it would be stretching a point to call me a real painter, even though it's true that the theatre and the cinema are figurative art forms whose shapes, colours, spaces, and feelings call for inspiration and knowledge of painting."
Given his architectural training, it stood to reason that set design would be Zeffirelli's gateway to the theatre. And, indeed, the earliest entry in his professional chronology dates to 1945, when he designed the sets for the Pirandello play La patente in his native Florence. Before him lay a winding road. Taken up by Luchino Visconti, a charismatic aristocrat equally at home in film and in the sung and spoken varieties of live theatre, Zeffirelli lent a hand everywhere he could be useful, sometimes in full view of the audience. In Delitto e castigo, an adaptation of Dostoevsky's Crime and Punishment, in 1946, Visconti had a bit part for him to play. Two years later, Visconti left it to Zeffirelli to convert Salvador Dalí's surreal designs for Shakespeare's As You Like It - "All the world's a stage" - into practicable sets and costumes. (To start with, Zeffirelli got the artist to give up on the live goats and accept stuffed ones instead - an odd footnote, given Zeffirelli's penchant for live dogs, donkeys and horses in later years.) In 1948, he served as Visconti's assistant director on La terra trema, a cinematic masterpiece of neo-realism little appreciated in its time. As Visconti was the first to notice, Zeffirelli had the face of a movie star - an Italian Montgomery Clift, some said - but his true place in the world of dramatic illusion was behind the scenes.
Zeffirelli's official launch as a scenic designer came in 1949, with Visconti's Roman production of the florid Tennessee Williams melodrama A Streetcar Named Desire, which followed Elia Kazan's scorching Broadway production with Marlon Brando and Jessica Tandy by only two years; Kazan's film, starring Brando and Vivien Leigh, was not to follow until 1951. Zeffirelli's design survives, painted in tempera, showing precisely the two-story apartment building the playwright's stage directions describe. Mostly, the scene is in lugubrious pigeon-greys, with the decorative ironwork characteristic of New Orleans brushed in in black, and, in the bedroom, touches of scarlet (a bedspread) and flame-orange (a curtain hung in the doorway to the bath) to hint at smouldering sexual desire.
At this remove, the sketch looks antique, even quaint - not at all as it must have done then. "My designs were original enough to cause comment," Zeffirelli wrote decades later. "Kazan's production had used scrims, painted gauzes, to change the mood, while I used a building whose facade rose or fell as necessary, creating a once elegant, though now dilapidated, New Orleans street or the ramshackle interior of the house." Williams, who attended the Rome opening, was apparently delighted with this approach. (This was the play's European première.) But we see a more imaginative poet of the theatre at work in Zeffirelli's design for the last act of Chekhov's Three Sisters three years later. The proscenium frames a corner of the Prozorovs' country house and rows of desolate tree trunks fading into a faded sky. "In the garden, the whole set will appear transparent and the outlines of the objects, trees, houses, etc., will be scarcely perceptible, as though everything has now become an indistinct memory," Zeffirelli told the costume designer Marcel Escoffier. "The soft, bright tints of Act I will gradually fade until they blend and lose every touch of colour in the garden, which should give the impression of an old family photo forgotten in a drawer."
Three Sisters was a Visconti production, but by this time Zeffirelli had already stepped out as a director in his own right, beginning in straight theatre with Lulù, Carlo Bertolazzi's dissection of female infidelity. That was in Rome in 1950. The next genre he broached was opera, with Rossini's Cenerentola at the Teatro alla Scala, Milan, in 1954. (Giulietta Simionato was the Cinderella.) In 1958, his career in film got off to a false start with Camping, a soufflé of a comedy concerning two lovers and a motorcycle. His second act in cinema came eight years later, putting the glamorous Elizabeth Taylor and Richard Burton through their paces in the rollicking Taming of the Shrew.
Zeffirelli, auteur
Moving into directing from design, as Zeffirelli did, is not in itself so unusual. Among others who have done the same, Jean-Pierre Ponnelle, Pier Luigi Pizzi, Robert Wilson, Herbert Wernicke and Yannis Kokkos come to mind, and the ranks keep growing. The potential advantage of consolidating both functions, when it materialises, is a thoroughly integrated production, in which every element subserves one grand expressive purpose: perfect harmony. But really, how desirable a goal is that? Drama springs from conflict, from the clash of wills; and theatre is by its nature an art of collaboration and negotiation, fed by the interplay of many minds, many currents, many talents. In the end, the greatest directors are the greatest orchestrators. Too often, the lone visionaries act as grand puppet masters, to whom living, thinking actors are less life's blood than an inconvenience or a necessary evil.
For the Zeffirelli who shook up London with his production of Romeo and Juliet in 1960, nothing could have been further from the truth. At the remove of nearly fifty years, the fact that Kenneth Tynan, Triton among the minnows of Britain's drama critics, filed a rave in the Observer, makes less difference than the sharpness of his analysis.
"Last Tuesday at the Old Vic", Tynan began, "a foreign director approached Shakespeare with fresh eyes, quick wits and no stylistic preconceptions; and what he worked was a miracle. The characters were neither larger nor smaller than life; they were precisely life size, and we watched them living spontaneously and unpredictably. The director had taken the simple and startling course of treating them as if they were real people in a real situation; and of asking himself just how those people in that situation would behave. It sounds obvious enough; yet the result in Franco Zeffirelli's production of Romeo and Juliet is a revelation, even perhaps a revolution. Nobody on stage seems to be aware that he is appearing in an immortal tragedy, or indeed in a tragedy of any kind; instead, the actors behave like ordinary human beings, trapped in a quandary whose outcome they cannot foretell. Handled thus realistically, it is sometimes said, Shakespeare's essential quality gets lost. I passionately demur. What gets lost is not Shakespeare but the formal dehumanised stereotype that we have so often made of him. It is likewise urged that Signor Zeffirelli robs Shakespeare of his poetry; but this argument is valid only if one agrees with those blinkered zealots who insist that poetry is an arrangement of sounds, instead of an arrangement of words. Last Tuesday I heard every syllable; meaning and character were wedded, and out of their interaction poetry arose. The production evoked a whole town, a whole riotous manner of living; so abundant and compelling was the life on stage that I could not wait to find out what happened next. The Vic has done nothing better for a decade. A young English director of my acquaintance made a true comment in one of the intervals. 'Every director in the audience', he said, 'is biting his nails and wondering why he never thought of this before.'"
This excerpt comes to slightly more than a third of Tynan's review. It was not my intention to let him run on so long, but his passionate eloquence, once uncorked, will not be stoppered. Knowing the London stage as he did, Tynan could tell who brought the miracle about and gladly give him credit. Yet Tynan's eye throughout is on the actors - or more accurately, on the characters of the play, each present to his mind as a living, breathing individual swept up in a tempest of immediate joys and sorrows. Nothing could be less like a puppet show. And Tynan has yet to utter a syllable about the spectacle of it all. When eventually he gets around to describing the stage pictures, he has no more than this to say: "The sets (also by Zeffirelli) are spaciously atmospheric, composed of peeling, flaking walls that serve equally well for interiors or exteriors."
The costumes of that Romeo and Juliet, be it noted, were by Peter Hall. Although Zeffirelli often did take charge of all the chief aspects of design, he made no fetish of doing so. In 1957, a busy year, he mounted, without assistance from other designers, productions of Donizetti's Linda di Chamonix (Palermo), Rossini's L'Italiana in Algeri (Dallas), Piccini's Cecchina o sia la buona figliuola (Milan), and Verdi's Rigoletto (Genoa). Yet he left the entire production design of Franco Mannino's Vivì (Naples) to Danilo Donati. By now a yet obscurer property than the eighteenth-century Piccini or nineteenth-century Donizetti, the Mannino was a world premiere, a late blossom of verismo, with B-movie subject matter that was contemporary, more or less. (As summarised in the New Grove Dictionary of Opera: "Vivì, a celebrated soubrette, falls in love with an English airman, but he betrays her and marries someone else. Realising she cannot win him back, she kills him." Rosanna Carteri was the star.) The year 1958 was even busier. It included Verdi's La Traviata (Zeffirelli's first, with Callas, in Dallas), Valentino Bucchi's Il giuoco del barone (a comedy in the modernist-archaic vein of Stravinsky, at the Spoleto Festival of Two Worlds), Bellini's Norma (another first, with Anita Cerquetti, in Palermo), and Verdi's Falstaff (Zeffirelli's second, in Tel Aviv). And there was more: Ambroise Thomas's Mignon, designed by Lila De Nobili (Milan); Donizetti's Don Pasquale, designed by Renzo Mongiardino (Genoa); Mussorgsky's Boris Godunov, designed by Nicola Benois (Genoa); and Pergolesi's Lo frate 'nnamurato, designed by Pier Luigi Pizzi. But a landmark Aida at La Scala in 1963, with sets and costumes by De Nobili, probably remains the best-known example of a Zeffirelli spectacular not designed by Zeffirelli. A great part of the art of the auteur lies in choosing collaborators, often stars in their own right.
Essence or excess?
The Old Vic Romeo and Juliet takes shape in the mind's eye as a very lean show, certainly by Zeffirelli's later standard. It had to be to tour the world, as it did, to universal acclaim. The panoramic, obsessively detailed settings that give rise to what we may call the 'Zeffirelli effect' - outbursts of spontaneous applause when the curtain rises on the bustling Latin Quarter of Paris, for example, or a temple by the Nile - were a later development. When logic dictates, the action moves from one location to another, though a given scenario may specify just one. Usually, the first act of a Zeffirelli Traviata moves from the dying Violetta's bleak bedroom to the flashback of her glittering salon, sometimes by means of little more than lighting, sometimes by major feats of engineering. The last act of his Met Tosca takes us from the feet of Peter Verschaffelt's awesome Saint Michael on the ramparts of the Castel Sant'Angelo to Cavaradossi's prison cell and back again. To all appearances as massive as real-world architecture, the set moves as smoothly as projections on a screen.
A sure-fire, Olympian, arguably impersonal mode has been Zeffirelli's stock-in-trade for decades. Unconvinced by the cinematic breadth and density of detail, a critic once complained that Zeffirelli had forgotten the characters or had become bored with them: "We are watching through the wrong end of a telescope." Zeffirelli seems to have had similar feelings about Visconti at times, observing that his work was often bedevilled by "clutter". Yet as Zeffirelli recognised, Visconti never really lost his gift. "I marvelled", he wrote, describing the premiere of Visconti's final opera production, a Manon Lescaut in Spoleto, "that a man by now virtually immobile and so easily exhausted should still have seen to even the tiniest detail of the interpretation, costumes and set in the way that had always been his hallmark and which he had taught us all."
Visconti died at sixty-nine. At King Lear's age of four score and upward, Zeffirelli still chooses at times to study his characters microscopically. At the Teatro Verdi in Busseto, a forty-minute walk from the roadside inn in Roncole, where the composer was born, he has lately staged what he calls a "bonsai Traviata" and a "bonsai Aida", with protagonists mostly still in the springtime of their careers. The Busseto auditorium (more bandbox than jewel box) seats 328 - 70 fewer than the number of extras in a Verona Aida. The stage is proportioned accordingly. And in 2003, Zeffirelli returned to La Scala to revive his first La Bohème, by this time forty years old, making it new not only for audiences but also for a cast of seasoned international artists - Cristina Gallardo-Domâs as Mimì, Marcelo Álvarez as Rodolfo - who might have been forgiven for supposing that in this opera, at any rate, they had nothing left to learn.
Speak, memory
In the chronicle of Zeffirelli's theatrical and operatic career, there are titles that keep cropping up (Traviata nine times, Don Giovanni seven, Falstaff six, Aida five), titles he has revisited now and then (Pagliacci, Don Pasquale), and titles he has tackled on a single occasion (Handel's Alcina, Shakespeare's Othello). In part his career in film constitutes an extension of his work for the stage, in part a series of self-standing creations, their inspiration running from saints' lives to Hollywood evergreens and personal history. By turns he has been the scrupulous custodian of the classics (Hamlet, Don Giovanni) and their radical reinventor (Romeo and Juliet, Swan Lake), the polisher of long-lost gems (Cimarosa's Le astuzie femminili, Monteverdi's Orfeo) and the champion of the new (enthusiastically in the case of Edward Albee's Who's Afraid of Virginia Woolf? in Venice and Paris, against his convictions in that of Samuel Barber's Antony and Cleopatra, the opening production for the new Met at Lincoln Center), Svengali to immortals (Joan Sutherland) and creator of new idols (Judi Dench). But then he grew up in many worlds at once. Thanks to a woman named Mary O'Neill, who tutored him privately, he made the language of Shakespeare and the Brontës as much his own as that of Dante and Manzoni. (The same cannot be said of Verdi, who read Shakespeare in translation.) In lace, at Doney's fashionable tea room, O'Neill seemed a living Gainsborough. At home, she was one of the scorpioni, those snobbish, down-at-heel, British expat females who colonised Florence, patronising the Italians, blind to the storm clouds of approaching war. The room where she taught and tended her humble spirit stove was chock-a-block with memorabilia: a statuette of Shakespeare, a print of Sargent's Ellen Terry as Lady Macbeth, a photograph of her father, a captain in the British army, and much, much more. Hers is the world Zeffirelli evoked with dry-eyed Proustian acuity in his film Tea with Mussolini.
Not even his closest associates have had the opportunity to watch his entire career unfold in real time, how much less the general public. But thousands, indeed millions, of viewers all over the world have their mental scrapbooks of irreplaceable Zeffirelliana, arranged in a chronology that may track Zeffirelli's very little.
Mine begins one winter in the 1960s, when my mother took me from Zurich, where my family lived, to Milan for La Bohème at La Scala. A grey sky hung low over the Alps as our train approached the Gotthard, the tunnel seemed endless, and the winds bit shrewdly in drizzly Lombardy; it was bitter cold. The chill was in my bones when I first set eyes on the cutaway view of the Bohemians' freezing garret. It made perfect sense to me when Rodolfo set his play on fire, setting sparks dancing in the stove and in the orchestra.
Soon after my visit to Milan, Giorgio Albertazzi, that matinee idol of Italian stage, passed through Zurich in a show intriguingly billed as Amleto, which I had read about in an American news magazine - Time? Newsweek? - but had had no hope of seeing for myself. By this time, I had realised that Zeffirelli was the man to watch, the genius of the age and full of surprises. Those who identify him with opera at its most over-the-top should have been there to see it: the unit set was a round platform that looked like stone, bearing a resemblance perhaps to a Ring by Wieland Wagner, but none to music drama of any less Spartan or more frivolous sort. At the centre of the disc, I recall a pit - a sort of navel - to which Hamlet would retreat for his monologues. Zeffirelli has explained that his idea was to create a Hamlet young audiences could identify with, as if viewing themselves in the mirror, encouraging them to develop the inner voice "which is the only thing that remains after the loss of a father figure, a guide and mentor". Peter Brook, of course, is the theoretician of the Empty Space, yet here was Zeffirelli, climbing the same mountain, in response to his conviction that the word, rather than any trappings of the stage, is the ultimate reality of Shakespearean theatre.
In 1967 came the film The Taming of the Shrew - which opened in London with a Royal Command Performance: entertainment fit for a king! Since Cleopatra, in the tabloids if not always on the screen, Taylor and Burton had held fans in thrall with their glamour, their defiance of scandal, their sovereign talent for living large. (She demanded the astronomical sum of a million dollars to play the queen of the Nile, at the time an unheard-of pay cheque. He showered her in trinkets like La Peregrina, the legendary Panamanian pearl Philip II of Spain once bestowed upon his wife as a wedding gift, and the Taylor Burton Diamond, all 69.42 carats of it. "I would have liked to buy her the Taj Mahal," he said, "but it would cost too much to transport.")
The Burtons were turning out films at quite a rate, with mixed success. Just before Shrew, they had torn into each other as the middle-aged George and Martha of the Mike Nichols film of Who's Afraid of Virginia Woolf?, enhancing the artistic credibility of their high-toned but essentially commercial double act. To recall these veteran sluggers as Shakespeare's colts was a divine absurdity, an object lesson in the uses of stardom. Nichols had shot them in black and white (a further indication of the seriousness of the endeavour). Zeffirelli, of course, filmed them in Technicolor, evoking the festivities and pomp of a Renaissance pageant. It was a triumph of make-believe, and he knew better than to repeat it. As his cinematic encore, in 1968, Zeffirelli chose Romeo and Juliet, composing a symphony of star-struck romance in which the ironies and displacements of celebrity casting had no place. The lovers were Leonard Whiting and Olivia Hussey - unknowns who dissolved into their characters like honey into bowls of flaming wine. Both went on to other roles, but never again would their stars shine this bright. Needless to say, these Shakespeares on celluloid (as well as the Mel Gibson Hamlet of 1990) were conceived in a spirit antithetical to that of the spare, logocentric Amleto onstage.
Throughout his career, Zeffirelli has shown a kind of genius for embracing the medium he is working in, rather than attempting to turn it into something it is not. He understands the implications of scale. He understands audience expectations. To cater is not to pander. Filming Verdi's Otello in 1986, he shocked purists with cuts unthinkable in the opera house, from nips and tucks of a bar or two to the entire Willow Song. Musicians screamed, but Zeffirelli was unrepentant. "I know Verdi and I know Shakespeare," he insisted. "I wanted to make a film, not an opera." And when he works in a stadium, he creates stadium shows. No conceivable proscenium could accommodate the rooks and knights built for Il trovatore in the Arena at Verona: they were chess pieces for titans to play with, monumental and romantic, like the opera itself.
Theatrum mundi
There is little danger that historians of theatre and opera will forget Zeffirelli's achievement, but how thorough is the record? Verga's La lupa starring Anna Magnani, Schiller's Maria Stuart starring Valentina Cortese and Rossella Falk, Albee's A Delicate Balance in the deep-rainbow shade of a giant Tiffany lamp: these shows and many more have long occupied the limbo of entries in a chronicle. More confusing, in some ways, are the myriad productions that bear the master's name years after he last saw them, in houses where he may never have set foot. Much of the time, the grand vista is very hazy.
As film stock fades and fashions alter, living performances on film have a way of freezing into documentary. Interpreting them becomes something of a science and something of an art. But at least the data are authentic. Here is work as the master left it. A Traviata though not with Callas yet set ablaze by Teresa Stratas. Professions of faith in Brother Sun, Sister Moon, his Aquarian age biography of Saint Francis of Assisi, and in the five-part Jesus of Nazareth, revered in the Third World as gospel. The remake of The Champ, the wrenching tale of a washed-up boxer and his adoring son. Zeffirelli had seen King Vidor's original as a boy, shortly after the death of his mother, and wept so bitterly as to frighten the aunt who looked after him. Four decades later, he caught it by chance on television, and broke down again. "If I, a cynical, worn-out Florentine, could be reduced to tears by that simple, sentimental tale," Zeffirelli later wrote, "then so would millions of other people." The project brought him to Hollywood, where he knew better than to inject anything arty. Yet in retrospect, one senses in the performances he drew from Jon Voight and the seven-year-old Ricky Schroder the gritty, grave compassion of Vittorio de Sica's Ladri di biciclette or Visconti's Rocco e i suoi fratelli, and not just because of vague parallels in the stories. Without making a show of it, Zeffirelli had spirited in the dignity as well as the open-hearted pathos of Italian neo-realism. Who noticed at the time?
Visse d'arte - Zeffirelli has lived for art. So much so that in his last film to date, Callas Forever (2002), he spun fact to fiction. Like the real Maria Callas, the Maria of the story has never committed an entire opera to film. Like the real Callas, she has sung the role of Carmen only in a studio recording, never on the stage. Like the real Callas, she has reached a time in her life when she can no longer sing. But unlike the real Callas, she is persuaded against her instincts to film Carmen to the soundtrack of her own recording. The notion is in a sense inspired, yet as Maria comes to realise, it is also a cheat, and the project is abandoned.
No partnership in Zeffirelli's artistic life was closer than his partnership with Maria Callas. In Fanny Ardant's translucent impersonation, he brings her back as if by metempsychosis - a miracle possible only in imagination, that Isle of the Blessed. Callas Forever captures a truth about who Callas was, but the truth of what she accomplished lies in the recorded sound of her voice. In the end, Zeffirelli's tribute to a kindred spirit is part parable and part self-portrait. As a director and designer, he is both luckier and less lucky than she was. Her recordings are what they are, frozen, forever. The night visions of the theatre are doomed to vanish. So Prospero the magus says in The Tempest, Shakespeare's great testament, in words uncontested for centuries.
The cloud-capp'd towers, the gorgeous palaces,
The solemn temples, the great globe itself,
Yea, all which it inherit, shall dissolve,
And, like this insubstantial pageant faded,
Leave not a rack behind.
Must it be so? Zeffirelli, who has never staged that play, suggests otherwise. With amazing frequency, his cloud-capped towers and gorgeous palaces have died at daybreak to be reborn at nightfall, like Hope in Turandot's first riddle. Again the curtain rises, and spirits return, to live and change.