Though Metropolitan Opera subscribers may still be tripping over his name, the Russian bass Ildar Abdrazakov has long since ceased to be a stranger here. Since his house debut on March 1, 2004, as the first-cast Masetto of Marthe Keller's Don Giovanni, he has racked up some five dozen appearances at the Met, thereafter always in starring roles. Without the éclat of a major break in a new production, however, he has yet to register in New York with the force his voice, his presence and his artistry surely warrant. With any luck, the situation is about to change.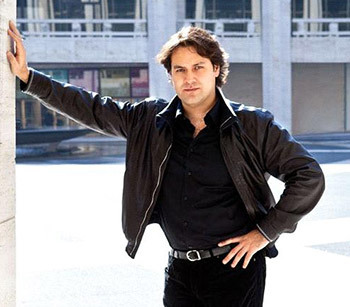 In a serious vein, a bass plays many authority figures and fallen angels; in comedy, paper tigers, buffoons, and servants with attitude. At thirty-three, Ildar Abdrazakov has run the gamut from spiritual leaders in works by Bellini (Oroveso, in Norma) and Rossini (Moses in Moïse et Pharaon) to incarnations of evil in the Faust adaptations of Gounod, Berlioz and Boito. In the Mozart repertoire, he has portrayed Figaro (his first assignment at his home company, the Mariinsky) and Leporello, as well as Don Giovanni. Additional Rossini outings have ranged from Mustafà (L'Italiana in Algeri), Basilio (Il Barbiere di Siviglia) and Alidoro (La Cenerentola) to Assur (Semiramide) and Maometto II (L'Assedio di Corinto). In Carmen, he does a suave turn as Bizet's sex symbol Escamillo, on occasion opposite his wife, Russian mezzo phenomenon Olga Borodina. The awe-striking King Philip II of Verdi's Don Carlos is yet to come.
Right now, the challenge before him is Attila the Hun, known to the fifth-century Christian world as "the scourge of God," a warrior ruler on horseback from the steppes of Eurasia who sowed death and destruction across the face of Europe but fought just shy of Constantinople and Rome. There's an element of typecasting here: according to long-hidden family documents that have recently come to light, the Abdrazakovs are a branch of the Yenikeyev clan, Tatars of noble blood, associated with Genghis Khan.
The ninth of Verdi's operas, Attila arrives at the Metropolitan Opera this month for the first time, conducted by Riccardo Muti, directed by Pierre Audi and designed by fashion mogul Miuccia Prada (costumes) and the A-list architects Herzog & de Meuron (sets), all in their house debuts. To Abdrazakov's delight, Samuel Ramey, a distinguished Attila in his time, appears in the brief but pivotal role of the aged Pope Leo, whose intervention strikes Attila's heart with holy dread.
"I feel very happy, very lucky," says Abdrazakov. (The accent in his name falls on the penultimate syllable.) "My first experience of Sam Ramey was in a video of Attila from La Scala, with Maestro Muti conducting. It opened a door for me. It never crossed my mind that I'd be singing the title role one day on the same stage as Sam, with Maestro Muti in the pit."
Muti speaks enthusiastically of the collaboration, too. Abdrazakov first came to his attention in Milan when the singer, still an unknown, was in his mid-twenties. The lesser assignment of Calchas in Gluck's Iphigénie en Aulide led to greater ones, such as Banquo, in Macbeth; the Michelangelesque bass part in the Verdi Requiem; and the prophet in Moïse et Pharaon, who has virtually nothing but recitatives and ensembles to sing (but plenty of those) and must fill them with grandiloquence.
"I could tell immediately that this was a very important, very beautiful voice, with an extremely noble cantabilità," Muti said recently from Chicago. "Listening to Ildar, one would never guess that he's Russian, because his schooling is so strongly Italian, free of the sounds thought of as typically Russian. Because his voice is so noble and his style is so classical, he is very well suited to sacred music, as well as to opera. I've used him in recordings of Cherubini masses, and also in the Rossini Stabat Mater, which requires an extremely measured, controlled line."
How does all this square with Attila, the ferocious iron-man in an opera of singularly brutal and archaic cast? "Ildar has the statuesque physical presence the character requires," Muti answered. "From the vocal and the theatrical point of view, he could be the ideal interpreter of the part for our time. And I may say that, my friend, because in my life I've done Attila with Ruggero Raimondi in Rome, Nicolai Ghiaurov in Florence and Sam Ramey at La Scala. Not bad, no? There are many different voice types that can carry a valid interpretation. Even if your heart beats for Ezio in this opera, Verdi does not treat Attila as merely a barbarian. He needs grandeur."
Certainly the hearts of Verdi's Milanese contemporaries beat for Ezio, the Roman general and envoy sent to negotiate with the invader. But as patriotic Italians chafing under the yoke of Austrian occupation, they took his words out of context, as the crafty composer may well have anticipated. "Avrai tu l'universo," Ezio declaims before Attila in the opera's single most memorable phrase, "resti l'Italia a me" (Thou shalt have the universe — leave Italy to me). That Attila recognizes Ezio's proposition for the power grab it is and denounces him as a traitor did not prevent the Milanese from making his great line their rallying cry. In New York, more than a century and a half later, Abdrazakov's innate majesty could give Attila's rebuke an extra sting of moral authority.
Abdrazakov hails from Ufa, the capital of Bashkiria, once part of the U.S.S.R., today a federal subject of Russia. The economy of the region is based on petrochemicals, but in the cultural history of the twentieth century, the city is remembered most of all as the hometown of the legendary Rudolf Nureyev. "Sì, Nureyev," Abdrazakov confirms, conversing in Italian, a more comfortable language for him than English. "And Feodor Chaliapin made his debut as an artist there, in a Russian opera — nothing important." Standard sources are nebulous about Chaliapin's modest beginnings, but no matter. Even without this tenuous link, Abdrazakov's timbre and projection have reminded more than one listener of that distant paragon.
Such comparisons tend to turn a young artist's head; Abdrazakov nimbly deflects them. "I think of Chaliapin first as a great artist, an interpreter of roles," he says. "Listening to him, I can imagine the whole dramatic situation. As an artist, you must embrace everything about the character but not exaggerate. You must talk, not sing. You must set the right accents, even in silence, because the silence is music, too."
Sharing a life, three children and as many performances as possible with the thrice-married Borodina, who at forty-six seems to have collected every accolade the Russian state has to offer, does Abdrazakov ever feel like the junior member of the artistic partnership? "Olga doesn't teach me," Abdrazakov replies with a gentle smile. "She gives me advice if she doesn't like what she's hearing. I always listen. We discuss things, and if she wins, I have to take her advice. You have to have someone who hears you from outside. And it's not as if I couldn't tell her things, too, just because she is a star. We both tell each other what we think."
Though Abdrazakov's parents were not musicians — starting as an actor, his father went on to direct more than 100 television documentaries and other films; his mother painted ceramics — there was a lot of music in the house. "They loved to sing Bashkirian music, with its beautiful coloratura melodies, almost Turkish in style." What's more, Ildar's brother Askar, seven years his elder, was studying voice. By now, both have established themselves as basses on the international circuit, and on occasion, they perform together. Two seasons ago at Washington National Opera, Ildar opened a run of Don Giovanni as Leporello to Erwin Schrott's Giovanni, then stepped up to Giovanni, partnered by Askar's Leporello.
Despite Abdrazakov's remarkable success in bel canto repertory, he says it has not come easily. "As a boy, I went to a school for musically gifted children where they taught me to read music, hit the notes, do some solfeggio," he says. "It wasn't much, but it was something. From age thirteen to sixteen, I did no music at all. Then I switched to the arts institute and started to study with Milausha Murtasina. And bel canto was the first thing she taught me — to keep the voice even, round, noble, whether going up or going down. That was the most important thing. After that came other things, like coloratura. Coloratura is hard — like making spaghetti. It's especially hard for low voices. Sam Ramey was a great example for me. He was never my teacher, but I listened to him a lot."
As Attila, Ramey makes capital use of a snarl — not, presumably, one of the sounds Mme. Murtasina spent much time cultivating. "Snarl," Abdrazakov repeats, tasting the new word in English, relishing the bite of the consonants. "Snarl," he repeats, and his eyes light up. "I'm starting to find more of those colors. For devils, you need them."
Wagner is off the table for the foreseeable future. "You can't do everything well," Abdrazakov says. "It's hard to sing in German, and besides, you have to understand. Either you have to know the language really well to begin with, or you have to study very, very hard. I understand French, but not 100 percent, so in French roles, I have to work harder. But singing in Russian and Italian is easy."
Boris Godunov, another snarler, will have to wait, too. "I'm often asked for Boris," Abdrazakov says. "It's more a character part than a singing role. I understand the words. I understand how he has to be. Younger singers than I have done the part, and that's fine, if it works for them. I could do my idea of Boris tomorrow. But I want to find a director and a conductor to work with to go deep into his skin. Maybe I'll be ready in ten years. Maybe it will take longer."