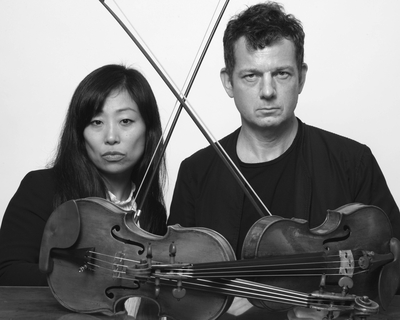 En garde! Touché! Ten years into their relationship, the Harrises of String Noise have expanded the repertoire for their unconventional instrumentarium by some 50 new works.
J.S. Bach's Olympian Concerto for Two Violins in D minor BWV 1043 and Béla Bartók's pedagogical 44 Duos for Two Violins, Sz. 98, BB 104 notwithstanding, violin duos have never really been much of a thing. As
String Noise,
the husband-and-wife fiddling team of
Conrad Harris and Pauline Kim Harris
set out to change that, at least within their own bubble. To celebrate their tenth anniversary, they've released no fewer than three new CD's. We checked out a track from each.
A Lunch Between Order and Chaos (Chaikin Records) is dedicated to music written to be played unisono, a high-wire act of the most unforgiving sort. Of six examples by as many composers, we chose "Superintendent for the Destruction of the Gods," by Greg Saunier, probably best known as a percussionist (!), though he paints here with the lightest of brushes, skipping from legato to pizzicato with Tinkerbell insouciance.
Alien Stories (Infrequent Seams) gives a hearing to notated (as presumably opposed to improvised) music in contemporary Black composers. What the Catalan (?) title "La Púyala Muntá" may mean, I cannot tell you; nor, it seems, can Anaïs Maviel, whose writing here suggests a Middle Eastern, perhaps medieval dance, shot through with stomping accents and flyaway scraps of gritty melody. Weird.
Eric Lyon: Giga Concerto (New Focus Recordings) shuffles orchestral movements (accompanied by the International Contemporary Ensemble) with riffs for violin duo and drum set on songs from the Five Songs, op. 105 of Johannes Brahms. The 10th movement, "Verrat" (Betrayal) erupts in unrelenting Expressionist fury.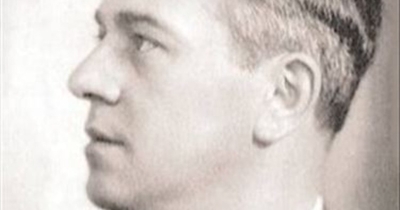 A Boris Godunov of historic stature, Alexander Kipnis could conjure up a character--even multiple characters--without benefit of theatrical trappings of any kind, by means of his voice alone.
Back to the source:
For purposes of comparison, we followed up with the unreconstructed Brahms, which is a revenge tragedy in miniature, played out by moonlight. Hidden in shadow, a man of violent temper overhears the woman he loves seeing off a pretty boy who has seen his last sunrise. In an archival recording, the Ukrainian bass
Alexander Kipnis,
accompanied bythe pianist
Gerald Moore,
shrouds the murderous narrator in the primal menace that distinguished his Boris Godunov in Mussorgsky's opera. But his is not the only voice we hear; the false lover speaks, too. To mimic a woman's voice, Brahms might have set her lines unusually high or even falsetto, but no, in his own voice, the killer flies much higher. What sets her apart is personality. Brahms marks her passage "sotto voce" (whispered, muffled, literally "below the voice"). As Kipnis sings it—tripping lightly, stripping his tone of its sable—we grasp how frivolous she is, how insubstantial. The peacock she has fallen for does not speak, yet Kipnis manages to evoke him, too, simply in the bite with which he describes him. The man wears
velvet
!
*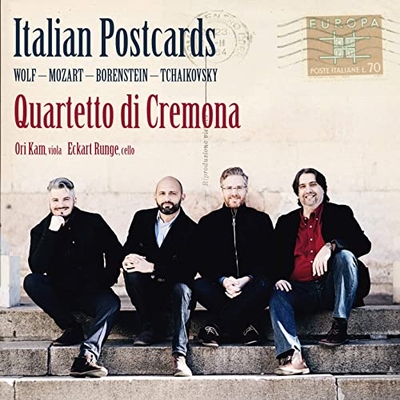 Milestones for strings, continued... The Quartetto di Cremona, configured in the classic manner (first and second violins, viola, cello) has been making beautiful music for twenty years. Their anniversary album Italian Postcards (Avie) showcases music inspired by their homeland by composers from abroad. We dropped the needle on a whirling account of the tuneful Italian Serenade in G Major of Hugo Wolf, and followed up with the world-premiere recording of the serene Cieli d'Italia (Skies of Italy), by Nimrod Borenstein, who is as intrigued by the shadows of earth as he is by the enamel radiance on high.
*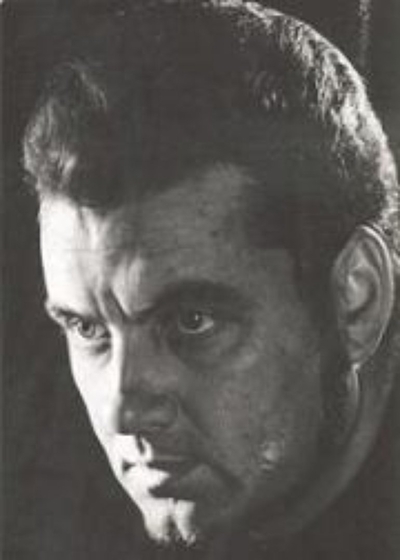 Riccardo Muti's revivals of Attila over the past half century have seen an international succession of basso royalty in the title role, beginning with the Italian Ruggero Raimondi in 1970, the Bulgarian Nicolai Ghiaurov (pictured) in 1972, the American Samuel Ramey in 1991, and the Russian Ildar Abdrazakov in 2010.
Speaking of Italy... Returning to rare archival recordings from the young
Riccardo Muti
at the
Maggio Musicale Fiorentino
, we dipped into
Attila,
an early entry in the
Giuseppe Verdi
canon (RMM Music). In the populist imagination, Verdi gets greater props for brio and blood and thunder than he does for poetic atmosphere—unjustly so, as Muti has revealed time and again, and not only in the opera house. If on his concert programs, the overture to the little-loved
Giovanna d'Arco
or the seldom-danced ballet from the otherwise surefire
Macbeth
look like throwaways, in the hall they emerge as singular masterstrokes of the Romantic imagination.
Our excerpts from Attila began with the prelude, in Muti's hands a locus classicus of Verdi's powers of scene painting. From there, we jumped to the close of Act 1, in which superstition or perhaps the Christian God—first in the form of a nightmare, then in the person of the Pope Leo I—warns Attila off his intended march on Rome. Awesome stuff, and in his time, who could have bested the Bulgarian bass Nicolai Ghiaurov as the so-called Scourge of God, rattled to the core of his being?
*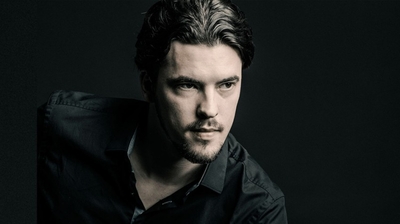 The Tyrolean baritone Andrè Schuen, an artist without artifice.
In our last show, we introduced the Tyrolean baritone
Andrè Schuen
and the German pianist
Daniel Heide
, who have been making considerable waves in recital. Their debut album on the Deutsche Grammophon label is the beloved song cycle
Die Schöne Müllerin
,
by
Franz Schubert.
The songs "Der Neugierige," "Eifersucht und Stolz," and "Der Müller und der Bach" bear witness to Schuèn's robust yet pliant tone, his dark yet prismatically shaded timbre, and his sensitivity to the language in all its facets. He promises to take his place as one of the greats.
*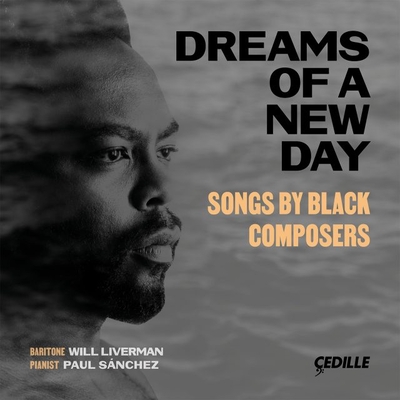 On Dreams of a New Day: Songs By Black Composers (Cedille), the baritone Will Liverman and pianist Paul Sánchez explore selections by composers born between 1866 and 1981. Personal history merges with archetype in "Three Dream Portraits," set by Margaret Bonds (1913-1972) to verse of Langston Hughes (1902-1967), guiding light of the Harlem Renaissance. Like the tragic clown in Pagliacci, the minstrel man of the first dream portrait masks a breaking heart behind a laughing face, though not for the same reason. The remaining songs project dreams of a brighter future, yet they, too, root in the racism that hangs over Black Americans to this day. Hughes packs consciousness of justice deferred for generations into lines of extreme economy, a quality Bonds responds to in kind; all in, her three vignettes clock in at just under six minutes. Liverman and Sánchez deliver the troubling messages with moody, chiaroscuro conviction.
*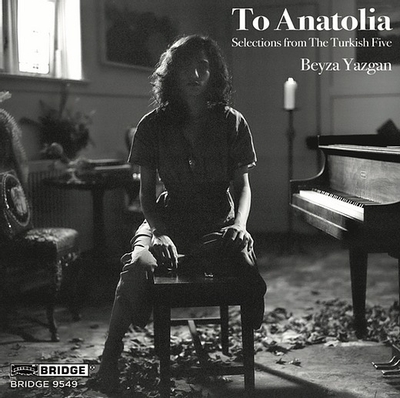 Last but not least, we sampled tracks from To Anatolia: Selections from The Turkish Five (Bridge), performed by the pianist Beyza Yazgan. The two-dozen-odd 20th-century piano miniatures collected here draw inspiration, we are told, from Anatolian folksongs, stories, dances, dirges, and lullabies. We heard:
Ahmet Adnan Saygun's lop-sided, heavy-footed "Meşeli" (From Anatolia, Op. 25: No. I),
Ulvi Chemal Erkin's pensive "Lento" (5 Damia: No. 2, vaguely reminiscent of "Strangers In the Night"),
Ferid Alnar's chromatically inflected promenade à l'orientale "Zeybek Havası" (Oyun Havaları: No. II).
Trained in Warsaw, Istanbul, and New York, now living in Brooklyn, Yazgan brings to her anthology a fluent technique and the abundant fantasy the kaleidoscopic material requires.