Let me not dwell on this most disorienting summer of all our lives except to say that I hope you're coming through. At Catch of the Day, we've been chugging along, chalking up many fine discoveries.
On a discouraging note, Radio Free America shut down on August 15. Thus, the seven-day streaming option I just announced has abruptly ceased to exist. For the foreseeable future, "Catch of the Day" is once again, worse luck, a live exclusive.
On the plus side, you can still stream our playlists on Apple Music. Here are links for August 30 and September 6. Comments on the music follow.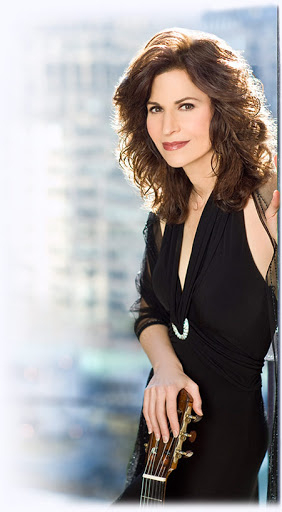 Sharon Isbin, Marco Polo and mastermind of a Silk Road Project All Her Own.
Strings for Peace - Premieres for Guitar and Sarod
(Zoho Music 2020)
Sharon Isbin, guitar; Amaan Ali Bangash, sarod; Amit Kavthekar, tabla
Affinity (Zoho Music 2020)
Sharon Isbin
The guitar phenomenon Sharon Isbin, who knows no borders, dominated our first half hour with ambitious exotica redolent of India and China. Over the arc of its quarter-hour duration, the raga progressed towards a silken blend of Western and darkly sensuous Hindustani sonorities. As the title of the Tan Dun solo suggested, it was highly episodic, conjuring kaleidoscopic moods, now dreamy, now wild, now densely textured, now lighter than air. For the record, this isn't the artist's first rodeo on Catch of the Day. In July 2017, we dipped into the duo album Alma Española, on which Isbin partners Isabel Leonard, mezzo soprano.
*
Dmitri Tymoczko: Crackpot Hymnal (Bridge Records 2013)
The Eggman Variations: I. Pentatonia
John Blacklow & Corigliano Quartet
Typecase Treasury: III. Crackpot Hymnal
Amernet String Quartet & Kevin Weng-Yew Mayner
Another Fantastic Voyage: III. An Evil, Evil Carnival
Daniel Schlosberg, Illinois Modern Ensemble & Stephen Taylor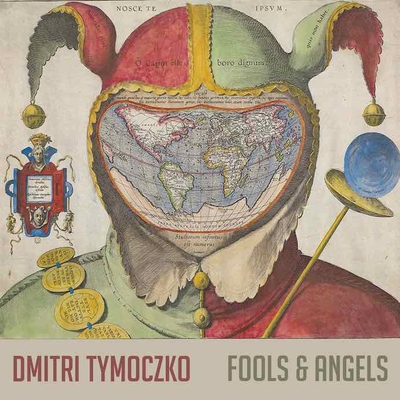 Here's cover art for a Tymoczko special we'll have to ferret out. Curious about his teachings? Check out his essay "The Geometry of Musical Chords," originally published in Science (313: 72-74, 2006), which seeks to reconcile harmony and counterpoint.
In his music, the composer and theorist Dmitri Tymoczko is an impenitent magpie, decking himself with finery snapped up wherever the fancy strikes him. Our track from "Eggman" combines a pointillist dash on the piano with gorgeous legato underpinning from the strings. "Crackpot Hymnal" (what a genius this guy has for titles!) is shot through with transcendentalist yearnings of a latter-day Charles Ives. The slow build and blaring climax of "An Evil, Evil Carnival" just might conjure up the out-of-control merry-go-round of Hitchcock's
Strangers on a Train
. Great stuff.
For the record, this isn't Dmitri Tymoczko's first rodeo on Catch of the Day. We sampled his album "Rube Goldberg Variations" in June 2018 and were taken with that one, too.
*
A Lad's Love (Bridge Records 2020)
Brian Giebler, Steven McGhee
Ivor Gurney, "In Flanders"
John Ireland, The Land of Lost Content: No. 2, Ladslove
John Ireland, We'll to the Woods No More: No. 1, We'll to the Woods No More
The shocks of the Great War shaped the consciousness of a whole generation of poets and composers, many lost in action, many shattered for life. The tenor Brian Giebler and his partner on piano, Steven McGhee, explore song of the era with special attention to loves thwarted or never expressed. A noble and compassionate project, no doubt, but a little relentlessly stiff-upper-lip.
*
Elgar: Violin Concerto / Stenhammar: 2 Sentimental Romances (Sorel 2020)
Triin Ruubel, Estonian National Symphony Orchestra & Neeme Järvi
2 Sentimental Romances, Op. 28: No. 2 in F Minor
Melodious from the get-go and, as advertised, sentimental, in the most disarming meaning of the word. Deep feeling enjoys free rein yet never bogs down in self-indulgence. The intimately scaled performance strikes the perfect poetic note.
*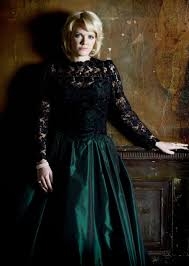 Kathryn Rudge, mezzo soprano, champion of unsung British song.
Songs by Sir Hamilton Harty
(SOMM Recordings 2020)
Kathryn Rudge, Christopher Glynn
3 Irish Folk Songs: No. 1, The Lowlands of Holland
6 Songs of Ireland, Op. 18: No. 5, Flame in the Skies
"The Stranger's Grave"
A trio of songs each distinct in mood and approach, occasionally building to operatic spikes, though more often tinged with elusive mystery. In "The Stranger's Grave," "a drowned man with a name unknown" lies six feet under, visited by a child and a woman who hover eerily out of focus. What's their story? Solemn and hymnic, the narrative suggests the world of Mahler's heart-breaking ghost story "Wo die schönen Trompeten blasen." The composer's dates are 1879 to 1941; a progressive he was not. But in his backward-looking vein, he composed with sensitivity, originality, and skill. In Kathryn Rudge and Christopher Glynn, he has able champions.
*
Robin Stevens: String Quartets & String Quintet (Divine Art 2020)
String Quartet No. 2 "Three Portraits": II. God-Seeker
Behn Quartet
The writing is gestural rather than melodic, the personality evoked rather earth-bound.
*
J. S. Bach Cello Suites (Decca 2017)
Sung-Won Yang
from Suite For Cello Solo No.2 In D Minor, BWV 1008

4. Sarabande
5. Menuett I/II
6. Gigue
In his second recording of these monuments of the literature, a distinguished South Korean concert artist and educator takes an inner-directed approach, exhibiting none of the deliberate physical effort common to more "heroic" performances.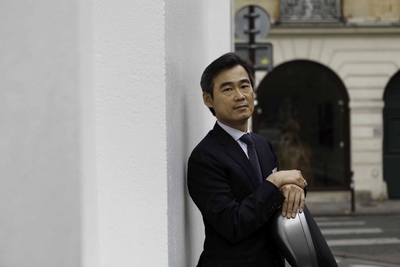 Sung-Won Yang, in calm command.
*
Rosa Mystica: Musical Portraits of the Blessed Virgin Mary (SOMM 2020)
Royal Birmingham Conservatoire Chamber Orchestra, Paul Spicer
Nicholas Ludford: Ave cujus conceptio
John Taverner: Mother of God, here I stand
Diaphanous devotions from a pair of Elizabethans separated by five centuries, yet brothers in spirit. (Ludford was a contemporary England's first Queen Elizabeth, John Tavener of England's second.) The conservatory vocalists do their director proud, the young basses generating a distinctively grainy buzz, while the sopranos—adult women--approximate the aching purity of boys.
*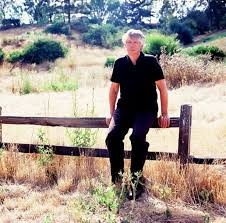 Getting to know Mr. Abel, in his time a guitarist, bassist, songwriter and record producer in New York, later foreign editor for the San Francisco Chronicle, now a composer, most recently of purely instrumental chamber music of originality and allure.
Mark Abel: The Cave of Wondrous Voice
(Delos 2020)
Trio for Clarinet, Cello & Piano: I. The Unfolding
David Shifrin, Fred Sherry & Carol Rosenberger
Sundown music, aglow with somber color and orientalist touches. Serendipity and an Impressionist sensibility (though no overt debt to Debussy) guide the ebb and flow. The low-lying writing for clarinet touches an especially atmospheric chord. Beautiful. For the record, this isn't Mark Abel's first rodeo on Catch of the Day. We sampled his album "Time and Distance" in July 2018 and were taken with that one, too.
*
Richard Danielpour: The Passion of Yeshua (Naxos 2020)
Buffalo Philharmonic Chorus, University of California, Los Angeles Chamber Singers, Buffalo Philharmonic Orchestra & JoAnn Falletta
We're in a realm of meditative discretion here, worlds away from theatrics. A still, mournful lyric soprano, singing Biblical texts in Biblical language, sets the scene for an encounter in conversational English. Discretion reigns.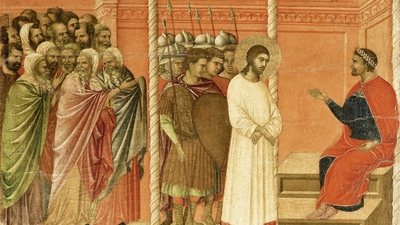 Duccio. Christ before Pilate.
Christ's raging accusers frame their demands with restraint, allowing the Roman governor to turn them down in the same key. (Compare and contrast Bach's blistering
St. John Passion
.)
*
La Buena Vida (Naxos 2019)
Duo Deloro
Adam del Monte, "Colegas – Rumba"
Enrique Granados, Goyescas, Book 1: No. 4, Quejas o la maja y el ruiseñor (arr. A. Čagalj)
From Latin America, a pair of flamboyant but not too flamboyant guitars, splashing bright colors with nimble fingers. One of the players is also composer of the rumba, which would be twice as enjoyable at half the length. The arrangement of the Goyescas excerpt retains something of the perfume Granados offers in the hands of a virtuoso pianist who is also a poet.
*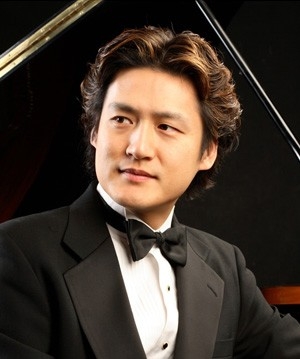 Jae-Hyuck Cho hears Beethoven his own way.
Beethoven: Sonatas for Piano
(Sony Classical 2018)
Jae-Hyuck Cho
Piano Sonata No. 21 in C Major, Op. 53 "Waldstein": I. Allegro con brio
From a South Korean pianist-organist, a most unexpected execution indeed of this most electrifying of movements. Dispatched at warp speed in highest definition, the onrush of notes instantly vaporizes into sheer light and energy. It's like an outtake from Mendelssohn's Midsummer Night's Dream or perhaps the ghost-ridden second act of Adolphe Adam's Giselle, aglimmer with will-o'-the-wisps.