Is this the best of times, is this the worst of times? Maybe Charles Dickens could tell us.
In observance of Independence Day (though a day late) and of le Quatorze Juillet (though more than a week early), I put together a mostly Franco-American program, including a few personal favorites in various ways suitable to the occasion. Tracks available on Apple Music appear on our online playlist. Sad to say, our grand finale is one of the missing.
---
PBO & Caroline Shaw (Philharmonia 2020)
Philharmonia Baroque Orchestra & Chorale, Nicholas McGegan
From The Listeners (2019)
In a world's vast frame/Avery Amereau
Of a million million/Dashon Burton
That's us/Carl Sagan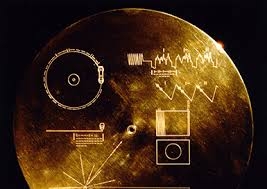 The Golden Record, this planet's calling card to the cosmos.
This recent oratorio for chorus and period instruments takes its inspiration from the Golden Record launched into deep space on
Voyager
1 and 2 in 1977. Assembled by Carl Sagan, astrophysicist and televangelist for the natural sciences, the glistening platter carries music and images that add up to a calling card from Spaceship Earth. Carolyn Shaw turns the arrow around, tuning her ear to what the cosmos says to
us
. As the passages we heard from the bookish William Drummond of Hawthornden (1585-1649) and Queen Victoria's poet laureate Alfred, Lord Tennyson make clear, she has an eye for numinous text. Her orchestral writing owes a debt to Philip Glass not only in propulsive onward motion but also in its somber yet prismatic timbres and assorted gestures that range from clunky metallic accents to dustings of pizzicati. The part of the singers—especially the melismatic arabesques for the contralto Avery Amereau—fall pleasingly on the ear. A long-lost snippet of tape, only recently rediscovered, evokes our place in the universe not with a poet's facile wonder but with a scientist's reality-tested grasp of scarcely imaginable cosmic scale. The voice is that of Carl Sagan, whose widow considers this his finest statement ever.
*
Caprice: The Chamber Music of Kim Portnoy (Kim Portnoy 2018)
From From an Imaginary Musical
Nicolae Bica, Alla Voskoboynikova
Astaire Steppin'
Dancing with Ginger
Was that an echo of "Nice Work If You Can Get It" I was hearing in the first number? Maybe yes, maybe no, but for sure, the spirit of Ira and George is alive and well in these nimble miniatures, and the performance is joyous.
*
Assassins (RCA Victor 1991)
Original Cast Recording
Stephen Sondheim turns a mirror on an America that all too often falls short of its ideals. In our year of shattered illusions, reflections captured three decades ago still seem shamefully contemporary.
*
Debussy – Rameau (Deutsche Grammophon 2020)
Víkingur Ólafsson
Rameau/Ólafsson: "The Arts and the Hours"
Debussy : Images - Book 1, L. 110: 2. Hommage à Rameau
True, in Images Debussy pays explicit tribute to Rameau, his elder by nearly two centuries. As on previous recordings, Vikingur Ólafsson sees crosscurrents where others least expect them. His dominant aesthetic here is an aqueous Impressionist blur, dreamy and contemplative. Against the free song of upper voices, the cushioned tread of the bass marks a sense of order and measure—an almost subliminal Baroque tick-tock, yet it is there.
*
Edward Cowie: 3 Quartets & A Solo (Métier 2020)
Kreutzer Quartet
String Quartet No. 6 "Four Winds": IV. South Wind – Summer
Was that a mosquito I heard whirring? The mooing of a cow? Cowie's exquisitely crafted pastorale seems to seems to unfold in several tempi at once, on widely separated planes, yet somehow, it all holds together in a whirling, sunny balance.
*
Scott Joplin: Treemonisha (New World Records 2011)
Paragon Ragtime Orchestra and Singers
Not as slow as all that, and certainly no drag (at least not in the usual pejorative sense), the processional grand finale of Scott Joplin's ragtime opera builds and builds. Standing ovation assured.
*
Thomas Fortmann: Gimme Twelve (Métier 2020)
Gimme Twelve/Ettore Candela
Prejudice is a prison of which the door is always wide open. No fan of the so-called King of Instruments, I found nothing in this blaring, overlong toccata to change my mind. For the record, it is the work of an ex–boy wonder of European Top 40 who walked away to immerse himself in the brainy twelve-tone technique that was cutting-edge in Vienna a century ago.
*
L'Unique: Harpsichord Music of François Couperin (Cedille 2020)
Jory Vinikour
The harpsichord is by nature a discreet instrument. Yet in the right space, under flamboyant hands, its high-strung mechanism can set a monumental Baroque showpiece like this one jangling with ferocious majesty.
*
La Marseillaise/Carmen (Philips 1989)
Jessye Norman, Semyon Bychkov, Orchestre de Paris, Chœur de l'Orchestre de Paris
Liberté, égalité, fraternité! What chœur de citoyens ever voiced these ideals one third as blazingly as Jessye Norman of Augusta, Georgia? None, and it's not as if the French didn't know it. On July 14, 1989, the bicentennial of the Fall of the Bastille, there she stood in the Place de la Concorde, draped in the Tricolore, as untouchable and alone as Lady Liberty in New York Harbor. She had the whole world in her hand—why not say it? But sound travels at just 343 meters per second, and "synchronizing" loudspeakers across 20 acres of open air is an acoustic chimera. Newsreels to be found on YouTube convey the spectacle and the stupendous sense of occasion, but the music drifts in and out of phase, sometimes nightmarishly. Even so, the eloquence of her features and her aura of untamed command simply take the breath away. Happily for finicky ears, Norman also recorded "La Marseillaise" in the studio, without all that sonic distortion. Try spinning that version while rolling memories of the video in the mind's eye.