Along with so many much more important things, Catch of the Day got walloped by the pandemic. We got an in a show just before lockdown, and by May 31, the studio was back in business, but a cohost (like me) had to dial in by Zoom or Skype. Listeners reported problems with my feed but happily not with the music. Here's what we played, with commentary.
Playlist, March 1, 2020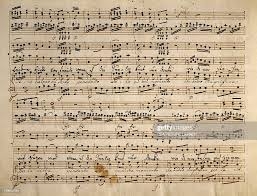 Don't believe what you may have heard about Salieri. Here's a page from his School of Jealousy, a gem.

Antonio Salieri: La scuola de' gelosi (Deutsche Harmonia Mundi, 2015)
L'Arte del Mondo, Werner Ehrhardt
· Quintetto
Nowhere in Mozart's greatest operas does his genius cascade with greater sparkle than in the ensembles, with characters operating at cross purposes. Reminiscent of Così fan tutte, this intricate excerpt from a forgotten gem by Mozart's supposed nemesis (don't believe it) is cut from very much the same cloth. Listen especially for the singing lesson a lady gives a gentleman while other schemes are being spun: it's The Sound of Music, a couple centuries avant la lettre!
*
Paul Moravec: Sanctuary Road (Naxos, 2020)
Oratorio Society of New York Chorus and Orchestra, Kent Tritle
· Write
· Quietly
· Reward!
Ceremonial rather than incendiary, yet none the less affecting for that. Chronicles of slavery and escape, inspired by William Still's ground-breaking The Underground Railroad.
*
Classic Hauser (Sony Classical, 2020)
Hauser, London Symphony Orchestra
· Chopin, Nocturne in C-sharp minor
Unrecognizable as Chopin. The oleaginous symphonic arrangement simply does not compute.
· Tchaikovsky, Swan Lake
A snippet from the billowing, doomstruck opening of Act 2 of the ballet, laid out with admirable attention to line and total indifference to mood.
*
Handel: Agrippina (Erato, 2020)
Il Pomo d'Oro, Maxim Emelyanychev
· Pensieri, voi mi tormentate - Joyce DiDonato
· Voi che udite il mio lamento/Jakub Józef Orliński
· Se vuoi pace/Joyce DiDonato
As the fiddling Nero's lethally devious mother, the star mezzo Joyce DiDonato, at the top of her game, teases out prismatic options from every note and phrase. Operating in much the same vocal register, the rising countertenor Jakub Józef Orliński conveys a simpler character's heartache in a single, exquisitely blended hue of utmost refinement. She's bewitching, and so is he.
*
Complete Beethoven Piano Sonatas: Fazil Say (Warner Classics, 2019)
· Sonata No. 23 in F minor, op. 57 ("Appassionata"), I. Allegro assai
A pianist-composer with an innate flair for musical narrative plunges into a Beethoven maelstrom with bracing abandon.
*
Alexandre Tharaud: Piano Concertos (Erato, 2019)
Hans Abrahamsen, Left, Alone, concerto for piano left hand and orchestra
Rotterdam Philharmonic, Yannick Nézet-Séguin
Part II
· IV. Slowly
· V. Prestissimo tempestuoso
· VI. In a tempo from another time – In a time of slow motion – Suddenly in flying time, "Fairy Tale Time"
"This new work is not written for a pianist with only one hand," Abrahamsen has noted, "but rather by a composer who can only play with the left hand." The six brief movements are crowded with dense, enigmatic incident. (Not least of the score's curiosities is the presence within the chamber-size orchestra of a second piano to be played by an ensemble member with the use of two hands.) Tharaud, to whom the piece is dedicated, is prodigious explorer of repertoire new and old, gifted with impregnable and lucid technique. A most intriguing discovery, on all counts,
*
Roberto Alagna: Caruso 1873 (Sony Classical, 2020)
Orchestre National d'Île-de-France, Yvan Cassar
· Mia Piccirella (Gomes)
· Ô lumière du jour (Rubinstein)
· Sérénade de Don Juan (Tchaikovsky)
Amply endowed with the ego every tenor requires, Alagna has held his own at the top of the operatic heap for three decades. How smart is it, though, for him to invite comparison with the very paragon of Italian tenors? In a Greatest Hits program, the answer might be, Not so much. Instead, Alagna revels in outliers from Caruso's prodigious discography—reintroducing forgotten gems that give great pleasure. He's in lusty form. It works.
* * *
Playlist, May 31, 2020
The Red Book of Ossory (Heresy Records 2020)
Anakronos
· The Flight of Dame Alice Kyteler
· Regine Glorie
"Timelessness," ca. 2020. The singer Catriona O'Leary and her clarinetist sister Deirdre O'Leary team up with Nick Roth on sax and Francesco Turrisi on piano and percussion for new perspectives on ancient and medieval strains. Enjoyable, but nowhere near as revelatory as it seems to want to be.
*
The Great Violins, vol. 3: Antonio Stradivari, 1685 (Athene 2020)
Solo works from the Klagenfurt Manuscript (anonymous, c. 1685)
Peter Sheppard Skæved
· Sarabande, G Major
· [Gigue], A major
· [Praeambulus], G major
Anonymous wallpaper music, performed on an instrument of illustrious pedigree.
*
The Other Cleopatra: Queen of Armenia (Delos 2020)
Isabel Bayrakdarian, Constantine Orbelian, Kaunas City Symphony
· Press' all' onde (Haase)
· Squarciami pure il seno (Vivaldi)
· Presso l'onda (Gluck)
The enterprising Armenian-Canadian soprano Isabel Bayrakdarian is ever on the lookout for material that speaks to her heritage. Poking around the archives, she has unearthed a trio of operas entitled Il Tigrane, after an Armenian king whose queen shared a name with the better-known Serpent of Old Nile. The libretti, it appears, vary little, and the composers, each a star in his own right, represent the transition from the baroque to the early classical period. To roiling Vivaldi, stately Haase, and grandiloquent Gluck, Bayrakdarian brings the same transparent, poised musicality, never reaching for pyrotechnic effect. By far the richest of these excerpts is the Gluck, gorgeously orchestrated, depicting an imagined scene by the waters of the ancient underworld. Aficionados of Gluck's Orfeo ed Euridice, and the hero's harrowing encounter with the Furies, will recognize the sensibility.
*
Treasures from the New World (SOMM Recordings 2020)
Clélia Iruzun, Roger Coull
· Romance for Violin and Piano (Amy Beach)
A Boston blue blood, though no blue stocking, the surgeon's wife Mrs. H.H.A. Beach (as she styled herself) has a place in the history books as the composer of the first symphony ("the Gaelic") composed and published by an American woman; the Boston Symphony Orchestra gave the premiere in 1896, when Beach was not yet 30 and had nearly five more decades to live. Despite recent interest in woman composers, performances of her music remain rare. This dreamy example, redolent perhaps of Brahms or Tchaikovsky, would surely have been catnip to her contemporary Fritz Kreisler, an Austrian-born virtuoso who had every music lover's heartstrings at his fingertips.
*
James Whitbourn: The Seven Heavens (Divine Art 2020)
Cor Cantiamo, Eric A. Johnson
· IV. Jupiter
· VI. Saturn
Inspired by the life and writings of C.S. Lewis, this eccentric cycle proves quite the find. The "Jupiter" movement is scatty and flyaway (nothing like Holst); the solemn "Saturn" flows with a gloomy, funereal tread.
*
Claude Debussy: Etudes, Children's Corner (Bridge2019)
Aleck Karis, piano
From Children's Corner
· I. Dr. Gradus ad Parnassum
· III. Serenade of the Doll
· VI. Golliwog's Cake Walk
Against the widespread tendency to dwell on the strangeness of Debussy, Karis finds the connection to the French traditions from which he sprang. Mind you, these are examples of the master at his most familial and domestic. Still, the exercise proves most illuminating.
*
Poul Ruders Edition, Vol. 15 (Bridge 2019)
From Kafkapriccio
Odensesymfoniorkester, Andreas Delfs
· I. Kafka
· V. The Execution
From our prolific Danish contemporary, fantastically colorful adventure. Castanets clatter like typewriter keys as the brass brays as for the Last Judgment, only to be swept away by gypsy violins and a dash of klezmer. The orchestral suite, it turns out, derives from an opera. May we hear it, please?
*
British Violin Sonatas (SOMM Recordings 2020)
Clare Howick, Simon Callaghan
· Allegro tranquillo e gracioso, from William Alwyn, Sonatina for Violin and Piano
Tales from the pandemic. Working from home, with inadequately tested technology and unforeseen communication failures, I wound up hearing this track through two non-synchronized feeds. Through the Cageian haze I intuited a gentle pastorale, gracious as its tempo marking implies. But who knows? Let's give all involved the benefit of the doubt.