Lazily, we often think of tradition as a legacy that never changes.
That's only partly true; what doesn't evolve will die.
The weekend before Thanksgiving, at the dream factory at the corner of Market and Main in Wailuku, the truth of this proposition emerged in subtle ways as a melee of parents and their children (some by blood, some by quirks of casting) rehearsed the Maui Academy of Performing Arts production of "The Nutcracker."
The curtain rises this week at the Maui Arts & Cultural Center's Castle Theater.
Since the Russian choreographer George Balanchine transplanted it from his native St. Petersburg to the New York City Ballet in 1954, "The Nutcracker" has taken hold all over America. Borne aloft on Tchaikovsky's bewitching score, alternate stagings are legion.
What usually remains is the general storyline: In Act 1, a little girl named Clara receives a nutcracker. That night, in a nightmare, a wicked Mouse King attacks her, but the Nutcracker comes to the rescue and is transformed into a fairy-tale prince. In Act 2, Clara and her Prince visit the Kingdom of the Sweets, where the Sugar Plum Fairy regales them with bonbons and good things to drink. Ballet being ballet, all the refreshments are represented by dancers. It's eye candy all the way.
On Maui, MAPA has been presenting its homegrown "Nutcracker" since 2010, never quite the same way twice. This year, for the first time, Kathleen Schulz, MAPA's dance director, is receiving an assist from David C. Johnston, MAPA's executive and artistic director, who was the mastermind behind juggernauts like "Les Miz" and "Into the Woods."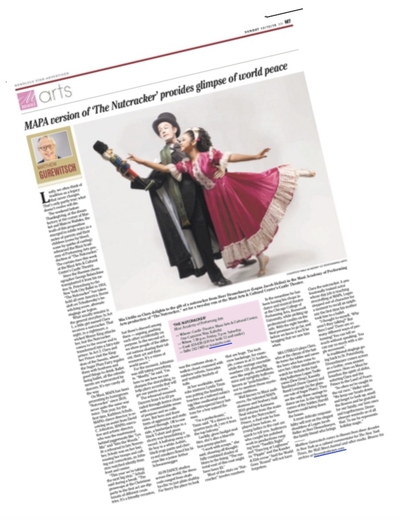 Photo: Mia Utrillo as Clara with Logan Jacob Heller as Herr Drosselmeyer.
At a rehearsal in late November, Schulz was on her feet, rousing her troops and calling out corrections, as Johnston watched silently from front and center.
"This year we're taking the next big step," Schulz said during a break. "The grown-ups at the Christmas party in the first act are diplomats of different countries. It's a friendly occasion, but there's discord among them — arguing, pushing each other accidentally on purpose. In the second act we show people of the different nations sharing their talent, their art and their resources. It's a vision of world peace."
For the moment, Johnston was still taking everything in. "Mostly," he said, "I'm here to see how we can sharpen the storytelling, to help place accents that will get our points across."
The rehearsal resumed.
Dancers from 6 to 63 paraded through festive chaos with a commendable sense of purpose and no collisions. But here and there hints of aggression and strife showed through. Off to one side, a lumberjack type in a black T-shirt and green shorts was brandishing a sword. A half-step away a little boy in a white A-shirt, black yoga pants and cherry- red sneakers flexed his biceps like a junior Arthur Schwarzenegger.
AS IN DANCE studios across the world, the dress code ranged from shabby- chic to just plain shabby.For finery the place to look was the costume shop, a walk-in closet crammed with rainbow velvets, brocades and veritable bushels of tulle. At her worktable, wardrobe mistress Lynda Timm was putting the finishing touches on a tailored robin's egg blue swallowtail coat with extra-special fancy buttons for a boy named Roman.
"I'm a perfectionist," Timm said. "If a sleeve is a quarter-inch off, I see it from the top balcony." Luckily, given budget realities, she's also a blue-ribbon penny-pincher.
"I work with scraps," she said, showing off thoughtfully combined shades of blues in the lining. "The material cost of this coat might have been $3."
Most of the stats on "Nutcracker" involve numbers that are huge. The tech crew backstage, for example, comes in at 21 bodies, while the onstage ensemble numbers 133, playing figures like angels, snowflakes, mice and sprightly buffoons known as polichinelles, not to mention those mysterious mirlitons.[*]
Well known to Maui audiences, the talented MAPA alumnus and Seabury Hall 2016 graduate Kaimana Neal returns from the mainland as the Nutcracker/ Prince, a dual role he has played here before, as young ladies in the cast are quick to tell you. Audiences who caught his polished work in productions ranging from "Twelfth Night" and "Dancing at Lughnasa" to "Pippin" and the Kander & Ebb revue "And the World Goes 'Round" will not have forgotten.
In the meantime he has been honing his chops in dance and musical theater at the Chicago College of Performing Arts, Roosevelt University, while picking up professional credits on the side. With the right breaks, Neal promises to go far, and before we know it we'll be bragging that we saw him when.
MIA UTRILLO plays Clara, who at the climax of the battle turns the tables and saves the hero who has come to save her. Other standouts to watch for include the budding ballerinas Logan Tsukiyama (Dew Drop), Kassidy Rambaud (Snow Queen) and Randi Lonzaga (in the glamour role of Sugar Plum). They are the only three onstage to dance on toe. In the hip-hop cameo of the Soldier, Harold Barerro could bring down the house.
A more delicate responsibility will rest on the elegant shoulders of Logan Jacob Heller as Herr Drosselmeyer, the family friend who brings Clara the nutcracker.
A professionally trained actor whose day job is teaching storytelling at MAPA, Logan stepped out of character for a moment to recall an epiphany the first time his mother took him to a ballet.
"I thought to myself, 'Why aren't they talking?' But then I saw! There are so many different ways of performing! You can tell so much without speaking. You can say so much with a single movement."
In traditional stagings going back to St. Petersburg, Drosselmeyer comes across as a Gothic, even sinister presence. Here on Maui he breathes the spirit of aloha, ushering Clara and the Prince to the Land of Peace. "So often we're caught in the rat race," Heller said. "We keep our heads down and forget to look up, smell the flowers and be grateful for our family, our love ones and togetherness. Drosselmeyer reminds us of all that. To me he represents holiday magic."
---
[*] Postscript. The first draft of this story began with the paragraph: "News flash from the Land of Sweets! Gingersnaps are history! Make way for the mirlitons (whatever they are)!" And it ended with the following disquisition. "Now, about mirlitons. In Balanchine's 'Kingdom of the Sweets,' alongside dances for candy canes and hot chocolate, the number for the mirlitons is called 'Marzipan,' after the sweet almond paste confectioners often shape and paint like porcelain figurines. The mirliton Tchaikovsky had in mind (the word also has other meanings) is an antique children's flute, which is played sideways and sounds much like a kazoo. That's why the 'Dance of the Mirlitons' in his score is written for flutes that mimic panpipes, the primitive instrument associated with shepherds and country life. And that, in turn, is why the mirlitons, In Balanchine, look like mock-porcelain shepherdesses made of marzipan. What will they look like in the MAPA production. Timm isn't telling." In the final draft, the extraneous reference above ("those mysterious mirlitons") was all that remained of this little research project; it wasn't meant to appear. However, after we went to press, intelligence on the MAPA mirlitons came in from the choreographer Kathleen Schulz: "The Mirlitons are dance vy a lead painter, and the other firsl are the colors she is painting with. They have colorful ribbons that squiggle in the air! Have a wonderful holiday!"