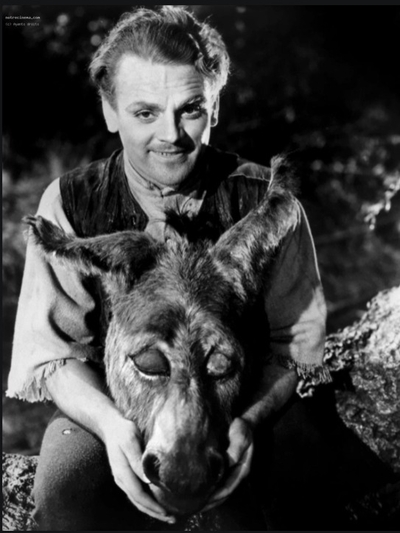 A most rare vision: James Cagney on the set of MGM's "A Midsummer Night's Dream," the single sound feature of the great Austrian theater director Max Reinhardt's career.
THE Shakespeare thing. Is it out of control? Like lemmings, Hollywood's bankable are rushing to throw themselves into the sea. Right now, Michelle Pfeiffer's Titania, queen of the fairies, is flitting through Michael Hoffman's "Midsummer Night's Dream" in starlit freefall. Soon to follow are Jessica Lange's Tamora, vicious Queen of the Goths, in Julie Taymor's "Titus" (a cinematic "Titus Andronicus") and Alicia Silverstone as the by no means clueless Princess of France in Kenneth Branagh's updated "Love's Labour's Lost." The industry is smitten, cranking out Shakespeare as if there were no tomorrow. Tomorrow will come, though, right on schedule, and with it the reviews and grosses. At which point, the text for the day may well not be "Once more unto the breach, dear friends, once more," but rather "Our revels now are ended."
In a review of the current "Midsummer Night's Dream" for The Wall Street Journal, Joe Morgenstern wrote of "the curse of good actors inadequately trained in Shakespeare." He cited the director Trevor Nunn, whose theatrical credits include innumerable productions of Royal Shakespeare (not to mention the immortal "Cats"). "If you took the world's greatest Olympic athletes and gave them all skis," Mr. Nunn said, "then put them on the top of a mountain and sent them racing down, only the skiers would finish the race."
Do movie stars deserve Shakespeare or disserve him? It depends. Plenty of critics and scholars continue to think of Shakespeareans as a breed apart, distinguished not only by profundity but also by a specialized technique. But in film, many technical skills of the theater are wasted -- heightened diction, projection, gesture -- if they are even tolerated. Shakespeare, after all, calls for real acting. From this premise, snobs draw the conclusion that stars -- outsize personalities, as opposed to character actors, the real masters of their craft -- cheapen a classic, turn it into a circus.
In the view of these detractors, personal magnetism is apt to be at best a distraction. Shakespeare, practical man of the theater that he was, might have disagreed. Charisma mattered in the playhouses of Elizabethan London just as it will until our species tires of watching players hold the mirror up to nature. Star quality will never put a capable actor at a disadvantage, though in material like "As You Like It" or "King Lear" it will show up a shallow one. If Laurence Olivier rose from commoner to knight to a life peerage, it was glamour no less than his chops that carried him so high.
ADVERTISEMENT
Shakespeare's fatal attraction for filmdom's rich and famous is not hard to understand. There comes a time in an actor's life when the money and magazine covers start to pall and the inner artiste cries for release. At moments such as these, Mel Gibson plays Hamlet on screen for Franco Zeffirelli or Helen Hunt does "Twelfth Night" onstage at Lincoln Center. "Brush up your Shakespeare," Cole Porter advised, "And they'll all kowtow."
Oh, really? They did not kowtow much to Mr. Gibson's sweet prince, though Braveheart-to-be got through the role with his figurative pants on. They kowtowed not at all to Ms. Hunt's Viola, whom the New York magazine critic John Simon hyperbolically deemed "as bad as it gets." They did kowtow to Mr. Branagh for "Henry V," "Much Ado About Nothing" and "Hamlet," but that was different. Mr. Branagh broke out as a Shakespearean long before he ever set foot on a sound stage. He had paid his dues.
Selective kowtowing is in order with the current "A Midsummer Night's Dream" from Fox Searchlight, though not necessarily where one might have anticipated. Kevin Kline, a classically trained romantic lead with Benedick, Richard III and several Hamlets under his belt, appears as Bottom the weaver, wooed by the fairy queen and applauded in tragedy by a duke. He plays a dandy and a philanderer, an irrelevant conceit that leaves the character's core of poetic innocence untouched. Ms. Pfeiffer's classical resume is thinner, though her pastel Olivia in the New York Shakespeare Festival's "Twelfth Night" 10 years ago did have fans lining up at dawn. As Titania, she presides over the court like Tinker Bell on the last night of disco, telegraphing rage and majesty by shaking her ringlets in time to her lines. Calista Flockhart, a recent Juliet and Cordelia on regional American stages, plays the masochistic Helena as Ally McBeal less law degree: not just a flake but a year's supply of Ivory Snow.
Other performances in the film are more winning. Rupert Everett, bare-chested, and Stanley Tucci, shiny of pate and pointy of ear, make a wicked team as the king of the fairies and his sidekick, Puck. Among Bottom's mostly irresistible cronies, two are drawn with special felicity. Roger Rees makes a warm-hearted Peter Quince, affectionate in his enjoyment of Bottom's shenanigans yet able, in a pinch, to quietly take charge. Sam Rockwell's Francis Flute has surprises up his sleeve, delicately modulating the suicidal Thisbe's lament from farce via pathos to bittersweet comic resolution. As Hippolyta, the bride to David Strathairn's saturnine Duke Theseus, Sophie Marceau expresses through her French accent both breeding and a charge of resentment. Among the quartet of lovers lost in the woods, Christian Bale's Demetrius stands out for a ferocity that erases the line between tragedy and comedy: he plays not a genre but the truth.
If the acting styles on view in this "Dream" seem to run the gamut, a visit to the International Movie Database (http:// us.imdb.com/) suggests how narrow the band here actually is. A search for Shakespeare turns up, as of this writing, 373 entries. To begin at the beginning, at the silent "King John" of 1899, starring Herbert Beerbohm-Tree, Shakespeare without words is not Shakespeare at all. A few clicks bring you to Marlon Brando's mumbling Mark Antony in Joseph L. Mankiewicz's "Julius Caesar" (1953) and Elizabeth Taylor's no-holds-barred Kate in Franco Zeffirelli's 1967 "Taming of the Shrew," two of the more disarming examples of marquee Shakespeare.
AND how about these items, ranging from the ridiculous to the sublime? Kurosawa's "Throne of Blood," based on "Macbeth"; Kurosawa's "Ran," based on "King Lear"; "Rosencrantz and Guildenstern Are Dead," Tom Stoppard's hommage to "Hamlet" (and "Waiting for Godot"); "Prospero's Books," Peter Greenaway's narcotic fantasia on "The Tempest"; Paul Mazursky's "Tempest," set in Hollywood; another "Tempest" or two in the form of "Forbidden Planet," starring Walter Pidgeon, and the Western "Yellow Sky," starring Gregory Peck; "Catch My Soul," a k a "Santa Fe Satan," starring Richie Havens as Othello; "Quella Sporca Storia nel West" ("That Dirty Story From the West") a k a "Johnny Hamlet"; a beer-soaked "Hamlet" from Rick Moranis entitled "Strange Brew"; "Romie-O and Julie-8" (don't ask); "West Side Story."
The proportion of Shakespearean dialogue in the films on this list ranges from not a word to quite a lot. But not one, it seems safe to say, constitutes by any stretch of the imagination a test of Shakespearean prowess. Shakespeare without Shakespeare's words is not Shakespeare either.
Cuts and transpositions are, of course, permissible. With "Chimes at Midnight" (1966), stitched together from several of Shakespeare's histories and source material, Orson Welles made one of the greatest Shakespeare films of them all, boasting battle scenes that rank with Eisenstein's. The narrative centered on Falstaff, played by Welles himself with a sly, deeply sinister streak: a star performance, not a star turn. Jeanne Moreau did a dubious cameo as Doll Tearsheet, the rumpled Venus of the tavern, with an incongruous Parisian accent. That fluttery old bird Margaret Rutherford added Mistress Quickly to her gallery of classic eccentrics. In other scenes, John Gielgud's dying Henry IV carried the banner for the Shakespeare of the Old School, opposite the decidedly modern Prince Hal of Keith Baxter, who was unmindful of the melodies of the verse.
If, as few would deny, Shakespeare surpasses other dramatists, it is not in the end that he differs from them in kind. His imagination was richer than other playwrights', and took in a vastly fuller range of experience. If others represent points on a continuum, he represents the continuum in its entirety. His plays are at the same time the most naturalistic and the most poetic ever written. An actor hoping to access all this with some bag of specialized tricks will surely fail. What Shakespeare requires is not narrow expertise but the most global experience possible.
Players who move back and forth from television to film to stage, from Pinter to Euripides, from Shakespeare to "House of Cards," know this. Film stars whose turf is exclusively contemporary, action or fantasy material may not. Accustomed to the love-making of the camera, they see in Shakespeare above all the tempting shell of artifice. As blind to the challenges as to the rewards, they ape the superficial traditions of the classical (read: "British") stage: elocutionary diction and fancy accents, accompanied by gestures appropriate to the requisite wardrobe of capes and crowns.
Conversely, they may, in the most facile sense, claim Shakespeare as our contemporary, not bothering with accents or fancy dress at all. Speech patterns that have not yet become second nature defeat an actor, as do uncomfortable costumes, however splendid to look at. As for odd clothes, these would seldom have been a concern for Shakespeare's actors, who dressed as Elizabethans even in a toga play.
Grandstanding, however, was a temptation, then as now. Hamlet speaks for Shakespeare in his familiar instructions to the strolling players:
"Speak the speech, I pray you, as I pronounced it to you, trippingly on the tongue; but if you mouth it as many of our players do, I had as lief the town-crier spoke my lines. Nor do not saw the air too much with your hand thus, but use all gently."
In the movies, actors with the gift of being real will reach an audience, even if sketchy training leaves them open to criticism on technical fine points (the great favorite being niceties of the verse). The 1995 "Richard III," starring Ian McKellen, featured Annette Bening and Robert Downey Jr. as Queen Elizabeth and Rivers, a pair of stars impeccably cast as American-born royals by marriage into a 1930's house of York. If Baz Luhrman's whizbang 1996 "Romeo and Juliet" failed to make seasoned Shakespeareans of Leonardo DiCaprio, Claire Danes, Paul Rudd and John Leguizamo, it didn't have to. The movie's gangland Verona by the Sea gave the stars a place where Shakespeare's language could shine as their own, if only for two hours. Their "swords" were brand-name firearms, their "messengers" dispatched by the likes of Fed Ex. It was wild, it was ingenious and it worked.
No such transubstantiation occurred in Gus Van Sant's "My Own Private Idaho" (1991). Keanu Reeves appeared as a rentboy who periodically spouted lines of Prince Hal's from "Henry IV" to an old lowlife who replied in lines of Falstaff's. What prompted their little game? Who could tell? Still, Mr. Reeves's vacant delivery (and gawky body language to match) lent the sequences an off-key, spacey magic.
"Lord, what fools these mortals be!" Back in a more distant past, you or I might not have thought of Mickey Rooney for Shakespeare, which just goes to show that we are not Max Reinhardt. In Warner Brothers' "Midsummer Night's Dream" of 1935 -- the only sound film of that legendary Austrian theater director's career -- he cast young Master Rooney as Puck. Looking half his 14 or 15 years, Judy Garland's buddy whinnied his lines like a colt hoarse on moonshine.
More graceful, wittier and funnier still was the ex-vaudevillian James Cagney, a bright-eyed Bottom who fit right in though making subtler mischief on a higher plane. "I have had a most rare vision," he declared with crisp merriment, awakening in the morning, released from the fairies' spell. "I have had a dream, past the wit of man to say what dream it was. Man is but an ass, if he go about to expound this dream." A critic forced to describe Cagney's performance could do worse than adopt these lines.
Not for an instant was he "doing Shakespeare." He was a contract player doing his job, to transcendent effect.