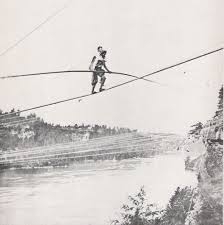 You would think once was enough, but no. The French funambulist Charles Blondin crossed Niagara Falls on a tightrope some 17 times, with many embellishments. He did the stunt blindfolded, in a sack, pushing a wheelbarrow, on stilts, even with his manager riding piggyback. On another, he stood on a chair supported on the rope by just one of its legs.
True to form, we've been ranging widely of late. Here's what's been on our air.
First, the lineup for June 30, anniversary of the defeat of the Bulgarian forces by Constantine V in the Battle of Anchialus (763); Charles Blondin's crossing of Niagara Falls on a tightrope (1859); President Abraham Lincoln's grant of Yosemite Valley to California for public use, resort, and recreation (1864); Albert Einstein's posting to Annalen der Physik of the article in which he introduced the concept of special relativity (1905); and much, much more. (I support Wikipedia. And you?)
Lang Lang Piano Book (Deutsche Grammophon, 2019)
Beethoven, Bagatelle No. 25 in A minor, "Für Elise" WoO 59
Debussy, Doctor Gradus ad Parnassum from "Children's Corner"
Chopin, Prélude in D flat major, "Raindrop," Op. 28 No. 15
These charming pieces are well within the compass of piano students whose journey is just beginning. The extroverted razzle-dazzle on which Lang Lang built his career has no place here, and that precisely is the point. This is music that captured his young imagination, and he wants his poetry, not his fingers, to capture yours.
*
Pauline Viardot: Le Dernier Sorcier (Bridge, 2018)
Romance de la Reine ("Ramasse cette role")
Chanson de Perlimpinpin ("Quand j'étais un géant")
Couplet du rouet ("Quand vient la saison fleurie")
Born into a Spanish family of distinguished traveling musicians, Pauline Viardot was an artist of staggering and multifarious accomplishment, an adornment to high society in Paris, New York, London, Saint Petersburg, and who knows how many another metropolis. Best remembered ashore setting the operatic stage ablaze (Berlioz envisioned her as Dido, Queen of Carthage, in his epic Les Troyens, though he eventually cooled on the idea), she was also a pianist of stellar powers and something of a composer. The tuneful excerpts we listened to from her Last Sorcerer bespoke a beguiling trifle we wouldn't mind encountering as a curtain-raiser for some one-act Arthurian tragedy.
*
Harry Partch: Sonata Dementia(Bridge, 2019)
Partch
Sonata Dementia
Abstraction & Delusion
Scherzo Schizophrenia
Allegro Paranoia
The performers on this third volume of the Bridge label's survey of the catalogue of a celebrated American Maverick and creator of his own purposely low-tech instrumentarium bill themselves collectively by his surname. From a playlist also including "Ulysses at the Edge of the World," "Twelve Intrusions," and "Windsong," we heard the three-movement title selection, which twangs and boogies and galumphs and goes bump in the night, punctuated by vocal interjections of enigmatic import. A bouncy but entrancing ride.
*
Charlie Chaplin: Film Music Anthology (Chaplin 13, 2019)
Nonsense Song (Titine), from Modern Times, sung by Charles Chaplin
Tango Bitterness, from Monsieur Verdoux
The Harlequinade Ballet/Terry's Theme, from Limelight
Between the nostalgia and the jaunty tang of the circus, Chaplin's movie scores foreshadow those of Nino Rota for Fellini. Rota was, of course, a musician of infinitely greater reach and sophistication, but the Little Tramp's instinct for the tunes and the timbres that will make the cinematic was just as sure.
*
Robert Schumann: Liederkreis op. 24, Kernerlieder (Harmonia Mundi, 2019)
Matthias Goerne, Leif Ove Andsnes
Schöne Wiege meiner Leiden
Lust der Sturmnacht
Sehnsucht nach der Waldgegend
Lesser-known pages from the top drawer of the classic Lieder repertoire, sensitively and imaginatively delivered.
*
Spring Forward: Music for Clarinet and String Quartet (Delos, 2019)
David Shifrin, Jasper String Quartet
Aaron Jay Kernis, Perpetual Chaconne
Tristanesque strains to daydream by.
*
Midnight Affairs (Veronica Bell)
Veronica Bell
Délibes, "Dôme épais de jasmin"
Double trouble through double tracking on this beloved duet. Suffice it to say we didn't plump for an encore.