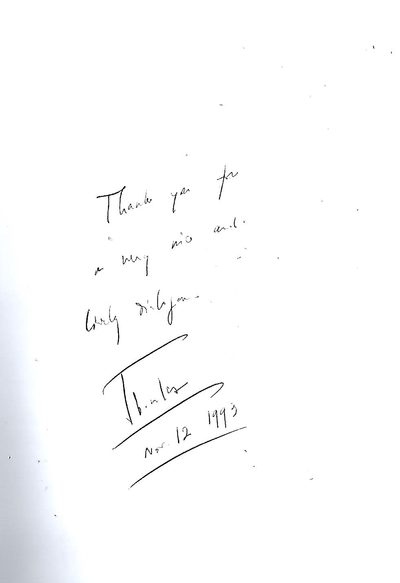 "Thank you for a nice and lively dialogue." (Signed) P Boulez Nov 12 1993
Commenting on John Mauceri's book Maestros and Their Music: The Art and Alchemy of Conducting last year,
I had occasion to reminisce about my live series "Conductors in Conversation" at the Metropolitan Museum of Art in 1993-94. Just now, my friend Michael Stiefel informs me that
six of the seven talks are available on demand on the website of WNYC,
the station that broadcast them years ago. The six are Daniel Barenboim, Valery Gergiev, James Levine, Kurt Masur, Riccardo Muti, and Sir Georg Solti. Pierre Boulez is missing in action.

Michael, who brings the boundless curiosity of the Renaissance man to the brave, new worlds of the 21st century, wondered why. Boulez was my first guest, and to the best of my recollection, what prompted the approach to WNYC was a general regret that the talk with Boulez had gone unrecorded. What I remember for sure is that that the first session ran 20 minutes over, partly because I started solo with a general introduction lasting about 15 minutes, partly because I missed the faint digital alarm on my wristwatch. Boulez had sharper ears but was in no hurry. Why the page he signed in my guestbook after we left the stage is dated three days early, I cannot say.
Thanks to Michael, who figured I knew all about the WNYC website but pinged me anyway. As it was, I had no idea. Thanks, too, to WNYC.com for activating the archive. And thanks, in memoriam, to Robert O. Fehr and his wife Edith Fehr of Greenwich, Connecticut, who back in the day underwrote the recording. With their characteristic generosity, they just said yes and signed the check.
Postscript. "Conductors in Conversation" sold out by subscription. As a follow-on, I put together another series for the Met, this one with seven singers: Cecilia Bartoli, Vladimir Chernov, Wolfgang Holzmair, Dmitri Hvorostovsky, Bryn Terfel, Dawn Upshaw, and Carol Vaness. Sad to say, Chernov and Terfel—two of our four baritones—got sick and had to drop out. Raindates weren't an option, and while replacement talent might have been found, the Met preferred to cancel. To the best of my knowledge, the conversations went unrecorded. If anyone out there knows different, please pass the word.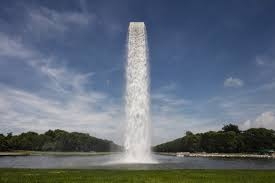 Not all of Olafur Eliasson's waterfalls were in the Hudson. I expect Louis XIV would have loved this one at Versailles.

And another postscript. I haven't spent a whole lot of my professional life in the radio studio, but once in a while, a print assignment prompted a follow-up interview on air. Thus, a report of mine in the Wall Street Journal on Olafur Eliasson's public art project Waterfalls piqued the interest of WNYC's Brian Lehrer, who invited me onto his show for the segment "Water, Water, Everywhere." It, too, is available on demand at WNYC.org.