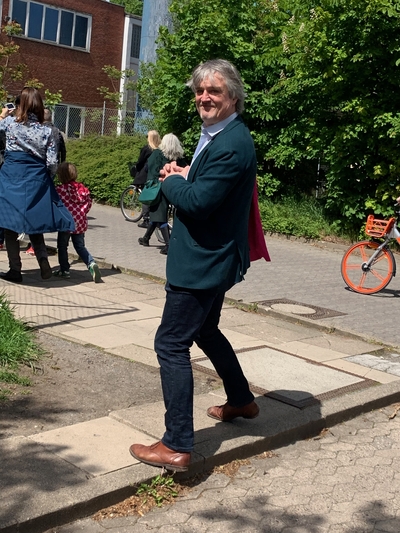 Ingo Metzmacher, maestro and impresario, on the move in Hannover.
Europe wasn't in my sights this year until Ingo Metzmacher, maestro and impresario, invited me out of the blue to appear at the tenth edition of the KunstFestSpiele Herrenhausen, the wildly eclectic arts bazaar he directs each May in Hannover, the capital of Lower Saxony. By happenstance, my arrival in Germany and my departure synched up with the season's final performances of operas I was glad to catch: Rossini's
Barbiere di Siviglia
at the Staatsoper unter den Linden, Berlin, and Verdi's
La Forza del destino
at Oper Frankfurt. I'll have things to say about those in a separate post.
But first to my mandate in Hannover, which as it evolved included public conversations first with the director Peter Sellars, on hand as director of "opéra-rituel de mort" Kopernikus, and next with the pianist Pierre-Laurent Aimard, between segments of a rare integral performance of Olivier Messiaen's encyclopedic Catalogue d'Oiseaux.
Kopernikus (1978-79) is the testament of the short-lived Canadian misfit Claude Vivier, who was murdered in 1983 at the age of 34. Obscure as his name will be to many—I, for one, had never come across it before—his cult seems to be taking hold . I'll need to live with him a while before contributing my own two cents to the conversation, but Peter's answers to my questions unlocked many doors. For anyone who would like to listen in, I've uploaded raw audio of our talk from my phone—no points for production values, but the information is there.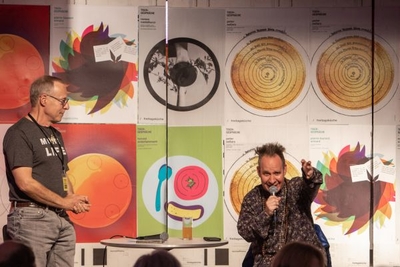 Peter Sellars explains it all to us. © KunstFestSpiele Herrenhausen / Helge Krückeberg
End-of-life revelations have been a leitmotif of Peter's career, from Handel's
Theodora
in Glyndebourne and Bach with the terminally ill Lorraine Hunt Lieberson to his controversial mounting of Mozart's
La Clemenza di Tito
at the Salzburg Festival. You'll hear about all of these and get a preview of this summer's
Idomeneo
, again in Salzburg.
There's raw audio of my exchange with Aimard, and I've posted that, too, though it's in German. Messiaen's stupendous compendium bears no resemblance to cuckoo-and-nightingale traditions of old. Though based on exacting transcriptions from the field, Messiaen's birdsongs are often sounded in registers and at tempi nowhere near those observed in nature. Though some of the writing is crystalline, much more is granitic. Rather than "portraits" of individual species in the manner of John James Audubon, Messiaen inclines to "documentaries" of whole landscapes over extended periods of time (in one case, a whole 24-hour cycle). The work is epic, and Aimard's traversal was magisterial.
I cannot hope to do the creator or his interpreter justice here, but let me fill you in on the event, which proceeded in four stages, all on the palatial grounds of Schloss Herrenhausen, formerly the royal summer residence of the House of Hannover. The philosopher and other father of the calculus Gottfried Wilhelm Leibniz[1]slept here—innumerable times, as an intimate of the royal family, particularly Sophia of Hannover, a lady of probing intellect who also had a passion for her formal garden.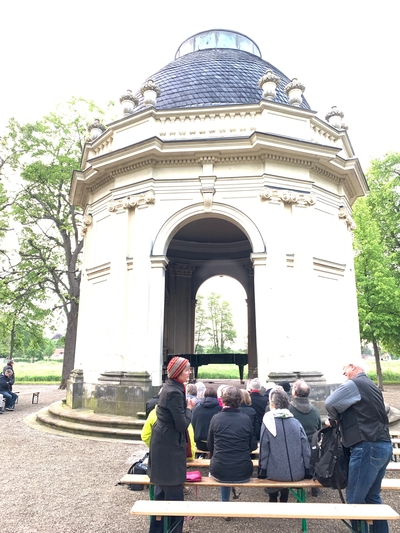 En attendant Aimard. In the formal garden of Herrenhausen, Nature's birdsong and Messiaen's blended with amazing grace.
Though three of his concert segments took place outdoors, Aimard wisely decided to do without electronics. The first, at five o'clock a Saturday afternoon (May 26), was set on a lawn enclosed by hedges, where much resonance escaped into thin air, but no matter: the concentration of the listeners—relaxed yet all there—generated its own magic acoustic. At eight that evening, in the endless Northern twilight, we sought out the gaudy garden theater, where the birds in the canopy chimed along with a vengeance.
At eleven, in the brief dark between sundown and sunrise, our rendezvous was in an unadorned assembly hall in the palace, where for once the sound of the piano rang out in full splendor, at all dynamics. Sunday morning at six, swathed in blankets, our hardy band took our places on wooden benches facing the four arches of a stately pavilion, where stronger overtones than we had heard on Saturday at five blended with birdsong more discreet than on Saturday at eight for a finale of amazing grace. Have I mentioned that on the final chord of the first segment, the sun broke through the clouds right on cue? And will you believe me that on the final chord of the second it did so again?
---
[1]Other than Sir Isaac Newton, that is; the two reached the same end independently.