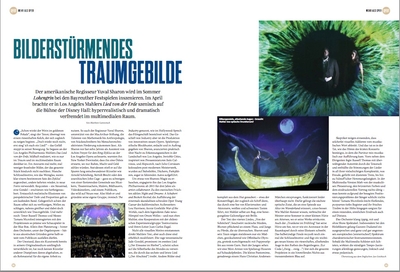 "The wine is beckoning in the golden goblet," the tenor roared, dwarfed by a towering goblet, which instantly started to tip. "But don't drink yet!," he cried, arresting the incipient spill in mid air, "first I will sing you a song!" Thus, at the Los Angeles Philharmonic, Mahler's symphonic song cycle Das Lied von der Erde began, in action that was as hyperrealistic and at the same time totally alien in a way perhaps only hallucinations and multimedia can be. Imagine Don Quixote before the windmill. Imagine Moses commanding the Red Sea. The opening montage jolted the audience to attention like a clap of thunder. Some listeners laughed out loud with sheer delight.
The onslaught of intriguing visuals never let up. Key motifs, like that wine glass, were specific to a single movement of the cycle. Others kept morphing and coming back. Physical props—a steering wheel, a gondola—materialized and disappeared as if by magic. Astonishingly convincing illusions of depth and scale proliferated. At times, space itself seemed to liquefy into waves that were palpable yet at the same time as insubtantial as visions in a dream. Apart from singing their music, the tenor Russell Thomas and the mezzo Tamara Mumford interacted with the projections, precise in their movements as movie actors against a green screen. If only the "soundstage" (behind the orchestra, below the organ loft) had been twice as close to the audience and double the size.
The fact that a work of art is fully realized in its original medium cannot stop artists in other media from treating it as raw material for their own. Enter the winning cultural guerilla Yuval Sharon, recipient in October of one of this year's two dozen so-called "genius" awards from the MacArthur Foundation, which supports talent in every conceivable field from mathematics to anthropology, playwriting to human-rights activism.
When Sharon signed on to assist Achim Freyer on the Ring cycle at the Los Angeles Opera nearly a decade ago, New York provincials warned him to expect a wasteland where fame and power and money were the only coin of the realm. Instead, he found traces of long-gone idols like Arnold Schoenberg, Bertolt Brecht, and that anarchic native Angeleno John Cage—not to mention a thriving community of musicians, theater artists, painters, sculptors, video whizzes, and audiences enraptured by the new. So he stayed on, founding a company of his own, which he called The Industry—an ironic echo of Hollywood parlance for the movie business. The business of this Industry is cutting-edge new opera.
Practically overnight, site-specific blockbusters conceived and commissioned by Sharon became defining features of the Los Angeles landscape. Invisible Cities, inspired by prose miniatures of Italo Calvino, and Hopscotch, after Julio Cortázar's immense post-modern masterpiece, played in a working train station, on rooftops, in parking lots, even in traveling automobiles.
Seeking to bottle some of Sharon's magic for its own purposes, the Los Angeles Philharmonic appointed him "artist-collaborator" for three years beginning in 2015. The exotic fruits of this association have included Night and Dreams: A Schubert and Beckett Recital; a staging of the California maverick Lou Harrison's once-scandalous gay opera Young Caesar; Annie Gosfield's War of the Worlds, after the legendary fake-news radio play of Orson Welles, and now the Mahler, a collaboration with the Chilean experimental troupe Teatrocinema and its director Juan Carlos Zagal.
Not all the visual leitmotifs spring directly from Mahler's text, and even those that do are significantly modified. Thus, the opening song ("Das Trinklied vom Jammer der Erde") specifies golden wine in a golden goblet. Sharon shows a goblet of glass, brimming with a ruby-red liquid that at times might suggest blood. The jade gondola of vaguely Venetian contour prominently featured in the second song ("Der Einsame im Herbst") seems to prefigure the "silver bark" of the moon that floats through the sixth and last song ("Der Abschied"). Other pictures have been pulled entirely out of the air. I am thinking, for instance, of the grand piano that doubles as a ship, sailing a sea of piano wires, felt-covered hammers, and keys of ivory and ebony. Mahler himself rides the prow, a lifeless figurehead in spectacles, never moving his baton. Chinese accents, so pervasive in the poetry, were conspicuously few.
The text for the fourth song, "Von der Schönheit," conjures up playful maidens picking flowers by a stream and boys on horseback who surprise them. Sharon and his team show just one girl, gesticulating like Offenbach's Olympia, grotesque in a rag doll's braids of red yarn. And instead of boys we see a small army of toy hussars on rocking horses. Their little pantomime, straight out of Hans Christian Andersen, does not work at all.
But the next vignette, which resembles an episode from Alice in Wonderland, clicks perfectly. As Mahlerites know, the master spent summers in a little cabin by the Attersee dreaming up masterpieces. The drunkard of the song "Der Trunkene im Frühling" has a lakeside cabin, too, where he floats and tumbles in his ecstasy like an astronaut in a space capsule, even as his whole world undulates and gyrates around him. The half-hour finale "Der Abschied" recycles the key images we have seen before and adds an important new one: an gigantic all-seeing eye that takes on all the colors of the rainbow. For the coda ("Ewig... ewig..."), the entire screen dissolves into ravishing nothingness of transcendent blue.
Skeptics may have thought the extra flourishes would distort the musical values. And so they did, as a listener could confirm at the last concert in a series of four. This time, the production elements were gone from the hall and the score was presented the old-fashioned way. Up front beside the conductor, Russell Thomas swept through the tenor solos with tremendous authority, revealing the moods of his songs in all their layered complexity, from joy tinged with gloomy defiance to devil-may-care Falstaffian abandon. Yet in the multimedia version, his muscular phrasing, burnished colors, and forceful projection went for nothing, for he simply could not be heard. Tamara Mumford's easy-flowing, deep purple low register and fresh, transparent timbre higher up made a lovely, sensual impression that registered clearly even from afar. Heard from up close, however, more pointed passages wanted more humor and variety.
With or without the spectacle, the orchestra sounded sumptuous. Especially in the woodwinds, Gustavo Dudamel cultivated a markedly and entirely appropriate European (or should we say Viennese?) spectrum of highly distinctive instrumental voices. But when the multimedia fog lifted, his constant tempo adjustments felt forced, gauche, and somehow pedantic.