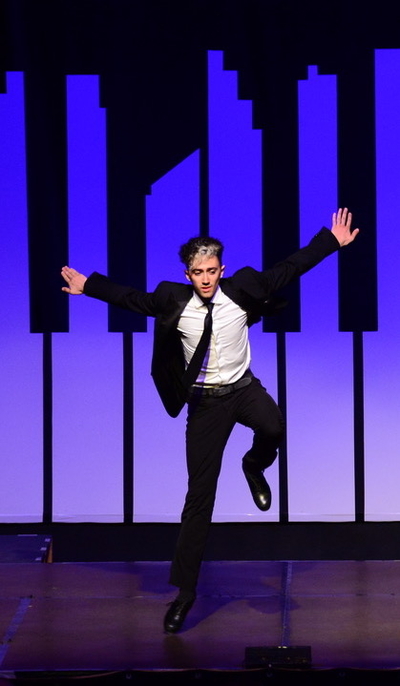 He's Got Rhythm: Caleb Teicher dances up a storm at the historic Iao Theater.
Opera in concert has a long history and one that, to the minds of many in our era of spiraling directorial overreach and dwindling production budgets, grows ever nobler and more valuable. And what of the rarer and in some ways more puzzling phenomenon of musicals in concert? Live recording sessions of Stephen Sondheim's
Follies
at the New York Philharmonic in 1985, to name perhaps the most famous example, put a long-underrated masterpiece permanently on the map. Within narrower parameters, the Maui Chamber Orchestra's semistaged account of the Gershwin jukebox pastiche
Crazy for You­
at the Homerically "historic" Iao Theater in Wailuku town last weekend gave a forgotten hit a new lease on life.
History, a satirical savant once noted, isn't what you think—it's what you can remember. And of all forms of mistake, a magisterial novelist once warned, prophecy is the most gratuitous. Bearing in mind these unshakeable truths, I venture this prediction: this Crazy for You at the Iao Theatre in Wailuku is a show its audiences will long recall with great, great pleasure, in particular—but not exclusively!—for the fizzy star turn by the visiting dancer and choreographer Caleb Teicher. More on him in due course. Remember the name.
All but forgotten today, Crazy for You has a storied past. Freely adapted from the arthritic Girl Crazy of 1930, the show opened on Broadway as "the new Gershwin musical" in 1992. Never mind that Ira, the lyricist, had shuffled off this mortal coil in 1983 at age 86, 46 years after his brother George, the composer, gone at 38 in 1937. A fresh script, by the playwright Ken ("Lend Me a Tenor") Ludwig, served as pretext for a parade of hits from various sources.
A recipe for insignificance, you may think, but consider this rave from the most influential critic of the era, Frank Rich, in the New York Times.
"When future historians try to find the exact moment at which Broadway finally rose up to grab the musical back from the British, they just may conclude that the revolution began last night. The shot was fired at the Shubert Theater, where a riotously entertaining show called 'Crazy for You' uncorked the American musical's classic blend of music, laughter, dancing, sentiment and showmanship with a freshness and confidence rarely seen during the 'Cats' decade."
Up against the spiky cult favorite Falsettos of William Finn and the similarly concocted jukebox shows Five Guys Named Moe (songs by Louis Jordan) and Jelly's Last Jam (songs by Jelly Roll Morton), Crazy for You took home the Tony for Broadway's best musical that season. A year later, for good measure, it copped London's Olivier in the same category.
Fine and dandy, yet looking back, I suspect Rich himself would agree that he had overreacted. Yet here we are, in our tropical North Pacific, basking in this Brigadoon moment, thanks to the very qualities Rich listed: music, laughter, dancing, sentiment, and showmanship, "uncorked" (thanks, Frank!) with freshness and confidence.
Hats off to the director and designer Ally Shore. Working with just a backdrop—the New York skyline silhouetted against the keyboard of a giant piano—she created a tidy, elevated letterbox of a stage, showcasing the players with economical flair and style. Taking advantage of the concert format, Shore made savvy adjustments. Rather than hang each principal role on a single performer, she conquered by dividing. Two actors shared the part of the stage-struck mama's boy Bobby, identified by a blue vest that passed back and forth between them. For the most part, the men were dapper in charcoal dress suits, while the women modeled black-and/or-white finery apparently from their personal wardrobes, accessorized with something pink (a scarf, a flower) for their scenes as Polly, showgirl of the Rockies, who wins Bobby's heart.
Dialogue was pared to a blissful minimum, with a narrator slipping in and out to connect the dots: a sly, unassuming, deceptively demanding assignment, in which the Maui fixture Dale Button—renowned island-wide for his crypto-Nazi Franz Liebkind in The Producers, his Herr Schultz in Cabaret, and above all his Man of La Mancha (seen in multiple iterations)—had what I would account his finest hour and not altogether incidentally his best haircut.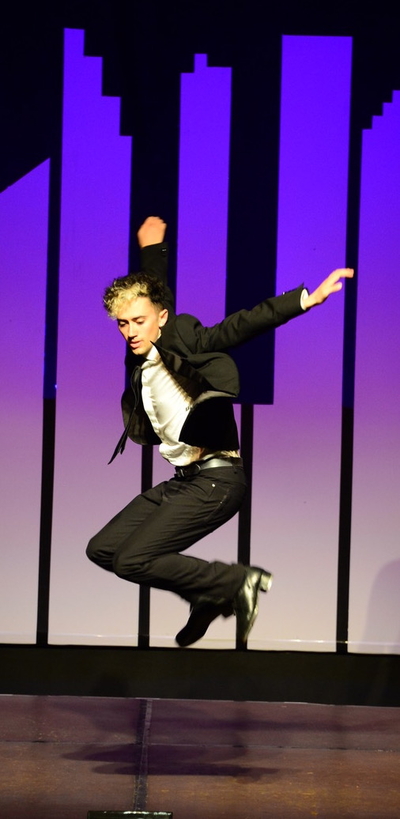 Optical illusion. Teicher's height equals his wingspan (more or less). Would that be why he looks taller than his actual 5'8"?
Recruiting Teicher was Shore's smartest move of all. In a half-dozen extended solos, the whippet-thin, fresh-faced tap phenomenon unfurled all the invention, pizzazz, and mercurial surprise you could hope for from a whole stageful of A-list Broadway gypsies. Standing but 5'8", he has a wingspan perhaps wider than that—which may explain why, like a handful of other exceptional dance virtuosi, he looks much taller than he is. No one else up there could compete, but then, no one had to. As choreographer, Teicher assembled routines well within his players' wheelhouse, making them sparkle, including them in the fun. For extra gloss, there were witty cameos from Dejah Padon, a Vegas show pony with 16 years of professional experience to her credit.
But it was Teicher's specials that stole the show. With rarest exceptions, mass and mainstream media pass over dance in silence, yet the dossier of hosannas and attendant professional honors he has accumulated at age 24 is already impressive, as documented on his informative website, calebteicher.net. One glimpse and you'll know why. For those who missed him live, the dynamite cache of clips on his site would be the place to start catching up.
To judge by first impressions, this isn't an artist who "sells." Synapses firing at the speed of light, yet cool at the core, he staked out a zone all his own. Like Buster Keaton's, his features were composed, never commenting, co-conspiring, or telling a spectator what to think. As the cliché goes, he was poetry in motion, head floating easily at the top of his spine, limbs limber through every joint. Whether in character as Bobby's dancing double (complete with blue vest) or more mysteriously as the anonymous avatar and spirit of the music, he just kept the dazzlements coming: lacy footwork, slides and glides, grasshopper leaps, lightning kicks, all to the mesmerizing staccato fantasia of his taps. I have it on good authority that his embellishments varied from night to night.
Swept up in the whirlwind, the locals did themselves proud. Robert E. Wills, MCO artistic and music director, set the bar with a rousing account of the overture. Attitude is of the essence here, and the brass and wind soloists, dealt the winningest hand, came through with sassy, purposefully unpredictable rough edges. Deeper into the show, the percussionists shot off nice glints of personality, with stalwart support throughout from the workhorses on strings and piano. Compliments to all, with apologies for not listing everyone by name. This time out, let Mark Gilmore (guitar and banjo) take the bouquet.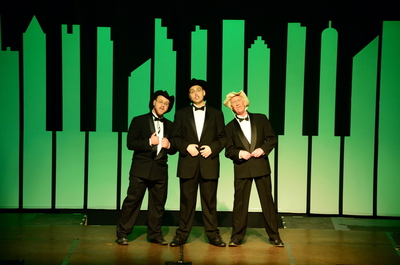 Odd trio: "The Real American Folk Song (Is a Rag)."
Up on stage, no one disappointed. Honorable mention, among the five Pollys, to Kathryn Holtkamp for the explosive first-act finale ("I Got Rhythm"), and Leighanna Locke, honey-toned yet Martini-dry in the disappointed "But Not for Me." But as first among equals, I'd single out Kirsten D.F. Otterson, casually matronly, sensual, and featherlight in the pillow talk of "Embraceable You." Ross Young and Jerry Eiting shared the roles of Bobby
and
the impresario Bela Zangler (whom Bobby impersonates—don't ask) to suitably goofy effect. Spectacularly mismatched, Stephen Webb and Kiegan Otterson joined Dale Button for the comedy trio "The Real American Folk Song (Is a Rag)" and brought down the house.