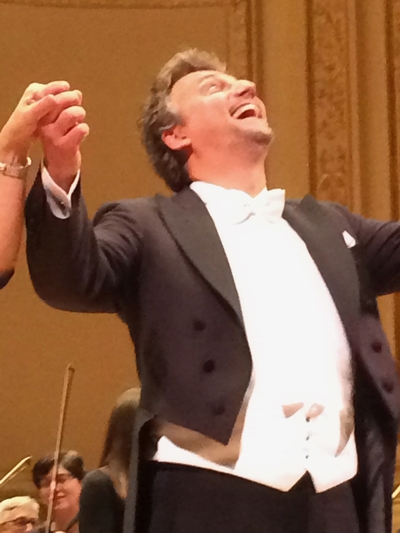 Man of the hour: Kaufmann basks in the cheers.
Accustomed as we are to full-length Wagner in the opera house, we seldom stop to think how each block of his music dramas—a single act of three, in most cases, or one of the four scenes in
Rheingold­—
can stand on its own, defining and resolving a specific crisis, like a chapter of a Greek trilogy. Concert performances bring this quality into sharp relief, but how often do orchestras go beyond Act I of
Die Walküre
, with its tight story line and its neatly balanced all-star cast of three? Despite the allure of the
Liebesnacht
, Act II of
Tristan und Isolde
is almost never singled out for such treatment.
On April 12, Andris Nelsons and the Boston Symphony Orchestra brought this mighty fragment to Carnegie Hall, quite possibly for its first such hearing in this city since Kurt Masur programmed it with the New York Philharmonic in February 2002. The focus back then was the Isolde of Deborah Voigt. This time, anticipation centered on Jonas Kaufmann, testing himself in the role of Tristan for the first time.
New Yorkers get a lot less of Kaufmann's time these days than they would like to—and feel they deserve. A capacity crowd came prepared to cheer him to the rafters, and so they did, without, however, neglecting the all-star team around him: Camilla Nyland as Isolde, Mihoko Fijimura as Brangäne, Georg Zeppenfeld as Marke, the maestro himself, and the ensemble of dedicated instrumental virtuosi. From the frenzied opening to the desolate end, Nelsons chartered an unerring course, keenly responsive to the cresting arcs of passions, intervening episodes of repose, and sharp dramatic accents that shape the whole. In his hands, the oceanic swell of melody that underscores Brangäne's calls from the tower came off not only as moments of scarcely imaginable beauty but as the still point around which the act, and perhaps even the opera, revolves.
For Kaufmann, the rigors of Tristan's role held no apparent terrors. In the most densely orchestrated passages, where lesser tenors punch out loud top notes and resign themselves to losing the rest, Kaufmann valiantly sustained his lines, adding apt lyric shadings where the competition is less severe. As to be expected from a lieder specialist of his caliber, Kaufmann delivered a special sensitivity in the intimate exchanges with Marke ("O König, das kann ich dir nicht sagen") and Isolde ("Wohin nun Tristan scheidet") at the close of the act.
In Isolde's dialogue with Brangäne that opens the second act, Nyland came off as decidedly lightweight, especially beside Fijimura, whose handsome mezzo-soprano projects with easy yet overwhelming force. Nylund's lustrous, transparent soprano made its best impression in the lulling pages of the Liebesnacht. (She has said that for the foreseeable future she has no plan to explore the complete opera, which shows what looks like good instincts for self-preservation.) With his king-size, slightly granular yet glamorous sound, his exemplary diction, and his air of innate majesty, Zeppenfeld took his place as a Marke of the first rank. As Kurwenal, David Kravitz had a single line to sing—"Rette dich, Tristan!"—yet made it count. With a little more to work with, Andrew Rees gave the treacherous Melot a ferocious, resentful presence.