Born Florence Jean Bornstein in Kansas City, Missouri, Sandra Warfield enjoyed a long and wide-ranging career in opera, concert, and cabaret. The story of how we met is woven into the following reminiscences, delivered at a memorial tribute at the Lotos Club in Manhattan in late September. For readers outside the circle of family and friends, let me introduce two others mentioned in the text. Jimmy was the heroic tenor James McCracken, Sandra ' s husband and frequent stage partner, especially unforgettable as Verdi's Otello. Ahna is Sandra and Jimmy's daughter, a friend since we were children. Our contact had been regrettably sporadic for many years, but it was my great good fortune to have a reunion with Sandra shortly before her brief final illness, at lunch in a Greek diner around the corner from her Upper East Side apartment, where the staff treated her like a queen. Despite her frail physical condition, her joie de vivre, generosity, and curiosity were as infectious as ever. What was more, she looked like a million dollars — and decades younger than her actual age, whatever that was, exactly. (She never told.) Thanks to Ahna, her husband Peter Bogyo, and their son Jamey for the honor of sharing these recollections of a great friend and artist. On all counts, she was one of a kind.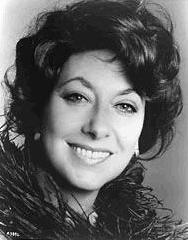 I have it in writing from Sandra Warfield. I was her worst critic. She underscored the adjective, twice.
Opera got its hooks into me when I discovered the Victrola in the musty basement apartment of my grandparents' summer home in the Adirondacks and started cranking it up to listen to Caruso, Chaliapin, and Galli-Curci. A few years later, my family moved to Zurich, where I discovered opera on stage. And the living singer who was soon to make the most indelible impression on me was Sandra.
To begin with, she was my first Dorabella, in Così fan tutte. By the end of the allegro of her opening duet with Fiordiligi, I was smitten. What put me on notice was the E she held for nine bars while Fiordiligi's line skipped up and down at lower pitches. What clinched it was when they "traded," and Sandra skipped up and down for nine bars under the canopy of Fiordiligi's sustained A.
Later on, I forget in what order, Sandra was my first Dalila, Carmen, Orfeo, Amneris, Oberon (in Britten's Midsummer Night's Dream), Fidès (in Meyerbeer's Le Prophète), mother of Amahl in Menotti's Christmas opera, mother of the killer Raskolnikoff (in the Swiss composer Heinrich Sutermeister's haunting adaptation of Crime and Punishment). She was everybody's first Katerina in Martinů's opera The Greek Passion, and without really remembering who the character Manolios was, I remember the longing in her voice as she called his name in the twilight. Sandra's was the first voice I heard in the alto part in the Verdi Requiem, the Brahms Viola Songs, op. 91, and Wolf's "Anakreons Grab." She was my second Azucena. Many of her triumphs were shared with Jimmy, but as many or more she achieved on her own.
And somewhere along the way, she inscribed a portrait for me, in fluent penmanship of royal blue. I'm pretty sure the shot was by Fayer, the blue-ribbon theater photographer from Vienna, who liked to shoot the divas in a haze of rhinestones and sequins, but it didn't hold a candle to the radiance of her features. It was in the autograph that she proclaimed me her worst critic.
Between that first Così and all the other things I've mentioned, there was another milestone: my first Rosenkavalier. Sandra, the second-cast Octavian, was watching from a company box with other singers, one of whom was a family friend. Scarcely into my teens, but attending on my own recognizance, I went up to say hello and got introduced all around. I recognized Sandra from Così, but this was the first time we'd met, and she shot me a curious look as she extended her hand. In the next few minutes, I might have asked to take a look at something in her score, and we got to talking. We kept talking for years, mostly on the telephone, somewhat to the astonishment of my family and hers.
As Ahna told me the story years later, she and Jimmy would ask her when she hung up the phone after an hour or more, "What is it you and that boy talk about?" And Sandra, it seems, said they might be surprised. The short answer would have been: opera. The words, the music, the way they go together, the way a character sees things, feels things, the way a performer makes them come alive. I remember once we talked about Azucena's visions. From the house, I could see Sandra seeing them, just by the way she focused on empty space. And I can see her entrance as Carmen, biting into a whole orange. "You remember that trick," she told me years later. "It made it comfortable to come onstage and start singing. The oils in the peel relaxed my throat."
I didn't hear everything Sandra ever did. Before I knew her, there had been a Favorita in Venice, which for political reasons she performed under the Italian nom de guerre Alessandra De Ambra (a play on her birth name Bornstein, which means amber) and, I believe, an Eboli in Vienna, where I'm guessing my autographed photograph originated. I missed her Poro, a rare foray into Handel. But for me the worst gap was missing her series of Community Concerts in the mid 1960s, arranged by Columbia Artists, and performed in cities across America.
Her recital repertoire was as eclectic as her operatic roles, ranging from arie antiche to Debussy by way of Richard Strauss, Grieg, and Tchaikovsky. An English group on the first half began with Dido's Lament, by Henry Purcell, continued with the anonymous "When Love Is Kind," and concluded with two Shakespeare settings, which I'll cite in reverse order: "Blow, Blow, Thou Winter Wind," by the Edwardian Roger Quilter, and the brief "Take, O, Take Those Lips Away," a world premiere. The song written for Sandra, as the note said, by a twelve-year-old boy named Matthew Gurewitsch.
My composing career pretty much began and ended with a group of three or four songs I sent her. One, if you can believe it, was after Robert Frost's "In A Disused Graveyard," which was my illiterate attempt to be knotty and modern and important. At the time, I thought that was the good one. I don't recall any phone calls about them, but I'm sure she never criticized it. As for the Shakespeare, notification that it had been selected for performance reached me in the form of a stack of printed programs.
If I was Sandra's worst critic, she was my best. "Take, O, Take Those Lips Away"—which I've retired—was a trifle, if that. Generous to a fault, Sandra must have sensed that it came from the heart, and I'm sure that's how she sang it.