Look hard at paintings, and you begin to see objects in the real world in new ways; look hard at the real world, and you may start to see as artists do. These truisms (if that is what they are) extend well beyond optics.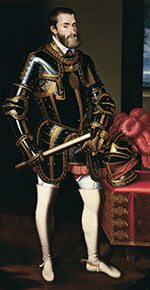 Juan Pantoja de la Cruz (Spanish, 1553 - 1608)
Charles V, 1608
Patrimonio Nacional, Real Monasterio de San Lorenzo de El Escorial
The Art of Power: Royal Armor and Portraits from Imperial Spain
, opening shortly at the National Gallery of Art, affords an inspired illustration, matching up paintings of men in suits of armor with the actual suits of armor depicted in the paintings. At a didactic level, the juxtaposition is meant to open viewers' eyes to long-forgotten historic and symbolic associations that any courtier at the time decoded all but instinctively. Aesthetically, the show stands out for the excellence of the checklist from top to bottom. Ordinarily, any portraits seen in galleries of arms and armor possess at best an antiquarian interest, simply as likenesses of the sitters. This time, the canvases are from the hands of the Old Masters: museum quality, in the truest sense. Needless to say, the armor is the very best of the best. Tapestries on heroic themes add sweep and a sense of luxury.
The period under consideration spans the early 16th to the late 17th centuries, coinciding with the heyday of the Hapsburg dynasty in Spain, from the emperors Maximilian I and Charles V to kings Philip II through IV. Key exhibits include a full-length portrait by Juan Pantoja de la Cruz showing Charles V in the garniture he wore in 1547 at the Battle of Mühlberg , where he crushed the German princes. On view beside the portrait (the definitive copy of a lost original by Titian) will be the actual hardware, by Desiderius Helmschmid, Charles's armorer of choice. Philip II preferred Wolfgang Grosschedel, whose "Burgundy Cross" armor may be seen in the round and in a full-length portrait of Philip by Anthonius Mor. This was Philip's battle gear at St. Quentin in 1557, when he braved the French, scoring his first signal victory as King of Spain. An emblem of that fateful day, it appears again in Carreño de Miranda's portrait of Philip's great grandson, Charles II, painted over a century later. Of course, the star armorer best-known to the contemporary public (thanks to a landmark show at the Metropolitan Museum of Art just over a decade ago) is represented, too: Filippo Negroli, supreme master of Renaissance armor all'antica, which is to say in the richly embellished Graeco-Roman style.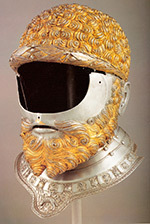 Filippo Negroli (Italian, c. 1510-1579)
Parade Helmet of Emperor Charles V, Milan, 1533
steel, gold
Patrimonio Nacional, Real Armería, Madrid
Armories tend to be dim, dusty places, frequented by few but school groups on weekday field trips and fathers on Saturdays with bookish boys in tow. The Spanish Royal Armory in Madrid, at the southwest corner of the Plaza de Armas by the Royal Palace, is similarly forsaken. Yet what wonders are gathered there: a parade helmet for Charles V that is also his portrait, hair and beard styled in swirls of gold; a shield like the shining face of a demon; full suits of equestrian armor, seemingly caught in suspended animation; a rare, if not unique, example of armor for a dog. Tapestries overhead fire the imagination further with warlike scenes from myth and history.
No one gives a better tour of the premises than Alvaro Soler del Campo, director of the Armory and principal curator of Spain's Patrimonio Nacional, as well as curator of The Art of Power. This spring in Madrid and nearby El Escorial, he offered a private preview of the show, enlivening scholarship with a wit and understanding of human nature that brought the distant past to life. Dropping Helmschmid for Grosschedel, as Philip did the moment he stepped out of Charles's shadow, was a decisive act of self-assertion—tantamount, Soler said, to dropping Hugo Boss, who dressed your father, for Prada. Of course, he added, anyone in the power elite in a position to do so instantly followed suit, "just like today." And while cost was no object to the Hapsburgs, they never objected to receiving exorbitant diplomatic gifts of armor from foreign powers. Less warlike than Charles, Philip was particularly tight-fisted in this department. In passing, Soler pointed out disparities between extant suits of armor and those same suits as depicted on canvas. In one portrait, the full-grown Philip III wears pint-size armor created for him as a child: a bit of poetic license presumably justified by such factors as sheer splendor and symbolic resonance.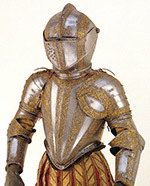 Italian, 16th Century
Child's Armor of Philip III, Milan, c. 1585
Patrimonio Nacional, Real Armería, Madrid
In Washington, the pleasure of the curator's company as personal escort will necessarily be reserved for a handful of the high and mighty, but in a sense, it should not be needed. As curator of
The Art of Power
, Soler has built his vision into the design. In the world of ideas, great scholars perform this trick between the covers of their books. In the material world, where everything has its fixed location, the job takes scholarship and more. For now, for once, all the scattered elements of a majestic synthesis are under one roof.
The Art of Power: Royal Armor and Portraits from Imperial Spain. National Gallery of Art, WashingtonD.C. – June 28-November 1, 2009 (does not tour).