As "Catch of the Day" listeners have discovered, it's not unusual for the program to showcase recordings by artists I've encountered in person in my previous life on the mainland and in Europe. For those who might like hear more about those artists, here are links to stories from my archive.
As a rule, I prefer to profile artists, even the very greatest of them, no more than once. It's like portraiture. If you miss the light in a person's eyes the first time, chances are you won't catch it on the next bounce, either. Jonas Kaufmann is one of few I've had both the opportunity and the desire to write about repeatedly, first for the Wall Street Journal, in 2007, and two short but eventful years later for the New York Times. On "Catch of the Day," we sampled Dolce Vita, a collection of pop favorites, vintage to newish. Among them: "Con te partirò," the song that put the crossover artist Andrea Bocelli into orbit. To the best of my knowledge, my interview with Andrea for the Wall Street Journal was his first major break in the American media.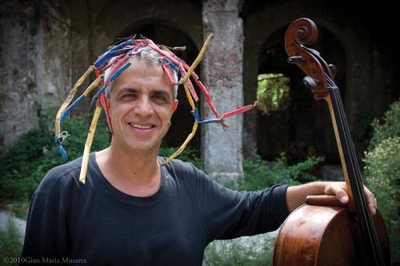 Giovanni Sollima, Paganini of the cello and composer of mysteries.
From duoJalal's album
Shadow & Light: The Rumi Experience,
we heard the hypnotic "Lamentatio" by the Sicilian composer and cellist extraordinaire
Giovanni Sollima, another of my Wall Street Journal profile subjects
. A fascinating artist in touch with a vast spectrum of Mediterranean influences, and a captivating personality, well worth getting to know.