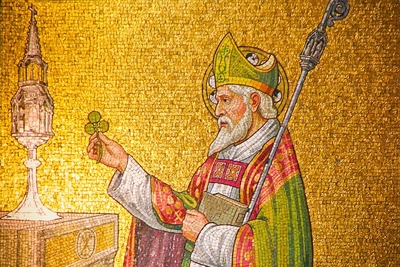 Fair warning: the new album The Deer's Cry, on ECM, strings together an hour's worth of prayers, meditations, and Bible readings, thirteen items in all, sung mostly a cappella in Russian, Latin, German, English, and Spanish... But before you cut and run, consider this: the music is by Arvo Pärt, of Estonia, now in his fifth straight year as bachtrack.com's number-one living classical composer, ahead of John Adams and John ("Star Wars") Williams, in that order. Call Pärt Spartan if you must, or even monastic: never will he tempt you to whistle along, tap your toe, or swoon at the sonics, yet he holds you in thrall. Whatever his writing may owe to ancient belief systems, it transcends them, speaking to and from our being's ground. Prophetically enough, the album that put him on the map some forty years ago borrowed its title from Tabula Rasa, a double concerto for two solo violins, prepared piano, and chamber orchestra. Vocal or instrumental, Pärt's art clears the slate.
The prayer known as "The Deer's Cry" harks back to the pagan Ireland. A Christian band, it seems, was crossing enemy territory under the protection of St. Patrick when they sensed mortal danger. So the saint sang his hymn, and as he did, the enemies lying in ambush beheld no human forms but a wild doe and her flock of fawns and let them pass in peace.
Other names for the text, in ancient Erse, are "St. Patrick's Breastplate" and "The Lorica of St. Patrick," which uses Latin to say the same thing. Of the roughly 100 original lines, Pärt has set, in English, only a ten-line nugget consisting entirely of sentence fragments. In all of four minutes, the litany goes from the simplest of formulae ("Christ with me, Christ before me, Christ behind me"), on to others that are more intimate and more mystical ("Christ in the eye that sees me, Christ in the ear that hears me"), and back again to end as it began. Rhythmically, the pulse of the chant is measured, modular, deliberate, in keeping with the opening block harmony, sounded in a compact middle register. But a few beats on, the spectrum starts to spread, in lengthening phrases that in time come to span the heights and the depths. A temple arises in our inner ear, all grace and gravitas, pared to essence.
The composer (right) with ECM founder and producer Manfred Eicher, architect of the canonical Pärt discography.
Pärt's compatriot Jaan-Eik Tulve, his a cappella ensemble Vox Clamantis, and the few hand-picked instrumentalists who join them on three tracks execute Pärt's blueprint to perfection. Expressively, they never falter, tuning dissonances as immaculately as resolving triads, framing arrow slits of silence between laser-sharp releases and attacks. Vox Clamantis: "the voice of him that crieth [in the wilderness]," a Biblical tag of which devotees of Handel's
Messiah
will grasp the implications. For what is it the crying voice is heard to say? "Prepare ye the way of the Lord," it commands; "make straight in the desert a highway for our God."
I suspect a track-by-track account of The Deer's Cry would try the reader's patience no less than my own. To a casual ear, Pärt's style may seem uniform to the point of monotony. Yet an elegant subliminal logic lends this program unfailing continuity, contrast, and richness of nuance. It pays to listen closely.
A final point: the liner notes give the texts we hear, without parallel translation, transliteration (in the case of Cyrillic), or commentary of any kind. As a rule, the closer I can follow language set to music, the more fully I enter into the spirit of a score, but with Pärt just a word (in the case of Russian) may spring the lock. In his deepest shadows, there is light. Thanks, Google, for the lore on St. Patrick, stitched together here from sources that agree in outline though they vary in detail.