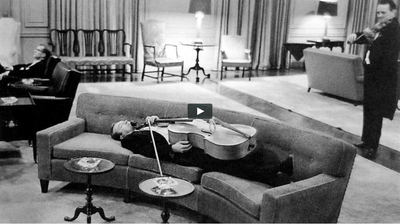 Rare, priceless. Click to play. (If only it were that easy. Screenshot from the landing page of www.harnoncourt.info.)
Early music loomed large in the career of the cellist and maestro Nikolaus Harnoncourt, but to call him a specialist (as many did) was wide of the mark. In truth, he was a generalist who approached every piece of music as brand-new. While other scholars of his vintage fetishized antique sound for its own sake, Harnoncourt wanted to know how the characteristics of an instrument--its distinctive timbre, the materials it was made of, its mechanics--might illuminate the deepest meanings of a specific piece of music. His interpretive choices often caught me off-guard, which bothered me for a while. But then it dawned on me that he was challenging listeners to engage with more burning matters than mere aesthetic preference. Following where Harnoncourt led was always an adventure.
His full name, for the record, was Johann Nikolaus Graf de la Fontaine und d'Harnoncourt-Unverzagt, resonant with associations. Nikolaus for Saint Nicholas, on whose feast day he was born. Graf, or count, by dint of ancient bloodlines crisscrossing the map of Europe. La Fontaine perhaps as in Jean, poet of the polished fables? I couldn't say. Nor can I speak to the Unverzagt connection, other to say that the word means "undaunted." Certainly the shoe seemed to fit.
Beginning in the late 1970s, it was my good fortune to report on Harnoncourt's work on several occasions. If at first I wrote in the voice of the all-knowing critic I at the time aspired to be, I later chose him as a secret mentor, especially once we began speaking now and again, sometimes over the phone, sometimes after a show in his dressing room. From the first, the conversation unfolded as if with an old friend who had nothing to sell, nothing to prove. Of the Mephistophelean glamour maestros are known to cultivate one-on-one as well as before the public, there was never a trace. He spoke as a scholar and a seeker, open with his knowledge, his memories, his convictions, his doubts.
As a tribute now that he is gone, I've assembled my Harnoncourt file. Short descriptions of the stories follow, with links.
Harnoncourt carried on virtually until the end. On December 5, he announced his retirement, pleading waning physical powers. Sadly for me, I missed his last seasons, But I treasure my last memory of him, in one of his rarest of rare American appearances, leading the Vienna Philharmonic in September 2010. The program consisted in its entirety of the six tone poems of Smetana's sublime Má vlast (My homeland). In a word: revelation. Orchestras play the water music of The Moldau all the time, and it's always a joy. Occasionally, they venture into the sun and shade of From Bohemia's Fields and Forest, and that is heaven, too. But when do we ever hear the other four? Let alone the whole cycle back to back? True to form, Harnoncourt went his own way, undaunted.