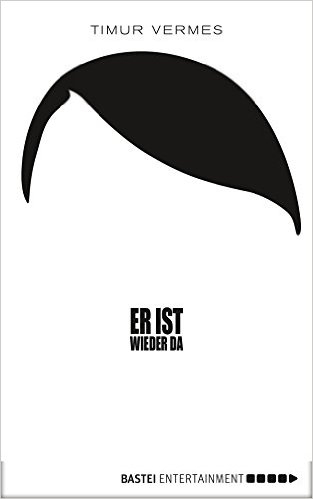 There's nothing much to the cover art for Look Who's Back, but still enough to answer the implicit question. High in the frame floats a black shape like a slanted almond on a stem: a man's hairstyle, it turns out, parted to one side, drooping diagonally across the brow, anchored below by the words of the title in a block that forms a toothbrush mustache. Yes, it's Adolf Hitler, back to narrate his inexplicable resurrection in contemporary Berlin, and quicker than you can say Final Solution, he's starring in his own hit TV show. But it's not until the chilling closing page that he finds the war cry for his new campaign.
There's madness in the first-time novelist Timur Vermes's premise but no, no method acting, as everyone at first supposes (that's Messed Ekting, in his untranslatable Brandenburg Tor transliteration). A sensation in Germany, where it originally appeared three years ago as Er ist wieder da ("He's back"), the tale makes antic hay of media madness, neo Nazi slackers, and the Führer's future shock. Never mind cell phones; it's the "madwomen" picking up after their dogs who get real mileage. In an inspired set piece, he decries the industrial rape of the once-pristine German soil. Presto! The Greens come courting.
As remarkable as the author's comic invention, if not more so, is his research. Again and again, passing details that flatly defy belief check out. Yes, the Nazi flak towers scattered across the ex Third Reich really are still standing, too solid and too massive to demolish. Follow the breadcrumbs, and you discover that they are the work of the notorious Organisation Todt, which ran on slave labor, principally prisoners of war, few of whom survived. The company name commemorates the founding engineer Fritz Todt; by macabre but all-too-apt coincidence, a German ear hears it as "Organization Death." Truth really is stranger than fiction.
At least one British reviewer complained that Look Who's Back is too long. Maybe. But at that Vermes sets up two corkers he never delivers. In a moment of pathos late in the game, Hitler strolls into the studio to find his starry-eyed assistant packing up her desk, in tears. Her Jewish grandmother has found out who she is working for, you see, and demanded that she resign. The boss promises to pay the old lady a visit to bring her around, and evidently keeps his word—off camera. And then there's the missing night the opera. Hitler's TV producer, no opera fan, has nevertheless planned an evening for two at Wagner's Die Meistersinger von Nürnberg. Given the time and place, it's reichsmarks to pretzels that they're in for a rich, steaming heap of what disgruntled contemporary audiences have learned to call Regietheater. My mouth was watering for a takedown by the man with the toothbrush mustache, but alas, fate intervenes on his way to the show.
A film is in post-production.