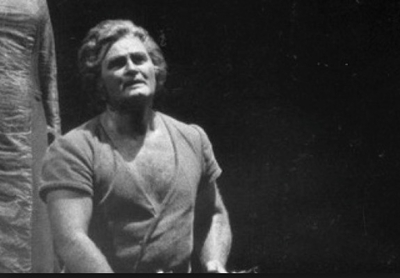 A law unto himself: Siegmund, hero of Wagner's "Die Walküre," a signature role for Jon Vickers and a perfect fit.
ALL operatic mediocrities are alike; a true star shines a light unlike any other.
A case very much in point: the Canadian tenor Jon Vickers, born in Prince Albert, Saskatchewan, in 1926, a pillar of the world's most important opera houses for three decades, beginning in 1957, the year of his debut with the Royal Opera House, Covent Garden, in London, and his historic performances there of Enee in the first essentially complete staging of "Les Troyens" of Hector Berlioz.
His glory years thus overlapped substantially with those of Placido Domingo, who was born in Madrid in 1941 and whose breakthrough occurred roughly a decade later. The two tenors shared many roles: among them, Enee; Wagner's Siegmund and Parsifal; Verdi's Don Carlos, Radames and Otello; Don Jose in "Carmen" and Canio in "I Pagliacci," both goaded by jealousy to murder; the possessed gambler Ghermann of Tchaikovsky's "Queen of Spades"; and the Samson of Saint-Saens. (Famously, Mr. Vickers also portrayed the more austere Samson of Handel.)
Yet in temperament and achievement, they were nothing alike; call Mr. Vickers the anti-Domingo. "If I rest, I rust," runs the motto on the Spanish tenor's official Web site (www.placidodomingo.com). Mr. Vickers -- who, you may be sure, has no Web site -- always made a point of taking vacations between assignments. "You have to rest your emotions and your voice," he explained spontaneously on a recent visit to New York in the week before his 74th birthday.
As the whole world knows, the rust-free Mr. Domingo is the tenor who came within a whisker of Doing It All. Even now, he is filling in gaps in his phenomenal Italian-French-German-Russian-Spanish repertory (not to mention his empire-building as conductor, artistic director and talent scout).
Mr. Vickers, whose life offstage revolved around his farm, sought not bandwidth but penetration. His every performance in an eclectic, highly selective repertory took any listener receptive to his message past an imaginative point of no return. Apart from a few excerpts (including scenes televised in his youth), he sidestepped Puccini, most tenors' bread and butter. Among his specialties were some of the few parts Mr. Domingo never got around to or sang only in the recording studio, or only in part: Wagner's self-destroying Tristan; Britten's outcast Peter Grimes; Beethoven's Florestan, political victim of his own integrity.
Last year, the life story of Mr. Vickers was told in evenhanded, obsessively documented fashion in a book by Jeannie Williams, a columnist and founding editor of USA Today, published by Northeastern University Press. Mr. Vickers did not cooperate with the project. Reviewers and colleagues of his have greeted the final product with enthusiasm, but the artist himself appears to have taken strong exception. Perhaps his discomfort starts with the title, "Jon Vickers: A Hero's Life."
"I never went around trying to drum up business for myself," he said between classes at the Mannes College of Music. "I loathe the thought of personal publicity. It would have turned my stomach to have a personal publicist. I thought if I did something well enough, people would ask me to do it again." Extrapolating from such remarks, we may well guess that he would find the subtitle of the biography boastful or vainglorious. But his art absolutely deserves the accolade.
What occasioned his latest visit to New York was a brief residency at Mannes, beginning with a dramatic reading of "Enoch Arden," a lengthy narrative poem by Tennyson with (intermittent) piano accompaniment by Richard Strauss. His next days passed in closed classes with a handful of Mannes voice students, preludes to an open master class in which Mr. Vickers -- now highly interventionist -- drove home the lessons he had begun in the previous days with an impassivity befitting a classically trained Freudian analyst.
"I'm in your hands," was the master's first remark to the first singer on Day 1. Without direction from Mr. Vickers, the young hopefuls took their turns singing, rested or continued as they wished, then stepped up to the podium again until all had sung each of the songs and arias they had prepared.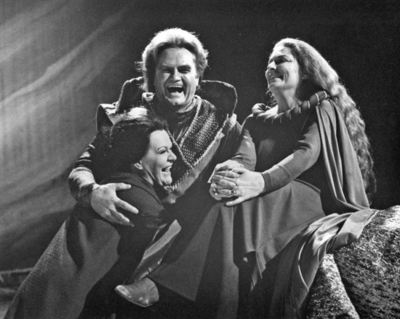 Tristan laughs. Jon Vickers, breaking character In rehearsal with Roberta Knie (Isolde) and Maureen Forrester (Brangäne).
Only then did Mr. Vickers offer an opinion, which, he said, held for them all. "You use your voices too much, all the time. As a singer, you're not there to demonstrate your voice. You're a servant, first of the composer, and like the composer, of the poet, of the public. You're there to give, not to show off."
To one hopeful, he had this to say: "Don't be a slave of the notes. Let them go. Allow your fears, your hopes to show. That's what moves people." To another: "Never, ever sacrifice line. The audience won't know why, but if the line falters, you'll lose them. Keep the line, and you'll keep them with you." To a third: "Never make your voice soft. Allow it to be soft. Never make it be loud. Let it be loud. Let your voice surrender to the deepest possible meaning of the text. That will allow you to surrender to the emotion. Your response will be unique. Don't be afraid. Surrender."
Precious lessons, each borne out in the artist's own practice. Mr. Vickers in his prime combined extraordinary power with an extraordinary gentleness. His timbre was as distinctive as a fingerprint. In the upper register, he often favored a dulcet, caressing half-voice that detractors thought of as crooning. His phrasing was as supple as it was muscular, the lines shaped like forged iron. Emotionally, he could convey without whining, sobbing or snarling a deep vulnerability, a sheer nakedness of need. A note few men possess -- the radiant, disarming candor of a child -- came to him easily, as easily as the moral authority of a prophet. Rage rose in him like the whirlwind, and though few of his roles called for it, he had a charming sense of humor.
His approach to Handel was not that of late-20th-century musicology, but it pleased Thomas Beecham, for whom Mr. Vickers recorded the tenor part in "Messiah" with heart-stopping dignity and pathos. Few would have associated him with Monteverdi, but the Paris Opera did, casting him as the wicked emperor Nero in a deliberately grand-operatic "Incoronazione di Poppea." Here, very properly, Mr. Vickers surrendered to the brutality of his character -- but not at the expense of the protective, flooding tenderness he feels for his conniving mistress.
His Herod, lusting stepfather of the heroine in Richard Strauss's "Salome," traced an immense psychological arc through crisp, domineering anger, erotic desperation, haunted majesty and horrified revulsion. As the Male Chorus in Britten's "Rape of Lucretia," Mr. Vickers could combine blistering outrage and fathomless compassion within the space of a single phrase, raising the part of an onlooker and commentator to the stature of counterweight to the ravished heroine: indeed, her dramatic equal.
In a lighter vein, he sang the humble sailor Ralph Rackstraw, in Gilbert and Sullivan's "H.M.S. Pinafore," hopelessly smitten with his captain's daughter. "She laughs my love to scorn," Mr. Vickers sang, feeling the pain like the stab of a dagger, "yet I adore her."
As a musician, he was and was not a literalist. In "Die Walküre," face to face with the Valkyrie whose appearance presages a hero's death, Mr. Vickers spun out phrases of steadfast, unearthly evenness, yet broken by a slight catch before the names of Valhalla and Wotan. Opening the score, we find rests of an eighth-note at just those points. Why? Because this is where Siegmund turns his back on the warrior's promised reward, resolute yet conscious of the sacrifice. A pang is written into the rests, where the scrupulous Mr. Vickers found it.
Elsewhere in the same scene, however, he sings straight through rests of similar duration, sustaining an urgency that none but a pedant could fault. The more obvious liberties Mr. Vickers took with the words of Peter Grimes were incidental to an interpretation unacceptable to the composer, whose conception of the character as a homosexual the singer would have no truck with. Britten's disapproval notwithstanding, the Vickers Grimes stands unchallenged among the supreme operatic accomplishments of the 20th century.
Many of the tenor's major recordings of opera and symphonic material have vanished from the catalog, but happily, a hypnotic recital of Italian opera arias, conducted by Tullio Serafin in Rome in 1961, long unavailable, has reappeared, licensed by VAI Audio. One of the more astonishing excerpts is "Ah si, ben mio," from Verdi's "Trovatore," a lulling adagio audiences usually think of as a mere preamble to the rousing call to arms "Di quella pira." Here it stands alone, an awesome song of love and death.
Equally gripping is the Improvviso from Giordano's "Andrea Chenier," the poet-hero's visionary description (supposedly made up on the spot) of his beloved France on the verge of revolution. The aria from Verdi's "Don Carlos" is heard as well, in its familiar, revised version, preceded by an agitated, heartbroken lead-in, its lyrics evoking bliss lost forever.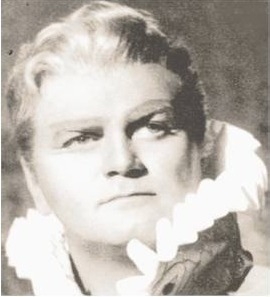 Vickers as Don Carlos in London.
A live recording of the historic Covent Garden "Don Carlos" of 1958 (on Myto) allows comparison to the original version of the aria, with its serene introduction and hopeful text. The later version of the aria proper strips away some light embellishment from the original, but the melody is otherwise the same -- in the earlier case expressing expectation, in the later case, expectations shattered. Mr. Vickers made these distinctions real. An anthology in the Metropolitan Opera Guild's series Met Legends, compiled from various commercial sources, includes these three cuts as well as greatest moments from the tenor's German and French repertory (not all of it operatic).
Live recordings of various provenance document the tenor as the faithless lovers of heroines dangerously more powerful than themselves: Jason, in Cherubini's "Medea," partnering the incomparable Maria Callas, who recognized in Mr. Vickers a rare peer; and Pollione, in Bellini's "Norma," opposite Montserrat Caballe at her incantatory best.
THOUGH Mr. Vickers was never the darling of the commercial record labels, his career turns out to have been surprisingly well documented. VAI has gone to the archives of the Canadian Broadcasting Company and other sources, and returned with recitals and telecasts of material both central and peripheral to the artist's career, none of it less than fascinating. The disc featuring Schumann's song cycle "Dichterliebe" in his singularly tender, introverted reading is a particular find.
Now the label's hopes are high for a timely release of the CBC video of "H.M.S. Pinafore," in which the young Mr. Vickers bestrides the decks like a young bull, and of the white-hot "Rape of Lucretia" (audio only) from the Guelph Festival in Canada, in 1974. Maybe someday, the Paris "Incoronazione di Poppea" (preserved on video), the "Salome" from Orange, France (audio only), and representative Wagner performances will surface as well.
"I am humble before the gift that was given to me," Mr. Vickers said privately on the day of his New York master class. "And it was a gift. I have a great sense of gratitude toward the giver of that gift. I can't stand it when people think what they have was given to themselves. Whether you're Albert Einstein or Placido Domingo, be grateful, use it, give to your audience."
It feels awkward to ask, but what was the gift Mr. Vickers hoped to give to an audience?
"The gift that I gave to an audience," he answers, "and I was very blessed in that I had the power to do it -- but this is all figurative, understand! Speaking figuratively, I would reach my arms through the proscenium arch to pull the audience in, to embrace them, to say to them: 'Come up here with me. Know these feelings, and you will have the reward of experiencing the absolute beauty of "Fidelio," the greatness of the tragedy of "Otello." Come up here. Share it with me.' "
In his recordings, the call still sounds.