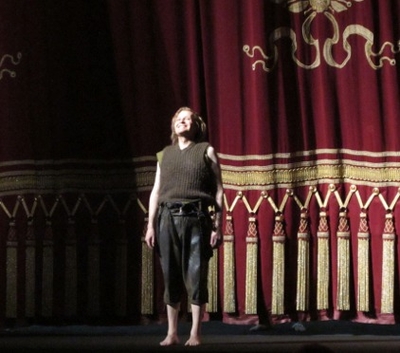 Lance Ryan's Siegfried before the curtain at the Bavarian State Opera.
Ideally, we like to judge opera singers in real time, in the theater. But to write off recordings, the way some have done, as "all lies," takes skepticism several giants steps too far. Whether we are talking about snippets sung into the horn of the Victrola at the dawn of recorded sound or last Saturday's high-definition simulcast from the stage of the Metropolitan Opera, we hear what we hear, we see what we see, and we learn, however imperfectly, to make allowances for technology. In the case of artists still before the public, occasions may arise to make reality checks, and we do well to take them.
A visit with old friends in Frankfurt am Main this fall, happening to coincide with a revival of Tannhäuser at Oper Frankfurt, afforded me such an opportunity with respect to the Canadian heldentenor Lance Ryan, 42, in his first run as Wagner's bipolar minstrel.
My first chance to hear him was to have been his Metropolitan Opera debut in the season premiere of Ariadne auf Naxos on February 4, 2010. But he cancelled at short notice, and I missed his later performances, not to catch up with him until the following year, when Opera News assigned me the DVD reviews of Der Ring des Nibelungen and Les Troyens from the Palau de les Arts Reina Sofia, in Valencia.
It is fair to say that in both, Ryan bowled me over.
"Built like a linebacker, blessed with a million-dollar smile and James Cagney eyes here lined in kohl," I wrote in my comments on the Ring, "Lance Ryan is a Siegfried of exhilarating vitality. Nobody's perfect: too often, he scowls, robbing his timbre of its innate golden luster. But his power never flags, the notes lie easily within his compass, and his delivery rings as true in the lyrical mode as in the heroic. As an actor, he's a natural, striking a chord of abashed grace in the presence of the newly awakened Brünnhilde. He's nimble on his feet, but when the Götterdämmerung goons suspend him upside down in gravity boots, he sings on, unfazed. A phenomenal performance."
I was no less captivated by his work in the Virgilian epic of Berlioz: "Lance Ryan, the phenomenal Siegfried of the Fura dels Baus Ring first shown in its entirety in Valencia five months earlier, is scarcely less impressive as Énée. His ear for the niceties of French diction (a gently rasped 'r' here, an expressive liaison there) gives a rich sense of the sheer music of the text, even as his variety of phrase and attack (sculptural yet liquescent in the love duet, like a spear in the calls to action) draws meaning from the shape of the music. The pathos of his facial expressions, from ferocious to tender, recalls his fellow Canadian heldentenor Jon Vickers. Not even the costumes or the Trojans' signature dreadlocks cramp his style."
Flash forward to October 24, 2013. A banner hung above the Frankfurt proscenium broadcast the glad tidings that the latest critics' poll for Opernwelt magazine ranked the company its opera company of the year. Did the second Tannhäuser of the run uphold the implied standards? Not really. Vera Nemirova's desultory production, staged in the sulfurous glare of a single low-pressure sodium streetlamp, was remarkable solely for the murder by strangulation of the (compliant) Elisabeth at the hands of a demented Wolfram. On the podium, Constantin Trinks seemed to have his hands full with logistics and little left over for atmosphere or intensity. The women, be it said, did themselves proud: Tuija Knihtilä offering a vibrant, clarion Venus; the wide-eyed Annette Dasch a visionary Elisabeth of great beauty, incandescent in phrase and gesture, tossing her mane like a dancer. The Landgraf (Andreas Bauer), the Wolfram (Daniel Schmutzhard, following the first-cast Christian Gerhaher, who seldom fails to fascinate), and the lesser minstrels never rose above the subpar level.
And Ryan? In fairness, Tannhäuser may not be his ideal role. Grievance, discontent, and complaint are this hero's hallmarks—a far cry from the heart and daring that animate Siegfried or Aeneas. Inevitably, Tannhäuser spends much of the opera complaining, though his nostalgia for things that have meant much to him—sunlight, the song of the nightingale, the pealing of bells—can touch a radiant chord. Ryan was alive to these possibilities, he never faltered in the punishing cries for deliverance, and he held the house in the palm of his hand with his account of his fiasco in Rome.
The day after the performance, we met at the opera-house canteen.
MG: It's been wall-to-wall Rings for you lately, right? Will that change, now that the Wagner bicentennial is winding down?
Lance Ryan: Yes. Right now, I'm learning Samson, La Forza del Destino, Die Liebe der Danae—and Tristan, which means lots of text, text that is very psychological, esoteric, intangible… [Note: Oper Köln (Cologne) presents Ryan's role debuts as Alvaro, in Forza, in January 2014, and as Samson in the Saint-Saëns opera in March. His first Tristan follows, with Oper Frankfurt, in April.]
What's your history with Siegfried?
Five years ago I got a bunch of offers for the Wagner Jubiläum, from big houses: Valencia, Munich, Berlin, Frankfurt, La Scala, Bayreuth. Nothing but Siegfried for a year and a half of my life. I knew it would be tiresome to do all these new productions. An early Ring for me, and one that didn't get all the global attention, was at the Opéra du Rhin, in Strasbourg, directed by David McVicar. The show worked really worked in its clarity. McVicar told the story his way. And as always with McVicar, it was aesthetically gorgeous. As a director, McVicar is very demanding but easy to understand. He worked a lot on the characters.
How did you wind up in this line of work?
Singing was incidental, really. I grew up in Vancouver. My family background wasn't musical, but music was always important to me. I started taking guitar at 11 or 12. When I was 19 or 20, I was in university, still in Vancouver, studying classical guitar and majoring in music history. I wanted to broaden my base, so I took cello and voice lessons. And people started saying I could do something with my voice. At first I didn't really believe that. Then I thought, "Yes, I can do this," although at the time I couldn't. I went from there.
Do you get back to Vancouver at all?
I haven't really gone back. The truth is that I didn't get any chances there when I was starting out. To be recognized, you have to go away and come back. But now I live in Rome, near the airport, and I'm busy here in Europe, and once you're busy here… I tell my agents: if something comes up in Vancouver, let me know. But the work in Europe is good, and it's easy to get around.
Given your visibility in Europe, you seem a little underrepresented at the Met…
In 2009, the Met asked me to cover the Ring in 2012-13, and I didn't want to do that. Then they asked me for the Ring in 2016, but they scrapped that because the production was such a success… The only thing I've done there was Ariadne, when I cancelled my debut. Some roles you can sing with a cold, but not Bacchus. The dress didn't go well. People from the company said, "Take cortisone." I know they do that there, but I've never done it and I didn't want to. That's life.
Given all the tenors singing the big Wagner parts at the top companies these days, is there a sense of friendly or not-so-friendly rivalry? Do your paths cross much?
I usually see my colleagues in Bayreuth: Torsten Kerl, Johan Botha, Andreas Schager… I know Klaus Florian Vogt. I don't know Jonas Kaufmann very well. Stephen Gould and I alternated in Les Troyens. Neither of us could do all the dates, and Valencia could throw money around at the time. Relations among us are always amicable. At some level people always need one of us. It's about working with good people. In this Fach, everything you do is a special occasion.
On my side of the footlights, the obsession with Wagner can get pretty out of hand. How about on your side?
My experience in the Wagnerian world is that everyone is very well grounded. It's an enjoyable working environment. In Italian opera you find more nerves, more anxiety. In Turandot or Il Trovatore, so much rides on one aria, or even one note. That can affect you. In Wagner, people are more relaxed. They feel confident. If people don't like what you do, too bad. Go out there, do what you can. There's a communal feeling.
Are the Wagner heroes you play hard to live with?
Speaking of Tristan, Ben Heppner has said, "I leave everything on the stage." But you have to gauge when you're on empty! I learned in the Siegfried school to pace myself. If you put all of yourself into it, you really can't do it. When Stanislavsky was preparing Othello, he said "I can't do a whole scene because I'm under such pressure!" You need clarity to live in the moment, and the moment isn't just you. You have to be alert enough to process what your colleagues are doing, what the set is, what's going on with the lights… You process all this, and then emit. You can't reason. You have to react, and for that you have to understand. If you're too into your own thing you lose that. For the audience, it should be this opera with that person—versus this person in that opera. You have to be a team player, and use everything around you to animate what you do.
How about Tannhäuser?
I'd say you can identify with the manic-depressive streak in Tannhäuser. He's always living at 200%. And there are moments in your life when maybe you went overboard. You can rationalize. But to identify with these characters at some level doesn't mean you have to suffer with them and forgive them. Recognize the demons. Get temperance in your life. Moderate what you feel with what you know is true. If you know where your character comes from and fill out the psychological makeup, it's quite easy to sympathize and portray. Stanislavsky says to use your emotions as a mirror, not as fuel.
Apart from emotion, what sorts of things make the job easier or harder?
Bare stages are very difficult. This summer in Bayreuth it was very easy for us. There was so much junk on the stage! The cast always wanted to improvise. Sometimes it was hard to get around.
How about directors?
Some are a bit difficult to begin with. Some come into a production with set ideas of the character but no clear idea of what they want to achieve on stage. At that point, rehearsals are often a sort of physical brainstorming, improvising, mixing and matching. Some directors don't want a lot of imaginative work from the singers but don't offer much of themselves. You can feel a bit lost. I can't ask a director, "What do you want me to do?" If it's just directing traffic, they could send you the video! It's rare for everything to fall into place.
What kind of dialogue with a director helps you most?
To receive direction, you need something cerebral, not physical. Some say the whole world is in your mind. You have to have an idea in your mind to give a representation.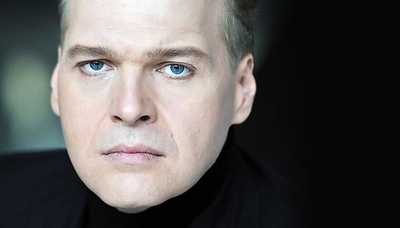 It sounds like you read a lot of philosophy.
I used to read a lot moreI Lately, it's mostly Plato, almost out of schadenfreude. It's so entertaining the way he sets up his arguments. But the more you get into philosophy, the more you know how simple life really is. The goal is to be happy. "Know thyself"—that inscription from the temple in Delphi. The rest is inconsequential.
And these convictions carry over into the work you do?
They can. The spiritual and philosophical dimension is a great strength of the German repertoire. Verdi was always interested in politics, power, honor—in the ways you manifest identity. Wagner was deeper. I wonder sometimes. Could Wagner dissect Freudian personality before Freud—just through intuition? Look at Kundry, and you'd have to say he probably could. And he was interpreting his dreams to Cosima long before Jung came along...
Well, it's not as if Freud and Jung invented the human psyche…
No, of course not. But I wonder if there was a conscious intent on Wagner's part. There are points of reference in Wagner that stand out like beacons. I'm working on Alvaro in La Forza del Destino right now, and in terms of motivations, there's really nothing to explore beyond his heart and his sense of honor, which drives him to religious penance, which is his release. Characters like Siegfried and Tristan, who is coming up for me shortly, are much deeper. When you think of Tristan's father, who dies when Tristan is a child, and of his mother, who dies in childbirth, the existential questions are more profound. Tristan und Isolde is the end of romanticism, leading to death. Tristan is at a point where he's turning away from life the way most of us live it. He's given up striving for success and identity. He just wants to be. There's lots of Schopenhauer there—Schopenhauer who was a deeply depressive character and had a very difficult relationship with his mother. She was strong, domineering personality. She pushed her son hard, even physically. Once she pushed him down the stairs, and he decided, "No, I want peace. I don't want to have to struggle with the life force."
Well, that's certainly taking matters down to bedrock…
I'm a vegan, right? There's life and there's consciousness. When does life recognize its own pain? Life has an end. Death has no end. The most important thing is happiness, which stems from mutual relationships with people. It's hard to find it alone. Once you renounce ego and make concessions in your identity, then things get quite easy. Nietzsche and Schopenhauer were very alone. If you find someone to reciprocate, that's the ideal. Difficult to realize in the temporal universe.
This strikes me as quite an unusual conversation. Does it strike you that way?
When you speak of things that are in the work you're doing, this is what pops up. This is what I see in these works. It's what I tap into to do what I do.