Kasper Bech Holten, artistic director of the Danish Royal Opera, is not a man to get stuck in a rut. Last December, after an eventful decade and a half working chiefly in opera, he took on Iphigenia in Aulis by Euripides, his first straight Greek tragedy. So the place to find him was not the state-of-the-art facility the Danes call Operaen, which opened with Aida in 2005, but the even more recent Skuespilhuset, or Playhouse, which opened with Hamlet in 2008.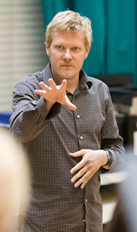 Kasper Bech Holten © Henrik Engelbrecht 2009
The two theaters glance at each other across a diagonal ribbon of sea, with the house of the spoken word a few steps from the picture-postcard-perfect old harbor called Nyhavn, and the house for music theater on the island of Holmen, a former naval preserve. The days are short in Denmark this time of year — pitch dark until mid morning, pitch dark again by five. The cavernous lobby of the Skuespilhuset floats like a glass casket lost in the cosmos, dimly lit by scattered pinpricks of fairy light. Off in the distance, Operaen casts a pale glow, a planet unto itself.
By day, I know Holten, thirty-six, as the sunniest of Vikings. This afternoon, he materializes from the gloom like a soft-spoken Hagen. "So far," he says lightly, "every show at the Playhouse has been a hit. That means I could have the distinction of having the theater's first flop." The open dress rehearsal takes place twenty-six hours from now. But tonight, I'll be crossing the water for La Traviata.
Holten assumed his post in 2000 at the age of twenty-seven. Back then, the Danish Royal Opera, founded in 1748, still occupied its nineteenth-century home known as the "Old Stage," built in 1874. Before the move, he was thrilled but apprehensive. The new facility beckoned with all the princely amenities a half-billion dollars can buy — a soaring, glassed-in lobby, sweeping staircases, a gold-leaf ceiling overhanging a dark-maple auditorium for 1,500, blessed with spacious acoustics. And backstage were all the bells and whistles a producer's heart could wish for.
But to get to the island from downtown Copenhagen, you either have to drive dreary, roundabout service roads or hop a ferry. Psychologically, it's a trip either way. "What if we are 300 opera freaks performing for 5,000 opera freaks?" Holten wondered. "Will we just float away?"
Short answer: no. Opera in Holten's Copenhagen occupies a place in the public consciousness to make a foreign visitor's jaw drop. Where else in the world might Verdi's Don Carlo get blasted by a young fogey from the national parliament, as happened in November 2007, sparking nationwide debate? Setting the action in the near future, Holten played up the clash between government and religion, alluding also to Guantanamo and the war in Iraq. An ad campaign for the revival the following September turned the attacks to good use. "Morten Messerschmidt doesn't like this production," the message ran. "Don't you think you should see it?"
Holten's career as a director began when he was twenty years old with a production of Michael Nyman's chamber opera The Man Who Mistook His Wife for a Hat in Odense, deep in the Danish provinces. Jakob Levinsen, music critic and literary editor of the influential Jyllands-Posten, recalls the occasion vividly. "I felt I was seeing the future," Levinsen says. "Until then, most Danish directors did opera the same way they would stage a spoken play. Holten had an idea of movement, of music, of light. The approach was radically different."
The same might be said of Holten's psychologically astute production of Schumann's Genoveva at the Bard SummerScape festival three summers ago, the director's first original work in the U.S. The players enacted the intractable tale in simple yet heightened gestures that called to mind narrative art of the nineteenth century, but in painterly settings more in keeping with abstract expressionism. Meaningfully chosen props — mirrors in particular — took on a baleful power.
"Despite Holten's young age," says Thomas Michelsen, music critic of Politiken, one of the leading national newspapers, "he has always been very charismatic. Everybody in Denmark knows him, whether they like opera or not. And everybody wants to come to the new opera house, even from what we consider far away. He's been brilliant." One signal triumph was Wagner's Ring des Nibelungen, viewed through the eyes of Brünnhilde and completed in 2006, when it was filmed for DVD. In a bonus feature, Holten compares notes with Queen Margrethe II, who attended repeatedly.
Holten has proved a thoughtful steward of his public trust. "It's increasingly difficult to maintain the legitimacy of a national company," he says, "but it's crucial. We can't just be good. We must be sexy. We have to fight for attention. It's important to think about what opera contributes to our society. Who are we? Where are we going? Opera is a European art form. But is being European going to deprive us of being Danish?" Letters to the newspapers, television appearances — it's all in a day's work. His current contract runs through 2011.
Cultural coverage in the Danish media, as elsewhere, is dwindling. Still, a new show at the opera can expect to receive five major reviews from a largely enlightened press. "Critics come to be critical," Holten says philosophically. "Sometimes I love them, sometimes I hate them. But it's better if someone hates what we do than if they just didn't care."
One colossal fracas early in Holten's tenure at the Danish Royal Opera was not of his making. Three months after his official start date, in 2000, the shipping magnate Maersk Mc-Kinney Møller, now ninety-five, let it be known that he wished to present the nation with a state-of-the-art new opera house. Some of his countrymen were outraged.
"In Scandinavia, our ideal for centuries has been that everybody should have the same amount of money," Michelsen explains. "Institutions like the Danish Royal Opera are financed by the state. Møller paid for the building, but the expense of running it falls to the state. We're not used to rich people just doing what they want." (As others have pointed out, Møller's tax deductions effectively shifted the cost of the building to the public.)
The fact that Møller overrode the designs of Henning Larsen, his chosen architect, and plunked his house down smack in front of the Amalienborg, dead center in the Queen's view, added fuel to the firestorm. But once the new house opened, the carping died down quickly.
Other than the opulent, retro Aida (produced by Mikael Melbye, formerly active as a baritone), the opening season at Operaen featured a new Elektra, directed by Peter Konwitschny; Holten's Siegfried; and the world premiere of The Trial, after Kafka, by Poul Ruders, the Danish composer of The Handmaid's Tale, an international hit.
The three pillars of Holten's programming are pre-Mozarteans such as Handel; the German Romantics Wagner and Strauss; and the mandarin moderns from Berg forward. (Copenhagen is where countertenor Andreas Scholl made his name as an opera star, and he remains a local hero.) "We also do the standard rep — well, but not at a world-class level," Holten says. "That's not where our voices, our mentality and our traditions lie."
Sure enough, David Radok's modern-dress Traviata that night was a train-wreck — all rumpled bedclothes and wooden chairs, with fillips of Weimar sleaze and negligible musical compensations. But the night before, Keith Warner's new Wozzeck (a coproduction with the Royal Opera House, Covent Garden), cast entirely from the house ensemble and conducted by Michael Boder, delivered a full dose of harrowing, expertly honed music theater.
"Guests account for about 15 percent of our roster," Holten says. "We try to use them intelligently, as people who can inspire us." Leading members of the ensemble — names such as Stig Fogh Andersen, Iréne Theorin, Stephen Milling, Johan Reuter and Randi Stene — give the company ten to fifteen performances per season, which leaves them ample time to develop an international presence. "We want to create an identity of our own in a world of globalization and airport opera. We want to give our artists a home and a base without tying them down. We call this flexicurity. That's a Danish word."
The Danes have not always shown such an appreciation of native or adopted talent. The man on the street still recalls the recitalist Aksel Schiøtz, who died in 1975, but not the nonpareil heldentenor Lauritz Melchior. (Those who know who he was shrug and say, "He went to America.") And in recent decades, according to Levinsen, Holten's predecessors boycotted Danes in international demand — Inge Nielsen, Bo Skovhus, Lisbeth Balslev — because they had either trained or made their names abroad.
Composers have had a hard time, too. Levinsen points out that there was not a single major Danish commission between 1970 and 2000, the year of The Handmaid's Tale — while the one major Danish opera of that period, Per Nørgård's Siddharta, had its premiere in Stockholm. Looking further back, Levinsen cites "the white elephant of twentieth-century opera": the embittered Rued Langgaard's operatic mystery play Antikrist, rejected by the Danish Royal Opera in 1925 and never performed in the composer's lifetime. Today there is a Danish Royal Opera DVD, recorded in 2002, during the Holten era.
"Now, if the Royal Opera wanted to commission a young composer," Levinsen wonders, "who would they turn to? There are few prominent composers under forty-five, and the younger ones don't work in traditional forms. They prefer the avant garde, jazz and rock." The proven Ruders is now sixty; his Dancer in the Dark, based on the Lars van Trier film, is on Holten's agenda for 2010.
Cultivating the Danish repertoire might be easier if there were more of interest to choose from. Peter Heise's Drot og Marsk (King and Marshal, 1878) enjoys a certain reputation but is seldom dusted off. Carl Nielsen's neobaroque Saul og David (1902) and neo-Mozartean Maskarade (1906) occupy the same limbo. On CD, Maskarade sparkles like a Bournonville ballet in song, and in 2006, Holten gave it a contemporary, amiably scruffy staging, with circus performers adding flourishes of fantasy. The first act unfolded as a sustained coup de théâtre, with a three-dimensional panorama that scrolled slowly from bedroom to bathroom to parlor to study to kitchen and on and on before "rewinding" at triple speed. The results may be seen on DVD, but no revival is in the offing.
On the international front, Holten's steady stream of commissions, premieres and coproductions with foreign companies has expanded Copenhagen's operatic horizons beyond recognition. At the same time, his personal vision is evolving, too.
"Iphigenia is completely contrary to our Ring," he told me before the dress rehearsal. "I've tried to focus, to stand back and really trust the material. Ten years ago, I would have had to do the play from a distance, with wigs and framing devices, à la Mnouchkine. Now the audience is longing for sincerity. It's scary to think that for the last fifteen years, I couldn't put anything on the stage without irony."

Iphigenia, you recall, tells of the great Agamemnon, forced to sacrifice his daughter to raise the wind that will carry the Greeks to Troy. Holten's props were few — chiefly a fleet of paper boats becalmed on a table flooded with water. At the climax, the princess lay on that same table, awaiting the fatal stroke. Just then, a shutter began clacking, and another, faster and louder. Iphigenia's heart leapt. The wind was rising! Surely the goddess was showing mercy? Yet the silent generals pinned her down and finished the job they had come to do.
An audience of school classes and friends and hardcore drama fans, plus one visitor without a word of Danish, looked on in shock and shuffled out in silence.
A few days later I had an e-mail from Copenhagen. "Opening night went very well," Holten wrote. "We have reviews ranging from very bad to very good. So I guess that is well."