NEW YORK, NY —
Sometimes your dreams get broken in pieces

That doesn't matter at all

Take it from me,

There's still gonna be

A summer, a winter, a spring, and a fall...
I've heard snobs say that after the first six weeks (or was it three months?), a Broadway audience is all tourists. There's probably some truth to that. What newbie comes to Manhattan and doesn't want to see a show? So how could the new Kander and Ebb pastiche New York, New York, directed and choreographed by Susan Stroman, Barnum-meets-Balanchine show woman extraordinaire, close its doors after 33 previews and just 110 performances? That's show business.
Yes, some overnight critics turned up their noses, but do the folks from Peoria take their cues from the New York Times? Whatever happened to word of mouth? The night I attended, a month after the reviews, a packed house cheered New York, New York to the rafters. Oh, there were issues with the book, and we'll get to those. But for my money, the songs alone were more than worth the price of admission. Likewise the spectacle, likewise the dances, likewise the performances of a stunning ensemble — not to speak of the marquee value of the title song.
The good news is that there's a blue-ribbon album on the Wine and Peaches label. Spread over two CDs and including five bonus tracks, the material runs 90 minutes, complete with a concert-hall-ready suite of scintillating instrumental interludes evoking the city in different seasons and at different times of day. Hand in glove with the designers Beowulf Boritt (sets, for which he won a Tony Award) and Donna Zakowska (costumes), Stroman turned these episodes into snappy, affectionate vignettes that felt at once retro and brand-new, spiked with cinematic hints of stop motion. They flew by like the pages of a flipbook assembled from vintage covers of The New Yorker.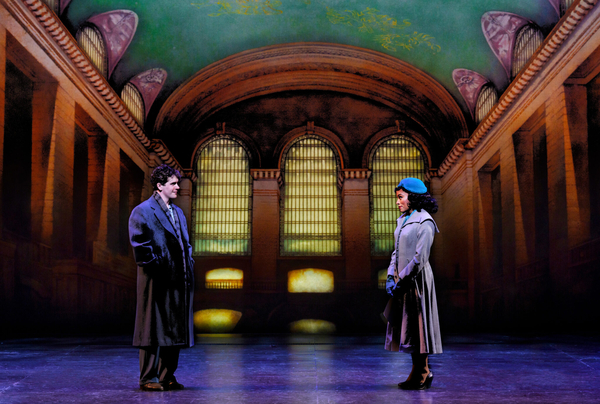 Colton Ryan and Anna Uzele as the characters played on film by Robert De Niro and Liza Minnelli, testing the legendary whispering gallery at Grand Central Terminal/
With New York, New York, the Kander and Ebb catalogue comes to 16 musicals, including those licenses for printing money, Cabaret and Chicago. If you're thinking it's late in the game for a new entry, you're not mistaken. Fred Ebb, the lyricist, died in 2004 at the age of 76, leaving a number of joint projects incomplete. Yet his spirit lives on in the composer John Kander, who has yet to lay down his pen. He turned 96 as New York, New York was counting down to its first public preview.
Kander's latest score intersperses old gold from the K&E backlist of smashes and misses with 24-carat novelties incorporating "extra lyrics" by Lin-Manuel Miranda. And let's not forget that in a pinch Kander is capable of a well-turned lyric of his own, as in "I Miss the Music," a veiled yet transparent tribute to Ebb in Curtains, another show the lyricist didn't live to see. For particulars, consult the New York Theatre Guide feature, "All the Songs in 'New York, New York' on Broadway."
The composer has called New York, New York a valentine. But the object of his affection is not a person. It's the Big Apple as it bounced back from World War II, a city of dreams that is the very antithesis of Cabaret's phosphorescent Berlin or Chicago's tabloid Chicago. The New York Times complained that the score lacked Kander and Ebb's "serrated edge." Well, yes. By design.
The book of New York, New York, by David Thompson with Sharon Washington, built freely on the screenplay of Martin Scorsese's 1977 movie. The score included most or all of the handful of songs Kander and Ebb came up with for that fiasco, including the so-called "Theme from New York, New York," which they knocked off under pressure at the last second after one of the movie's stars, Robert De Niro, said he didn't like the first version. (Kander says he doesn't even like the song he and Ebb finally wrote. Oh, well.)
But new to the canvas were a motley squadron of supporting Johnnys and Joanies Come Lately looking to set Manhattan on fire with their music, whether percussion, brass, or classical violin — and there was even a soprano heard warbling text from La Traviata to a new cantilena, a tip of Kander's hat to his passion for opera. So, New York, New York doubled as a valentine to music itself, a lovely conceit. But in narrative terms, there were too many extraneous personalities, and they were too sketchy. Their paths crisscrossed in ups and downs that built little momentum. Structurally though not in tone, there was a family resemblance to Stephen Sondheim's Company, whose book was patched together from self-standing one-act playlets by George Furth. So, yes, Act 1 of New York, New York wobbled. On the plus side, as in Company, the incidental figures sprang to life in songs I'd hate to have missed.
It was as stylist in song that Colton Ruan shone most of all, gliding without a snag from whisper to full cry, from croon to growl, from just talking to himself on pitch to a fine-spun thread of moonlit falsetto, savoring the lyrics, relishing the very sound of the words.
Scorsese's movie cast De Niro, as the aggrieved, hot-tempered Irish saxophone player Jimmy Doyle, opposite Liza Minnelli, as the determined vocalist Francine Evans, fresh from the nonprofit United Service Organizations, purveyor of entertainment to the United States Armed Forces. The likable, intermittently moody new Jimmy Doyle was Colton Ryan, a crackerjack multi-instrumentalist with pipes like a young Sinatra, moves like a young Gene Kelly, the face of a latter-day James Dean, and major Broadway credits for Girl from the North Country and Dear Evan Hansen, in which he understudied both male leads. Francine came at us in the person of Anna Uzele, who is Black — a casting choice with profound implications for the story.
As the diva with the 11-o'clock number, Francine was the de facto face of New York, New York. Jimmy, though, was its heart and soul. By the time the Act I finale rolled around, the two were getting set to tie the knot. After intermission, they were already headed for the rocks. It wasn't hard to see why. Francine wanted stardom and casually played with fire (read: a wolf with cash and connections) to get her shot at it. Jimmy, sentimentalist that he was, really loved the woman he married. And what he wanted was a life — with her.
Tellingly, a metaphor from music summed up Jimmy's mindset. "A major chord," he explained, leading into the song by that name, "is when everything in your life works out perfectly. One is music. Two is money. And three is love." And money, at least in Jimmy's theory, turned out to be a red herring. "When you got the music right, bam!" he told Francine. "The money follows!" At the far end of the show, Jimmy closed the loop with the disillusioned but buoyant number "Music, Money, Love." "I guess the laugh's on me," he sang. "You get two but rarely three." Maybe next year. He was putting one foot before the other, and musically, he was in the zone.
Jimmy's coming-of-age story is one we've heard a thousand times. Yet his songs — among them the giddy "I Love Music" — gave him a core, and Ryan gave him flesh and blood. But he didn't showboat. Jimmy's sunny side — and when it mattered, his pain — came through in Ryan's body language, juicy line readings, loose-limbed dancing, and let-'er-rip riffs on piano as well as sax. But it was as a stylist in song that he shone most of all, gliding without a snag from whisper to full cry, from croon to growl, from just talking to himself on pitch to a fine-spun thread of moonlit falsetto, savoring the lyrics, relishing the very sound of the words. His performance was the kind that takes you by stealth — a joy in the moment, and one that in memory keeps taking on new shadings, all the more with prompts from the recording. Francine got to define herself first of all with a number called "I'm What's Happening Now." Glossily turned out, ingenuously pleased with herself, Uzele struck me as rather a Barbie. What, I wondered, did Jimmy and so many others in the story see in her? To me, she was all façade. To her credit, Uzele displayed a suave sense of line, a voice like a bell, and diction to match — swell assets, for sure, but a megawatt or two short of a wow.
In the home stretch, Anna Uzele blew the roof off.
Not until the home stretch did she break out of her shell. That was when the plot mechanics receded in favor of what amounted to a concert performance within the performance. Front and center, ablaze in lights, Uzele/Francine cut loose first with that cold-stone-sober, dizzying mantra of cosmic indifference, "But the World Goes 'Round" (see epigraph for sample lyric). Then, as the crowd roared, she turned on a dime for the grand-finale theme song, sauntering to glory in boundless expectation.
"But the World Goes 'Round" and "Theme from New York, New York" — these aren't personal confessions in song. They're bigger than life, hits that have stood the test of time. That's how Uzele landed them, a pro in triumphant command of her craft. And she blew the roof off.