Ernest Chausson.
Ernest Chausson.
Does the name ring a bell? A contemporary of Claude Debussy's, he was born in Paris in 1855 and died nearby in 1899, killed instantly when he bicycled into a brick wall, just as widespread recognition was beginning to come his way. His
Poème,
for violin and orchestra, is still heard with some frequency, as are the orchestral song cycles
Poème de l'Amour de de la Mer
and
Chanson Perpétuelle
. The SummerScape Festival at Bard College in Annandale-on-Hudson has announced a rare revival of his opera
Le Roi Artus
(King Arthur) this summer. But the piece I most cherish him for is his
Concert
("Concerto") for violin, piano, and string quartet. I haven't heard it in ages but think of it often. Lately, the urge to share it has been overwhelming.
A little personal history may not come amiss. To the best of my recollection, I have never ever encountered Concert in concert—only on recordings. The first two showed up simultaneously back when I was writing for James R. Oestreich, an old-school editor whose like no longer exists. First at High Fidelity, then at Opus (the magazine Jim launched when the corporate overlords at High Fidelity started slashing his pages), and finally at the New York Times (his berth from 1989 to 2013), Jim was a godfather to me, handing me no end of opportunities for which I'll always be in his debt.
Of the qualities Jim valued in his critics, curiosity ranked right up there with authority. When we first spoke, my hope was to review the pricey new opera albums I would otherwise have scant chance of getting my hands on, but his bench of specialists was deep. So, I pivoted to the original Broadway cast album of Cats, and while the subject held no intrinsic interest for him whatsoever, my treatment struck his fancy so much that he would later put it on the syllabus for his criticism class at New York University. One thing led to another, and in short order, he had me reviewing not only coveted operatic stuff but also chamber-music, symphonic, and miscellaneous repertory that for one reason or another I volunteered to write about: medieval drinking songs, for instance, or Chausson's Concert, which left an indelible impression, both in the astringent interpretation by the Czech musicians Josef Suk (violin), Josef Hála (piano), and the Suk Quartet, on Supraphon, and in the silken reading of the Franco-American partnership of Augustin Dumay (violin), Jean-Philippe Collard (piano), and the Muir Quartet, on Angel Records. Too bad that my review fell through the cracks between departure from High Fidelity and the start-up of Opus.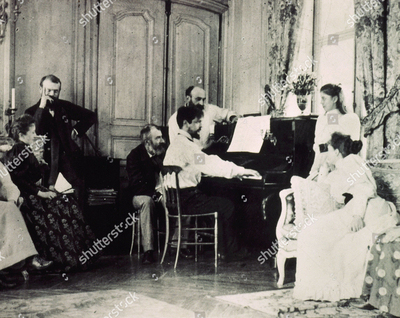 Small world. A musicale chez Ernest Chausson, who turns pages for Claude Debussy.
"What are we to make of Chausson's
Concert
?," I wrote back then. "At forty minutes, with a dance movement and an adagio bracketed between up-tempo outer movements, it suggests a symphony. The scoring, for piano, violin, and string quartet, suggests a double concerto, with the quartet deputizing for an absent orchestra. The piece is probably most accurately thought of as a grandly scaled trio, with the violin accorded the greatest glory and the highly concordant string quartet in distinctly the least showy part. Like Liszt's B-minor Sonata, Chausson's strangely titled work exemplifies musical rhetoric in the noblest sense. Its formal structures—allusive rather than rigorous—exist to sharpen the edge of free romantic inspiration." Decades later, I'll stand by that description. (Never throw anything away.)
For "Catch of the Day," we turned to the more recent recording from Isabelle Faust (violin), Alexander Melnikov (pianist), and the Salagon Quartet (Harmonia Mundi, 2017). If memory isn't playing tricks on me, the performance resembles the Supraphon recording in its boldness of gesture but is closer to the Angel in its sensuality and nostalgia of tone. It sweeps by like sea voyage in the Greece of ancient legend, opening in a burst of fantastic adventure, sailing on to exotic ports of call, then returning home to celebrate amid dances and thanks to the gods.