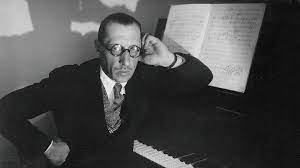 International, peripatetic: Igor Stravinsky, the man who got away.
You may remember that
I've had occasion to introduce Richard Guérin on these posts before.
He's the man who has been running Philip Glass's record labels for donkeys' years, and I'm convinced that he never sleeps. It's always a good day in my office when I hear from Richard, and early this month, he shot me the following message:
Hi Matthew,

Just sharing one of our latest...tomorrow is the 50th anniversary of Stravinsky's death. This two-piano arrangement of Symphony of Psalms was done by Shostakovich. He gave it to Igor when he came to Russia in 1962 after almost half a century away. It goes to the "truth" about Shostakovich's feeling towards him. Anyway, between Easter (albeit non-Russian Orthodox) and this death-aversary, seemed like a good idea to get this piece out as an advanced digital single. The full album will have three Bach chorales arranged by Kurtág.
The three tracks, totalling 21 minutes, are available on Apple Music and on iTunes; the pianists are Maki Namekawa and Dennis Russell Davies.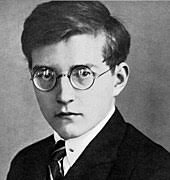 I'm caught in a trap. I can't walk out. Dmitri Shostakovich back in the USSR.
I loved the music but felt unqualified to unpack what truth it might reveal those feelings of Shostakovich's Richard glanced at. So, I shot back a note, asking him to elaborate. And not for the first time, he responded with off-the-cuff comments so rich, empathic, and thought-provoking that they took my breath away. Reading the words, I could hear his voice. This is how Richard talks, without preparation, without notes or hesitations or second thoughts. With his permission, I'm passing them along, redacting only the name of a mutual friend.
Worried that you might have the background to follow? Don't be! As I think you'll see from his first sentence, Richard has a genius for creating all the context you need.
If you recall at the World Peace Forum after the war, Shostakovich was made to denounce Stravinsky. According to different sources this was his biggest regret in life. It's also clear he had no personal affection for Stravinsky. But in denouncing Stravinsky in various ways it went beyond his normal denunciations of friends and colleagues because it was one thing to betray people, but it was another to betray music.

So the hard evidence in this case is this arrangement. Not only did he gift it to Stravinsky, but why would he ever make it at all if he didn't think something about the quality of the music itself? I could be totally off and maybe he did it as some kind of perverted joke, but I doubt it. Both composers are wildlings. They are both clearly Russian composers but they couldn't be more different in so many ways. I love them both but I respond much more to Shostakovich...even his bad music.

Perhaps it's because I'm close to a lot of composers I see that an artistic life is made up of opportunities and chances seized. Stravinsky rode the wave of those early ballets and in my mind is the great international composer of the 20th century. He crossed the Atlantic over 40 times by boat! Shostakovich did some great things and some not so great things, but it was always in a contrapuntal dance with the authorities. In other words I think he was a great great composer who did what he could do when he could do it. No greater example is his own denunciation which caused him to hide the Fourth Symphony and compose a "correct" symphony in the Fifth. In other words, had he not been denounced he would have never written the Fifth. So are we to be happy for his suffering?

This is also the issue about opportunities: if talented composers never get the chance to write their great works the great works simply don't get written. All of these people including Igor and Dmitri live in the real world. I don't think a lot of people know or appreciate that. I actually resent the "culture of analysis" in classical music. I have had so many fights with Sixtus Beckmesser[1] about these kinds of things. Counterpoint and execution of form are not the be-all-end-all of music. In fact there is no final judgement on anything.

Anyway, otherwise life is ok. Still staring out the same window. Still waiting for a vaccine appointment. Waiting for the weather to get consistently tolerable. But still going...and that's the human glory of adaptability goes right back to nomad Stravinsky and persecuted Shostakovich. We are an amazing species in that way.

Rock on,

Richard
---
[1] Not his real name [M.G.].