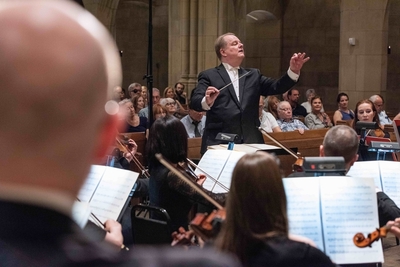 Will Crutchfield on the podium, 2019.
"You can't turn back the clock and shouldn't try," says Will Crutchfield, who in his precocious youth walked away from a likely promotion to chief music critic of the New York Times to pursue dicier adventures as a musicologist-conductor of decidedly antiquarian leanings. Over the past two decades, his summer series Bel Canto at Caramoor, in Westchester County, resurrected 19th-century Italian masterpieces, many of them unjustly neglected. From the ashes of that admirable initiative, Crutchfield has now created Teatro Nuovo.
Part opera company in embryo, part postgrad study group, the new venture devotes itself (in the words of its online mission statement) to "cutting-edge interpretation" of Rossini, Donizetti, Bellini, and their contemporaries. While such phrases customarily point to a cult of directorial caprice, Crutchfield gives it a quite different spin. As general and artistic director, his allegiance is to historically informed vocal virtuosity, supported by instrumentalists who take their cues from the drama as it unfolds onstage.
Raves greeted Teatro Nuovo's first two seasons, at SUNY Purchase, north of Manhattan, and at Jazz at Lincoln Center's Rose Theater. This summer's festival, long in preparation, was to have included Rossini's heroic Maometto II and his effervescent Un Vero Omaggio (an entertainment commissioned for the heads of state at the Congress of Verona in 1822), plus Donizetti's understated yet shattering Miserere. The pandemic has pushed the whole lineup out to 2021.
"You can't turn back the clock and shouldn't try," says Will Crutchfield.
Which makes this a fine time to catch up with Crutchfield's blog, "Will's Record of the Week," a showcase for living legends of yesteryear that few but specialists remember today. Their records clock in at around three minutes, which was pushing the limits back in the day when every take was one-and-done, impossible to edit. To date, 56 entries have appeared.
Often, the thumbnail biographies alone—novels in miniature, no two alike—are reason enough to subscribe. Meet Medea Mei-Figner, of Florence, who helped coax Toscanini from the cello section to the podium, inspired Tchaikovsky, bedded the jeweler Cartier as well as the industrialist Nobel (as in the Nobel Prize), and counted "Venus of the Revolution" (in Russia) among her sobriquets. Crutchfield's post, number 32, is entitled "Make the Movie Already!"
But a greater magic lies in the audio links, along with Crutchfield's commentary, which go to the heart of his creative agenda. As a recurrent note explains, "Teatro Nuovo puts great emphasis on learning from the singers who had never heard, or heard of, microphone singing—primitive recordings from more than a century ago, forming a link to the traditions of opera's heyday and the infinite potential of the natural, unassisted human voice."
Today, the world of acoustic, unamplified sound—and nothing but—is as remote from human experience as the Garden of Eden. Through the hiss and crackle of archaic audio, the vibrant presence of voices long gone startles the ear time and time again. Who sings with such focus today? With such point and drive? For the novice, the general essay "Listening to Ancient Voices," decked out with expertly chosen comparative clips, does wonders to break the ice.
Will's latest "Record of the Week," under the title "Black Lives," celebrates not just one voice but six, starting with Roland Hayes, who was born four years after the incomparable Enrico Caruso but outlived him by over half a century. In 1919, at his own expense, Hayes recorded the lament from Pagliacci, one of Caruso's top hits. American opera houses could find no use for a black tenor. In blind auditions, his brooding, plangent ferocity would have opened many door.