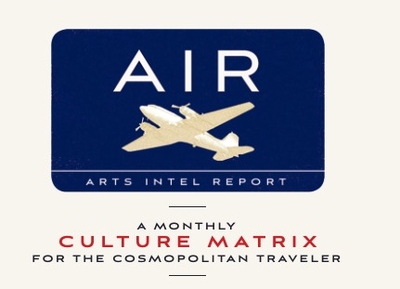 In case you haven't heard, Graydon Carter launched his latest venture this weekend: a wide-ranging news platform by the name of Air Mail, which he likens to "a digital weekend edition of a non-existent daily newspaper." A new edition arrives in subscribers' inboxes every Saturday morning at 6:00 New York time. Take a look at the first edition at airmail.news, and my guess is you'll be onboard. Nothing about this effort is routine—not the range of subject matter, which is vast; not the writing, which bristles with confident, independent voices; not the art, which pops off the screen. Full disclosure: my signature is on the landing page, under an appreciation of Bregenz Festival and its one-of-a-kind floating stage on the waters of Lake Constance.
And allow me proudly to share the news that that item is merely the tip of an iceberg. Within Air Mail, you'll find AIR—the Arts Intel Report. Complete with its own logo, AIR presents a curated compendium of cultural highlights from around the globe. Search by month, institution, discipline, artist, and/or city for bite-size essays (usually 100 words or less) on standout attractions from around the globe. Click on AIR CREW and you'll meet the people behind that inexhaustible sampler. I'm one of them, listed as the Specialist for Classical Music, and my initials appear on literally dozens of items. Here are a couple of screenshots: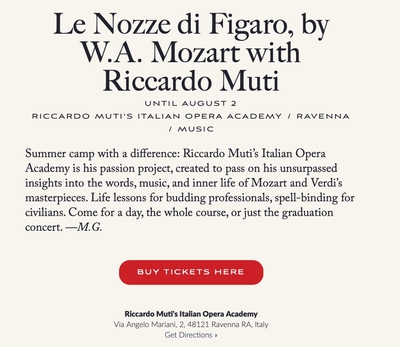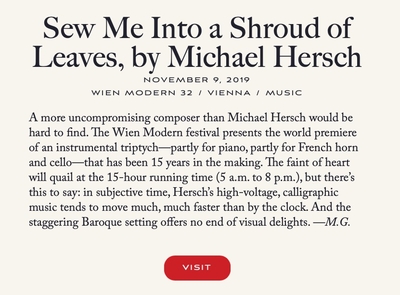 Air Mail is a subscription service, and while a significant portion of the content comes right up on the landing page, AIR is behind the paywall. No doubt that's reflects its informational value for the target audience of cosmopolitan travelers. But there's more to the equation.
Clicking from one search to another, I quickly found I had spent an hour discovering out-of-the-ordinary attractions I'm glad to know about even if I won't have the chance to experience them first-hand. At $15 for a three-month trial or $50 for the year, that's the greatest arts bargain I've come across since free Shakespeare in the Park.
Here's hoping you'll join me on the list of discriminating subscribers.