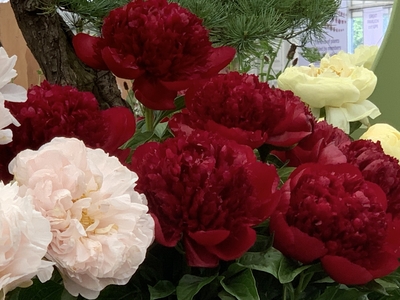 There's more where these came from. Peonies at the Chelsea Flower Show.
Jump straight to the notes on the operas if you like, commentary upon which begin two paragraphs down. First, though, I'll digress to say that spring in Northern Europe was chilly this year but intoxicating. Everywhere I went—other stops were Fredrikstad (outside Oslo), Helsinki, and London—the tulips, lilacs, irises, and chestnut trees alone would have justified a journey halfway around the world, even before I wandered into Kew Gardens and the Chelsea Flower Show, awash in even more dizzying tulips and irises, not to speak of roses, peonies, orchids, gladiolas, and so much more.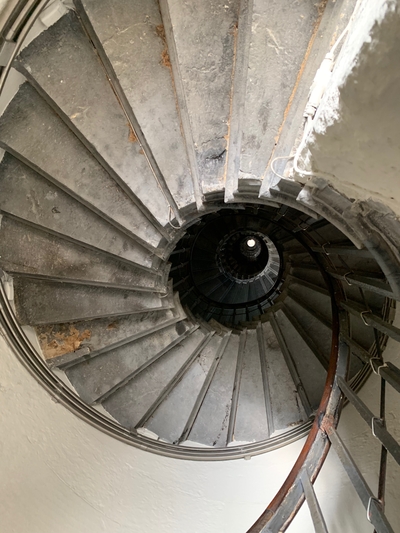 Which way is up? Climbing the Monument.
There were eye-opening shows at the museums (Sorolla, "Van Gogh in Britain," "The Renaissance Nude") plus phenomenal theater in the West End (never mind that the industrial-grade stage machinery in the boom-and-bust epic
The Lehmann Trilogy
broke down—twice). Heading East up the Thames, I stopped to climb the Monument to the Great Fire of London, 311 steps up the spiral staircase inside a Doric column 202 feet high. (Riding the Circle and the District Lines between Cannon Street and Tower Hill, I'd always wondered just what monument the middle Underground stop was named for. Now I know.) A few hours at the Tower followed, on the battlements, with the ravens, before the crown jewels... It's been a while since I've played the tourist in London, and I loved it. Most rewarding of all were reunions with family and old friends, whose whereabouts dictated my itinerary. But those aren't the stuff of a blog post, not from this source, anyhow.
Il Barbiere di Siviglia at the Staatoper unter den Linden, Berlin (seen on May 8) piqued my curiosity for the venerable production by Ruth Berghaus, in commedia dell' arte-inflected décor by the visionary Achim Freyer. Unveiled on November 21, 1968, the show has held the stage virtually without interruption ever since. And after 49 revivals in 51 seasons, it was still glittering like new-struck silver, fresh from the mint.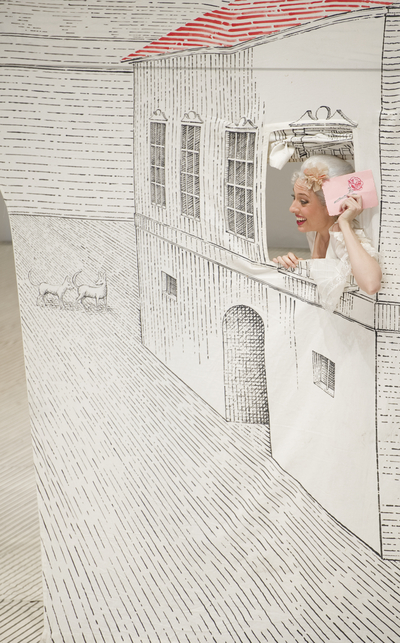 Rosina has a secret. Jennifer Rivera in the 2010 of the Berghaus Barber." Photo: © Monika Rittershaus
Free-hand sketches traced on sheets hung on clotheslines served to mock up the townhouse Rosina yearns to escape. Zany extras gamboled through Almaviva's opening serenade like elves of exquisite discretion. The wily Figaro bounced in, planted himself on the prompter's box, and delivered his spiel straight out into the house, arms akimbo, not deigning to "act" at all. Come to think of it, why should he? The music itself told his story, and it was perfect that way. Rosina, on the other hand, whizzed through
her
aria in a flurry of ribbons, building to the climactic reveal of a thigh as she slipped a secret note under her garter. And that was perfect, too. On every vector, this was theater to sharpen all the senses. The lilt of a phrase, a toss of the head, rippling light on a pair of white satin knee breeches—detail upon feather-light detail bespoke at the same time the genius of the material and the felicity of Berghaus and Freyer's invention, released once more in the sparkle of live performance.
The curtain fell too soon, alas, as until well into the 20th century it always did, depriving Count Almaviva of the bravura aria "Cessa di più resistere," which adds seven minutes of romantic sprezzatura to the comic dénouement. In 1968, when the Berghaus Barbiere was new, no one on the scene could sing it and no one dared to try. In the wake of Juan Diego Flórez, it's in the wheelhouse of any self-respecting bel canto tenor, and I have no doubt that between the lyricism and the fireworks Maxim Mironov would have kept us hanging on every note. Berghaus didn't live to see the Count's rehabilitation, but I doubt that it would trouble her shade if a tactful director stepped in to restore her cuts. (Bartlett Sher, an eloquent spokesman for the Count's aria, which receives its due in his staging for the Met, attended the very performance I did. Was he thinking what I was thinking?)
But let's not dwell on a reservation. Along with Mironov, Marianne Crebassa's Rosina, and Björn Bürger's Figaro, the entire ensemble kept dispensing sheer bliss. Under Julien Salemkour's direction, the orchestra put extra wind in their sails every inch of the way. What a joy it was to see theatrics that did the same. If a night at the opera ever made me happier, I'd be hard pressed to tell you what it was.
Certainly not La Forza del Destino at Oper Frankfurt (May 26). New last season, Tobias Kratzer's production repurposed Verdi's gloomy epic as a takedown of White Supremacist America, from the Antebellum era through the Obama Administration by way of the Civil War, Jim Crow, and Vietnam. Painful stuff under the best of circumstances, whatever those might be—and for a white American abroad, exponentially so.
Wasting no time, Kratzer overlays the tempestuous overture with racist film clips of yesteryear (no sources were listed; think Birth of a Nation, Mr. Bojangles). At once methodical and eclectic to a fault, Kratzer strings Verdi's six scenes along the timeline of American injustice but stages each as its own free-standing exercise in theatrical style.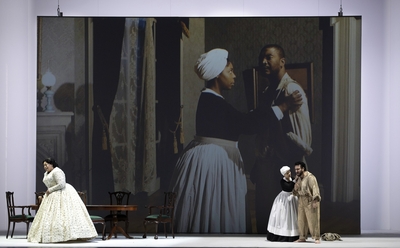 Big screen, little people: Scene 1 of Kratzer's "Forza" reduces the singers to insignificance. © Monika Rittershaus.
In some ways the least implausible was the first, a sort of homage to
Gone with the Wind
. In the dead of night, the vacillating Scarlett—sorry, Leonora di Vargas—awaits the exotic outsider with whom she has promised to elope. But come the moment of truth, she vacillates, her father barges in, and the lover surrenders, tossing aside his firearm, which discharges on impact with the floor. Dad catches the bullet, hurls his curse on Leonora, and expires.
Who, though, is Leonora's hapless lover? Not Verdi's Don Alvaro, mixed-race last scion of Inca royalty, but instead, as nearly as I could tell, a runaway slave from some alternate Tara. From this conceit all else follows, and I'll say this for it: by contemporary standards, it's not much of a stretch.
The program book featured readings from Ta-Nehisi Coates and suchlike authors, as well as an in-depth interview with the director, whose first-rate intelligence is not in question. Plainly, he has lots on his mind, though how much of it pertains to the job at hand was another question. Onstage, meta to the max, the opening scene is served up two ways, as live action more or less in synch with a silent movie. The gigantic avatars onscreen are matched by race to the characters as Kratzer imagines them, whereas the identically dressed singers were chosen uniquely for their voices. The first cast, still partially in place on this occasion, fielded an African American soprano, Michelle Bradley, opposite a Caucasian tenor (reallyCaucasian, from Armenia), Hovhaness Ayvazyan. In future seasons, the constellation is virtually guaranteed to change.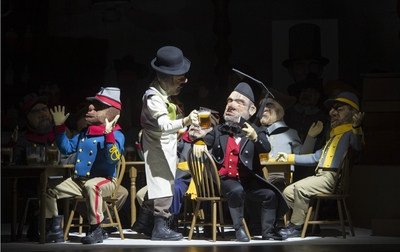 Living dolls. Scene 2 of Kratzer's "Forza," noteworthy for oversize mock-papier-mâché heads of acoustically permeable painted wire mesh. © Monika Rittershaus
the record, later sequences flashed on Weimar Republic agitprop (or was it Czech puppetry?),
Apocalypse Now
,the Coen Brothers maybe, and who knows what else. OK, class! Can you say
Verfremdungseffekt
? Can you say it six times in three hours? And while you're at it,
wie sagt man auf deutsch "
diminishing returns"?
What template Kratzer had chosen for the monumental turning point of the tale, who knows. I can tell you that the scene was shattering to witness, partly for its own sake, partly because it blew Verdi's opera to smithereens. At this juncture, dressed in men's clothing, Leonora finds refuge at a Franciscan monastery where she has resolved to repent, alone, for the rest of her days. She confides in Padre Guardiano, who vows to keep her secret and convenes the brotherhood to call down damnation on any who pries into her mystery.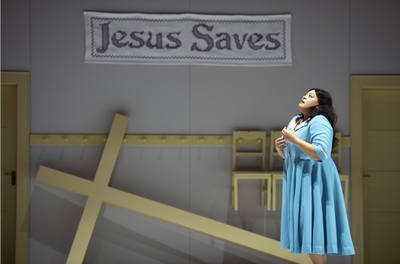 Burn, baby, burn. The male attire that's not. Scene 3 of Kratzer's KKK "Forza." See it and weep. © Monika Rittershaus
As in many a Shakespeare comedy as well as the finale of
Rigoletto
, everything here hinges on the heroine's male disguise. Yet in Frankfurt, Leonora wore a housedress she might have borrowed from the help at Motel 6, making applesauce of her conferences first with a surly underling, then with the Walter White lookalike in charge. Worse, it began to dawn on us that the antiseptic meeting hall—bare but for tables, chairs, an enormous cross propped against a wall-mounted coatrack, and a tacked-up sampler with the cross-stitched message "Jesus Saves"—belonged to the lodge of an inscrutable Grand Wizard. The threat of rape or worse hung in the air as he washed Leonora's feet and shuffling Klansmen donned white to torch the cross.
A heartbeat before the blackout, Leonora fled in horror, and I was tempted to do the same. Verdi made no secret of his hatred of ecclesiastical power (see Don Carlos, Aida). In Forza, he satirizes the lowly Friar Melitone, who is nosy, officious, lacking in charity, and given to petty jealousies. Yet the ray of peace that descends on Leonora in Padre Guardiano's severe, unsentimental, yet healing presence leaves no room for anticlerical critique. True enough, this is the last we see of her until the final act of the opera, two long scenes hence. At that time, we discover that love and conscience still plague her. Yet while it lasted, which is to say when we were there to see and hear it, the serenity was real. A director deaf to the music that tells us so needs to find some other way line of work.
By the sheer majesty of his singing in the part of Padre Guardiano, the German bass Andreas Bauer Kanabas salvaged just enough of the essence of the moment to expose the surrounding wreckage for what it was. As the camp follower Preziosilla, blessedly unencumbered by directorial concepts, Juditha Nagoyá pulled off a brilliant turn. Left by the production to twist in the wind, Bradley caught the ear now and again with a soft, floated high note, Ayvazyan with some vigorous attacks. As Leonora's vengeful brother Don Carlo di Vargas, Evez Abdulla struck neither false notes nor thrilling ones. Plunging into the overture with all hands on high alert, the conductor Gaetano Soliman made a strong first impression. From then on, it was Kratzer's ballgame, and woe betide the team.