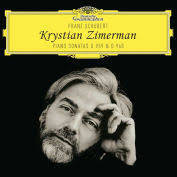 On air, the best single word of phrase I could come up with for the Polish virtuoso Krystian Zimerman in the last two piano sonatas of Franz Schubert (Deutsche Grammophon 4797588) was "respectful." In retrospect, I'll go with "self-effacing." From the very last of the series, the Piano Sonata in B Flat Major, D. 960, we heard the expansive opening Molto moderato, which undermines a prevailing serenity with tremors of cosmic unease. To catch the gradations of touch and timbre he was striving for, Zimerman outfitted a modern concert grand with a new keyboard built with his own hands. How many of his peers could carry out such a plan, even if they wanted to? Yet there is nothing finicky about the performance. My co-conspirator Paul Janes-Brown called the playing "clean." Faint, antiseptic praise indeed for music that glowed from within, free of any trace of ego.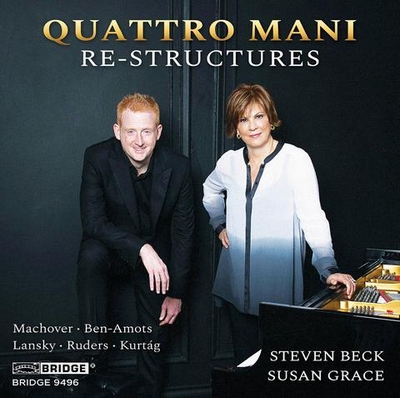 Sampling the album Quattro Mani: Re-Structures (Bridge 9496), from the pianists Steven Beck and Susan Grace, we dropped in on "Out of the Blue," three bustling minutes of music by Paul Lansky, one of five composers represented, all living, aged 62 to 91. Swirling, metallic, and percussive, the infectious vignette put Paul in mind of the New York subway at rush hour. For me, it evoked other images entirely: some East European peasant wedding, perhaps, along the lines of the one in Stravinsky's Les Noces, minus the savage undertow.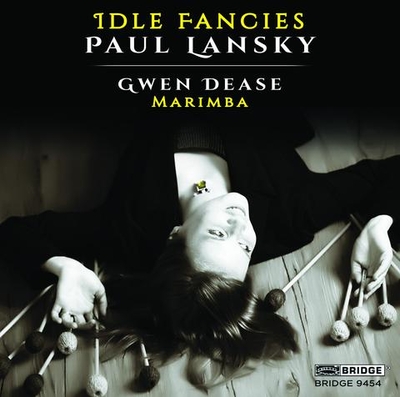 Onward to the all—Paul Lansky showcase Idle Fancies, from Gwendolyn Dease, marimba (Bridge 9454). Who could have missed genetic kinship between "Out of the Blue" to Dease's 11-minute opening track "Spirals"? Yet thanks to the marimba's immersive sonority (virtually an ocean you toss in) and the more spacious architecture (or should I say ebb and flow?), "Spirals" conjures up a more elaborate narrative: I thought of some cousin to Belle or Cinderella, on the loose in an enchanted castle, none too secure in her remaining glass slipper. Choreographers, take note. For the right ballerina, this could be the dance of a lifetime.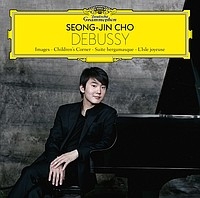 To date, the young South Korean Seong-Jin Choi has made a specialty of Chopin, but with the recital disc Debussy (Deutsche Grammophon 479 8308), he revels in the quite distinct poetics of the composer the world, over his objections, insisted on calling an Impressionist. "Doctor Gradus ad Parnassum," from Children's Corner, is all about fingers. The beloved "Clair de lune," from Suite Bergamasque, is all about perfume. Choi proved with ease that he has both to spare.
.