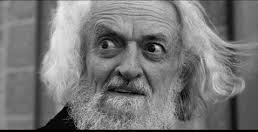 Vienna makes ready to celebrate the centennial of the long-neglected mover and shaker Gottfried von Einem (24 January 1918 – 12 July 1996).
No sooner had I posted
my note on Gottfried von Einem's all-but-forgotten opera Kabale und Liebe
, after the same Schiller play on which Verdi based
Luisa Miller
, than I heard from my old friend Wilhelm Sinkovicz, distinguished music critic of
Die Presse,
Vienna
.
He was delighted, he wrote, to find in me a fellow Einem enthusiast and wanted me to know that the Austrian capital would be commemorating the composer's centennial more extensively than I had indicated. In addition to
Der Besuch der Alten Dame at what I called the "fashionable" Theater an der Wien
(opening March 16), "the more fashionable Vienna State Opera is preparing, as its next premiere, Einem's
Dantons Tod (premiere March 24)
. And
on February 23, at the the Musikverein, the ORF Vienna Radio Symphony Orchestra will perform his excellent cantata An die Nachgeborenen [To Future Generations]
, which was first performed in New York and then banned because of a misunderstanding. "Because a verse of a psalm was missing, Einem was accused of anti-Semitism. In fact,
the Yad Vashem lists him with the Righteous Among the Nations.
"